The Woman in the Story. As Mother's Day approaches, we often think about grannies, mothers, aunties, and others who have played apart in our lives in their various roles. Not all of us are mothers but we've all had someone who was our mum, those who raised us or who were mentors to us. No doubt there have been women in your life that made an impression on your life that you could honor with a scrapbook page.
This is My Story: Miss Elisabeth
For me that woman was Elisabeth Elliot Gren. She and her first husband Jim Elliot were missionaries to Auca tribes in the jungles of Ecuador that would also kill her husband and 4 other men, leaving her and her 10-month-old daughter to continue on without him.
She was a well-known author and speaker and also hosted a radio program that I would listen to as a young wife and mother. I had the opportunity to attend one of her speaking engagements when she came to Ohio and many of the things that she shared have stuck with me to this day.
Several years ago, we had a friend who had been a caregiver to Miss Elisabeth and was hosting her and her husband for the holidays and we were a few of the people invited to a Christmas Tea in her honor. These photos are from that day.
This is my Content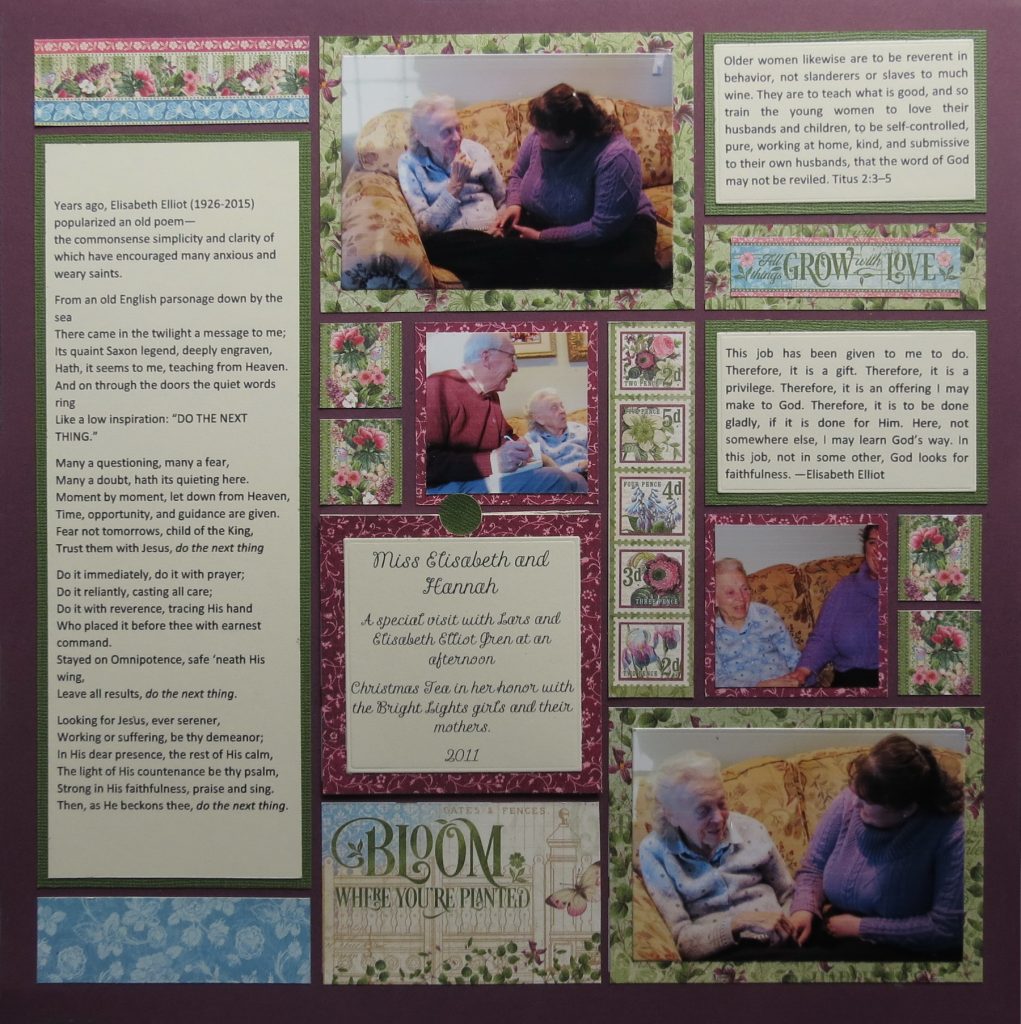 On page one I have photos from that event and included the poem, quotes and verses she so often referred to.
I only planned to do one page but I did have other quotes that I wanted to use and then decided to get my journaling from where I had it hidden in the pocket on page one and put it on a second page and include more of those quotes that I had. I have another photo from the event that will replace that in the pocket.
These are the Choices I Made
I wanted papers that would be just right for this topic, and Graphic 45 Bloom Collection was just the right combination of colors and vintage feel to honor an older woman of distinction.
The Eggplant Grid paper from Mosaic Moments Harvest Collection was a nice match for the colors in the papers. I used an Evergreen cardstock for some of the mats and cream-colored cardstock for journaling spots.
Where You Can Begin
When you plan to do scrapbook pages of people who may no longer be with us, you don't always have an abundance of photos to use, and sometimes you need to rely on things like quotes, or memories to write about or even items that belonged to them. Don't hesitate to do a lot of journal blocks to capture those moments that you want to remember and include them nestled amongst what photos you do have to include.
The important thing is to go ahead and do it, jump in with what you have and take the time to build it into the page you will be pleased with and happy to share with others. You might consider to get the whole family involved and share their memories of the person you have chosen. It's amazing how many different takes on the same person or the same situation will surface. You just might be surprised at how much you can enjoy a joint effort!
When you tell these stories of the people who have contributed to your life you honor them, show gratitude for them and you reveal a bit of who you are to those you care about and these are the stories that will enrich your scrapbook pages.
Andrea Fisher