My Winter Story: It's a Wonderful Life!
It's another winter and the lockdown continues. Any given winter is often difficult for many who are prone to being discouraged and blue in the shorter, darker days, often full of grey skies and snow. This year, too many are already at that point and looking ahead to endless lockdowns and restrictions can be daunting. How do we overcome those feelings? How do we find solace in our favorite pastime?
We may not have stacks of photos from the past year's travels and events because there just weren't as many. What might we find to scrap about? Here's the challenge I decided to take up. Gratitude. Gratitude in little things. What do I overlook even though surrounded by them? I decided to look at things a bit closer and see what I could discover. In the past, I have found this simple process of reflection is a great healer of the blues. Let's see where it takes us today.
I asked myself…Why are some of these things important, what is the history behind this item? Where did it come from?
In the end, many memories gave me much to reflect on and cheer my spirits. As the long winter days stretch on with restrictions that continue to change how we live, we must find ways to see the best in our circumstances and find joy in the simple every day, often overlooked moments. I find that when I do find things to be grateful for, my spirits are lifted and I can truly say, it's a wonderful life!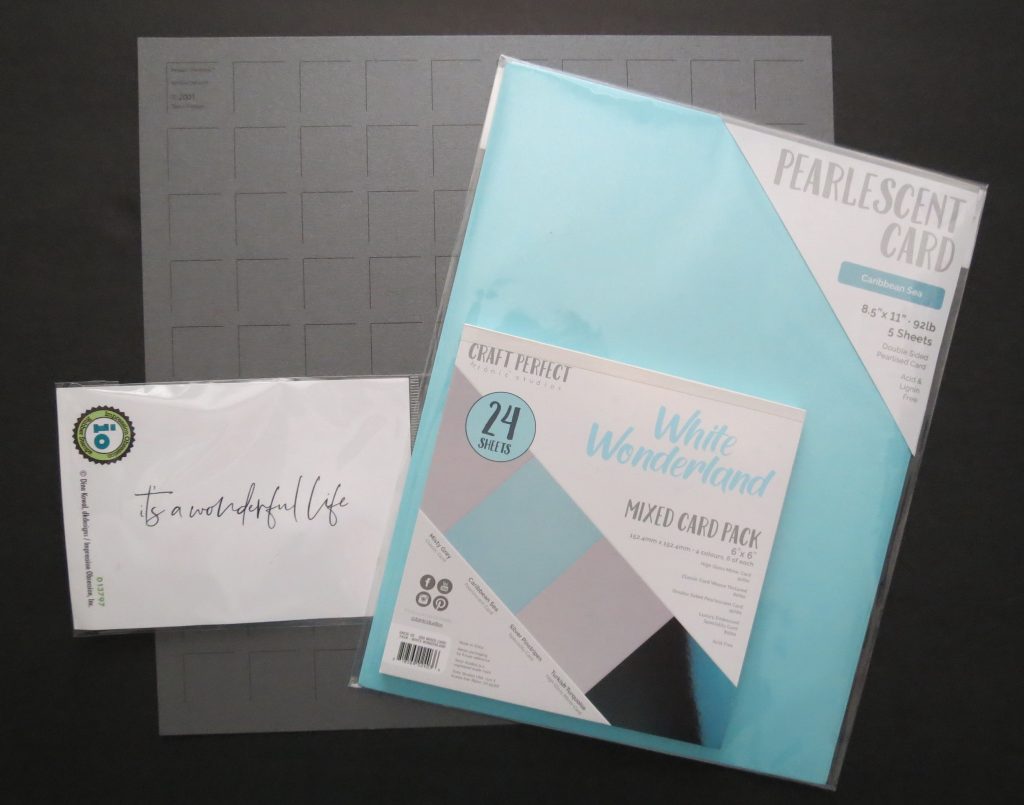 Cardstock: Tonic Studios Pearlescent Card: Caribbean Sea; Tonic Studios White Wonderland Mixed Card Pack (Misty Grey, Caribbean Sea, Silver Pinstripes and Turkish Turquoise); black
Stamps: Impression Obsession, Dina Kowal "it's a wonderful life"
Ink: Versa Mark Dazzle Frost
Embossing Powder: Ranger Super Fine Detail Silver
Embossing Folder: We R Memory Keepers – Geometric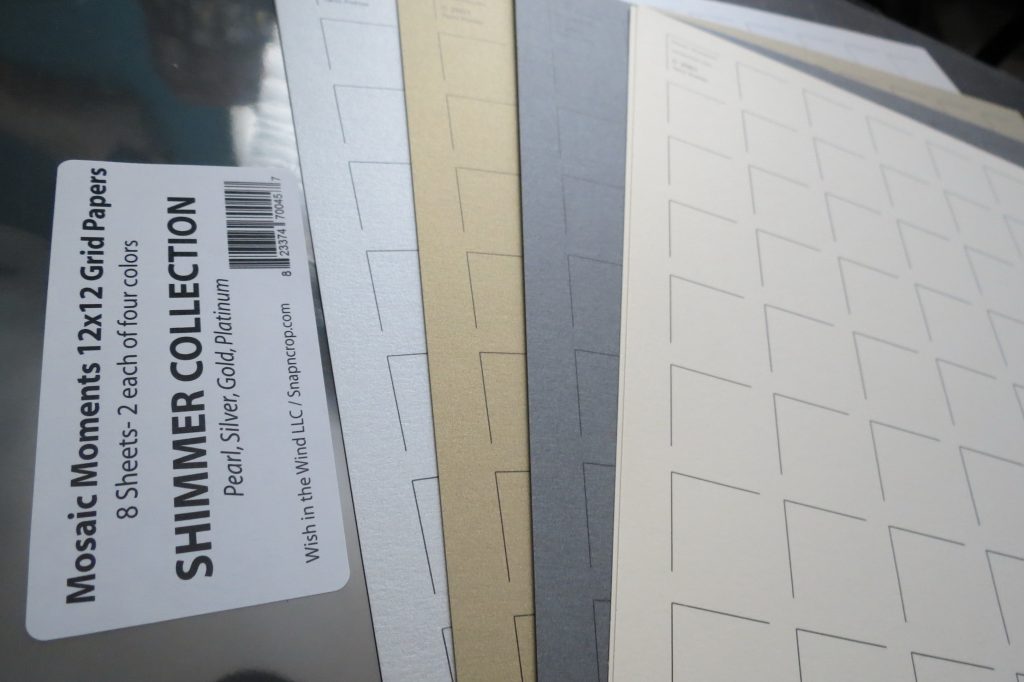 It's a Wonderful Life, the movie, has long been associated with Christmas. It is, however, more than a holiday sentiment, but a way to look at your life, a reflection as it were, of what is truly important, beyond the difficulties before you. We can be weighed down and discouraged because things are not as we had hoped for, but that shouldn't take away from all that's been good.
In the movie, George Bailey was faced with a crisis unlike any he'd faced to date. At the depths of his despair, he cried out to God for help and received what he was sure was not what he needed. In truth, it was just what he needed, someone to help him to see he had value, that he'd made a difference, and that there was a way through this moment in time.
Our scrapbooking can help us to do that very same thing. Reflect on our lives, find things that bring us pleasure or joy, things that have meaning and tell the stories that bring to life to the otherwise overlooked or undervalued, or remind us of what is good and valuable.
We sat with my mum the other day as she sorted through some of her jewelry trying to decide who was to get what now to ensure I don't off-load it to parts unknown once she is gone. We heard all kinds of stories never heard before, like the broach and earrings my dad had bought her as a gift when I was born. The blue jewels represented the Sapphires associated with my birth month…who knew? Immediately a set I would have passed by, now had a meaning. I still passed it by, but Hannah, taken with the story and with more eclectic taste than mine, happily acquired it.
Do you have stories like this? Maybe random, unrelated and not nearly enough on their own to fill a page, but told together enough to create a page, or many a series of pages over time to capture them and save them to look back on and be uplifted?
My studio has been my safe haven, a place of solace. This year, my studio opened up to bring my scrapbook camp here by Zoom. Lockdowns didn't stop us! I met new people and shared a common goal to enjoy our scrapping even if the world around us was going a bit crazy. I even learned a few things about doing some online classes! My studio is full of stories.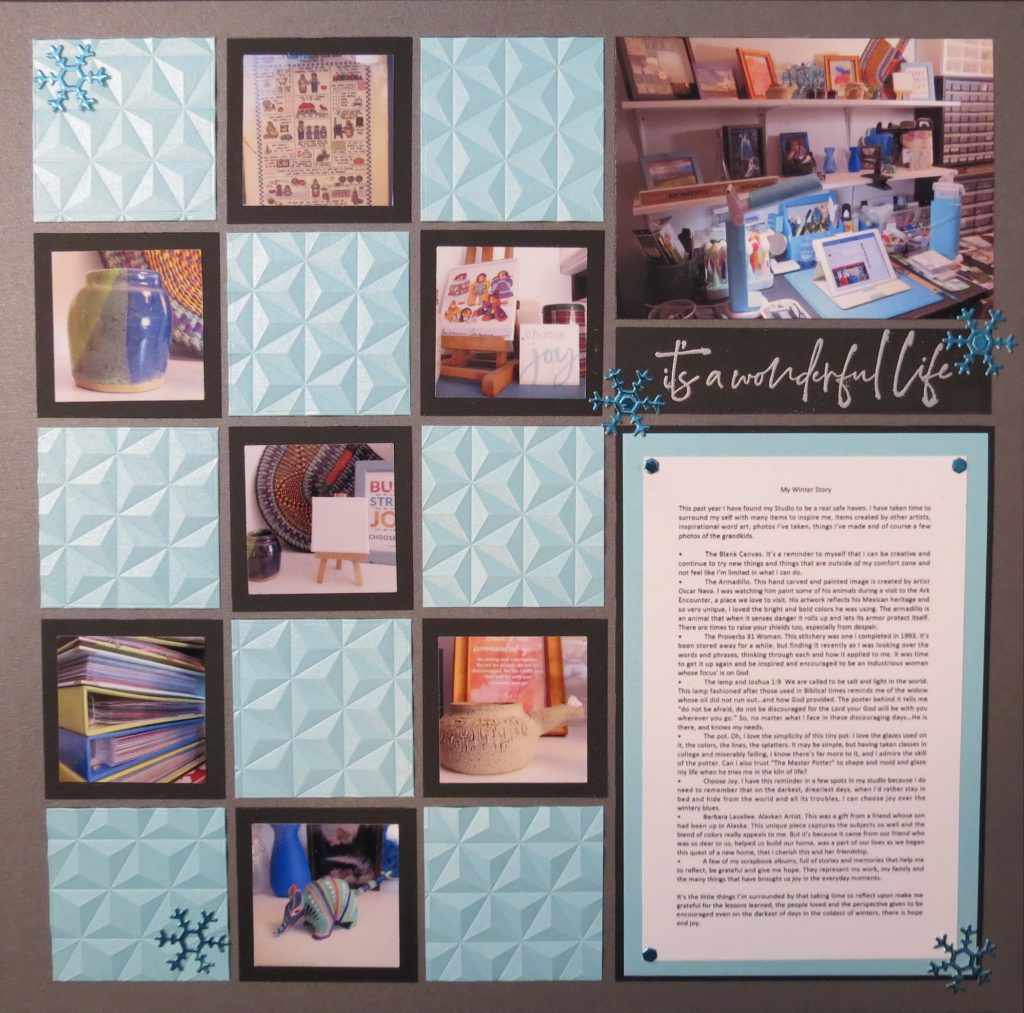 I've journaled a few of my tales and paired them with photos to capture my Winter Story, my Wonderful Life in lockdown this winter. I printed my journaling on 4×6 premium photo paper, mounted it on Caribbean Sea pearlescent card and again on black cardstock.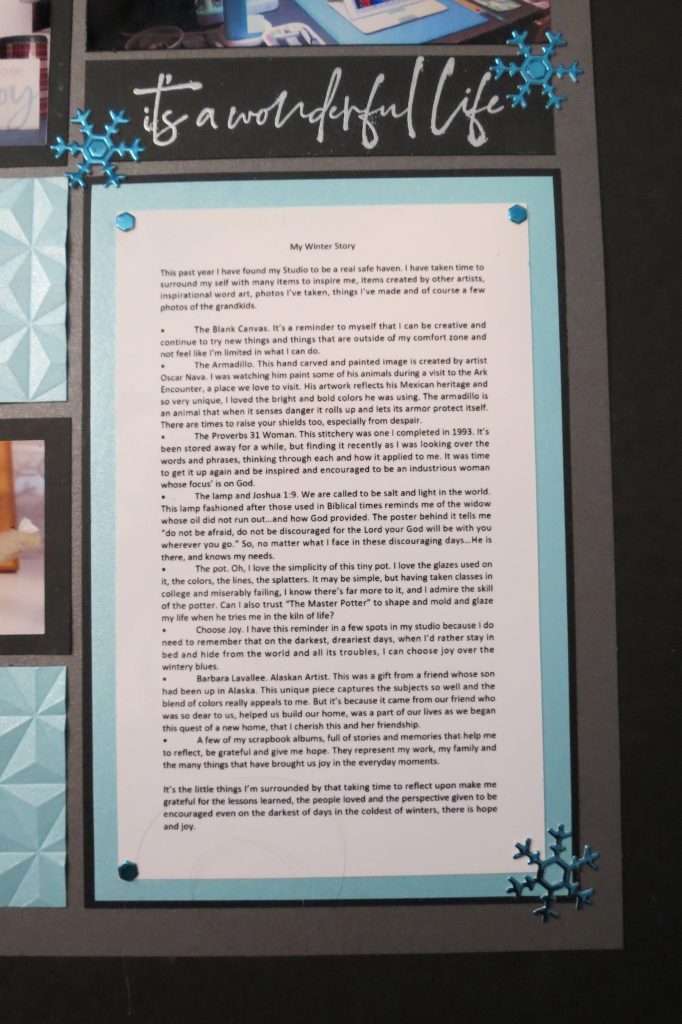 Journaling on layout:
My Winter Story
This past year I have found my Studio to be a real safe haven. I have taken time to surround my self with many items to inspire me, items created by other artists, inspirational word art, photos I've taken, things I've made and of course a few photos of the grandkids.
The Blank Canvas. It's a reminder to myself that I can be creative and continue to try new things and things that are outside of my comfort zone and not feel like I'm limited in what I can do.
The Armadillo. This hand carved and painted image is created by artist Oscar Nava. I was watching him paint some of his animals during a visit to the Ark Encounter, a place we love to visit. His artwork reflects his Mexican heritage and so very unique, I loved the bright and bold colors he was using. The armadillo is an animal that when it senses danger it rolls up and lets its armor protect itself. There are times to raise your shields too, especially from despair.
The Proverbs 31 Woman. This stitchery was one I completed in 1993. It's been stored away for a while, but finding it recently as I was looking over the words and phrases, thinking through each and how it applied to me. It was time to get it up again and be inspired and encouraged to be an industrious woman whose focus' is on God.
The lamp and Joshua 1:9. We are called to be salt and light in the world. This lamp fashioned after those used in Biblical times reminds me of the widow whose oil did not run out…and how God provided. The poster behind it tells me "do not be afraid, do not be discouraged for the Lord your God will be with you wherever you go." So, no matter what I face in these discouraging days…He is there, and knows my needs.
The pot. Oh, I love the simplicity of this tiny pot. I love the glazes used on it, the colors, the lines, the splatters. It may be simple, but having taken classes in college and miserably failing, I know there's far more to it, and I admire the skill of the potter. Can I also trust "The Master Potter" to shape and mold and glaze my life when he tries me in the kiln of life?
Choose Joy. I have this reminder in a few spots in my studio because I do need to remember that on the darkest, dreariest days, when I'd rather stay in bed and hide from the world and all its troubles, I can choose joy over the wintery blues.
Barbara Lavallee. Alaskan Artist. This was a gift from a friend whose son had been up in Alaska. This unique piece captures the subjects so well and the blend of colors really appeals to me. But it's because it came from our friend who was so dear to us, helped us build our home, was a part of our lives as we began this quest of a new home, that I cherish this and her friendship.
A few of my scrapbook albums, full of stories and memories that help me to reflect, be grateful and give me hope. They represent my work, my family and the many things that have brought us joy in the everyday moments.
It's the little things I'm surrounded by that taking time to reflect upon make me grateful for the lessons learned, the people loved and the perspective given to be encouraged even on the darkest of days in the coldest of winters, there is hope and joy.
The Layout
The photos are printed and cut to fit on 2×2 black mats and placed in a checkerboard pattern.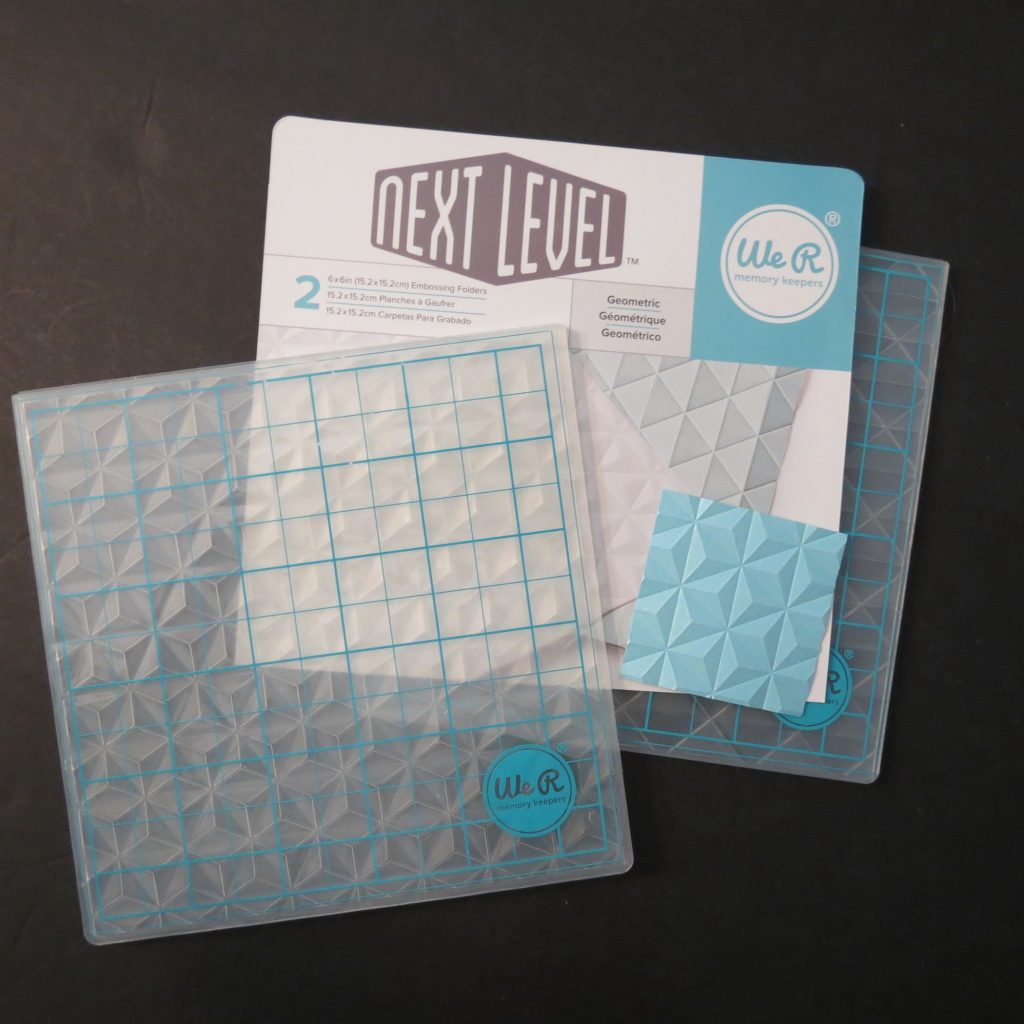 I've cut 2×2 squares with the Mosaic Moments 2.125″ square grid die in the same Caribbean Sea cardstock and then ran them through the Geometric Embossing Folder. The texture is amazing and shows off the beautiful facets of the pearl paper. It also adds interest to the page.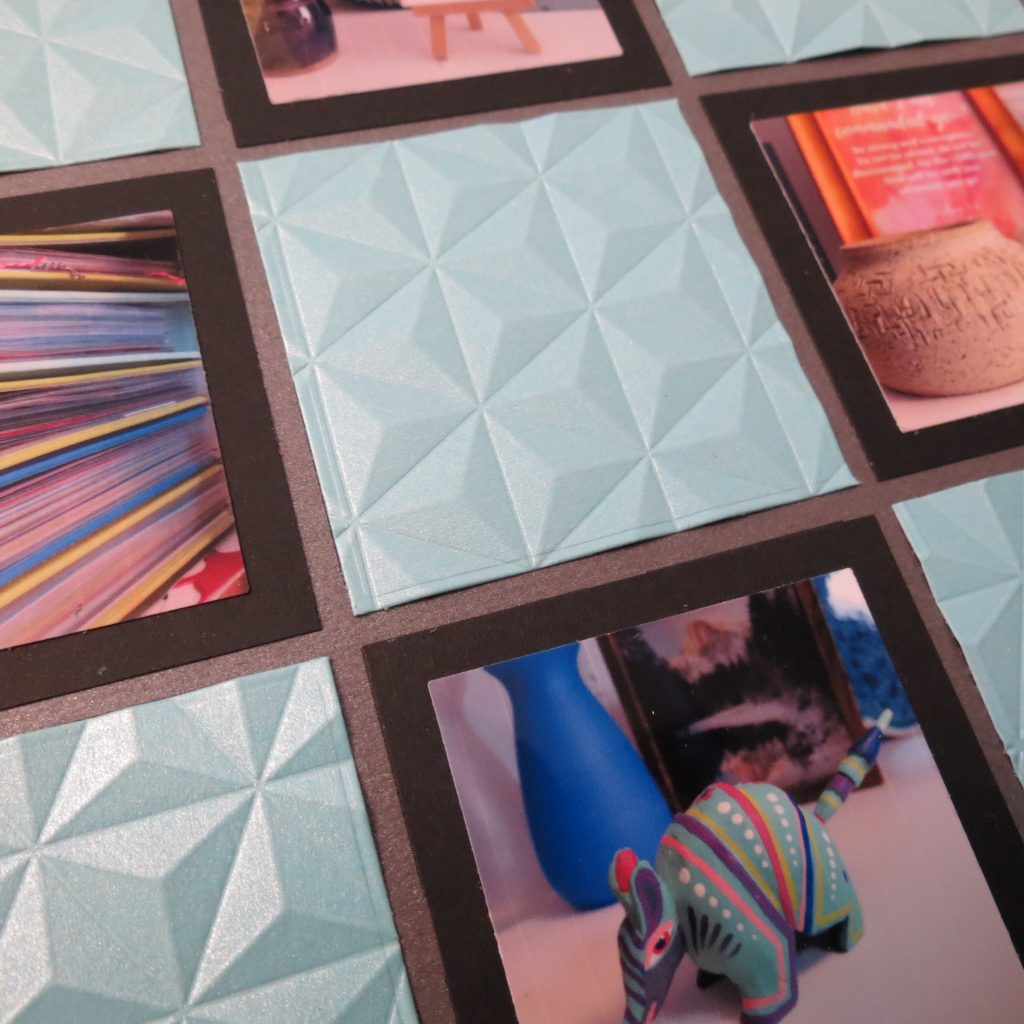 I also cut snow flakes with the Mr. Snow and Flakes from the Turkish Turquois Mirror Cardstock and placed them around the paper randomly.
I stamped and embossed the title "It's a Wonderful Life" in silver on black.
The final 3×4 photo (Die Set C) is a peek at my work space in the studio and where all these stories live! Thanks for joining me for this story.
What will your winter story be? How do you keep your spirits up in the long winter season? What would your layout look like when you tell the story of your Wonderful Life?
Andrea Fisher