As we approach the holidays, we look forward to the celebrations before us and it often brings us memories of holidays past. No doubt you have a few favorite stories about Christmas when you were growing up, or maybe when your kids were young that you like to recall when gathered together with those individuals. Putting photos and stories together are what scrapbook pages do best!
Telling a story is one way to develop you journaling skills. Plus, it's a great asset on a layout too. One way to begin is to pull together any photos that might relate to your story. I found that jotting down some details on each helped me to decide which to include and what to say. It formed the outline of what I would write.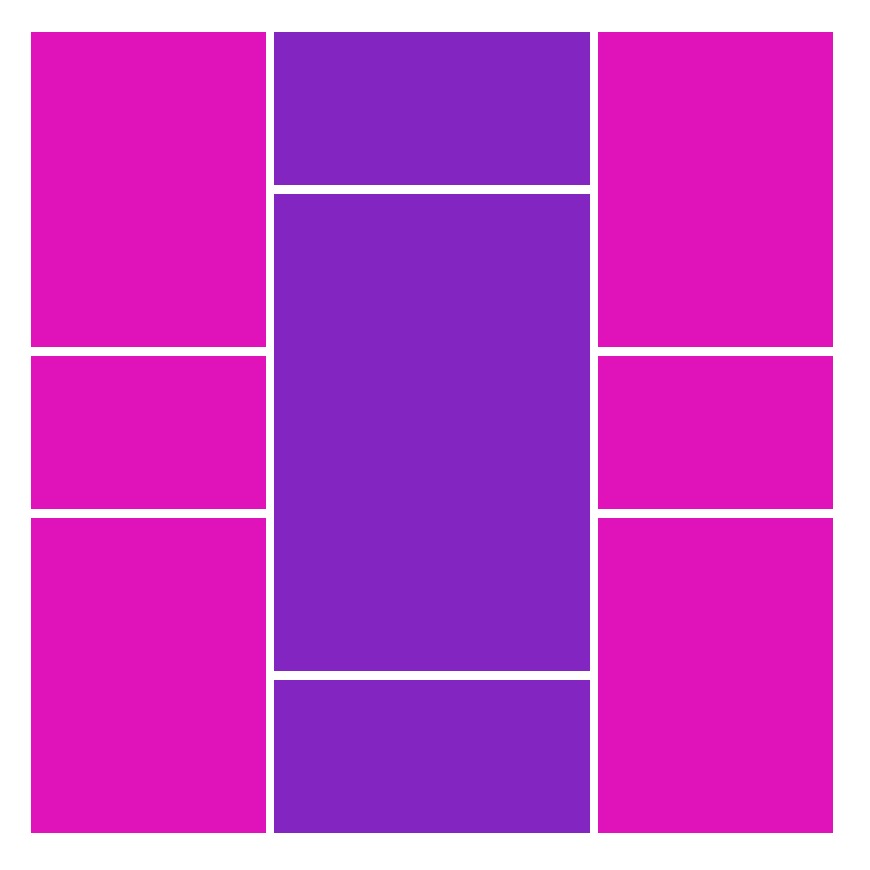 I began by searching through the patterns to find one that would accommodate the photos I had selected. I considered several that would need a bit of tweaking, but in the end, Pattern #581 a column pattern will work just fine without any adjustments. It is also a quick layout to fill if you are looking for another option for a Quick & Easy layout for the holiday season! Depending on the length of your story that you are telling, you may want larger spaces in your pattern or even places that you can include hidden journaling.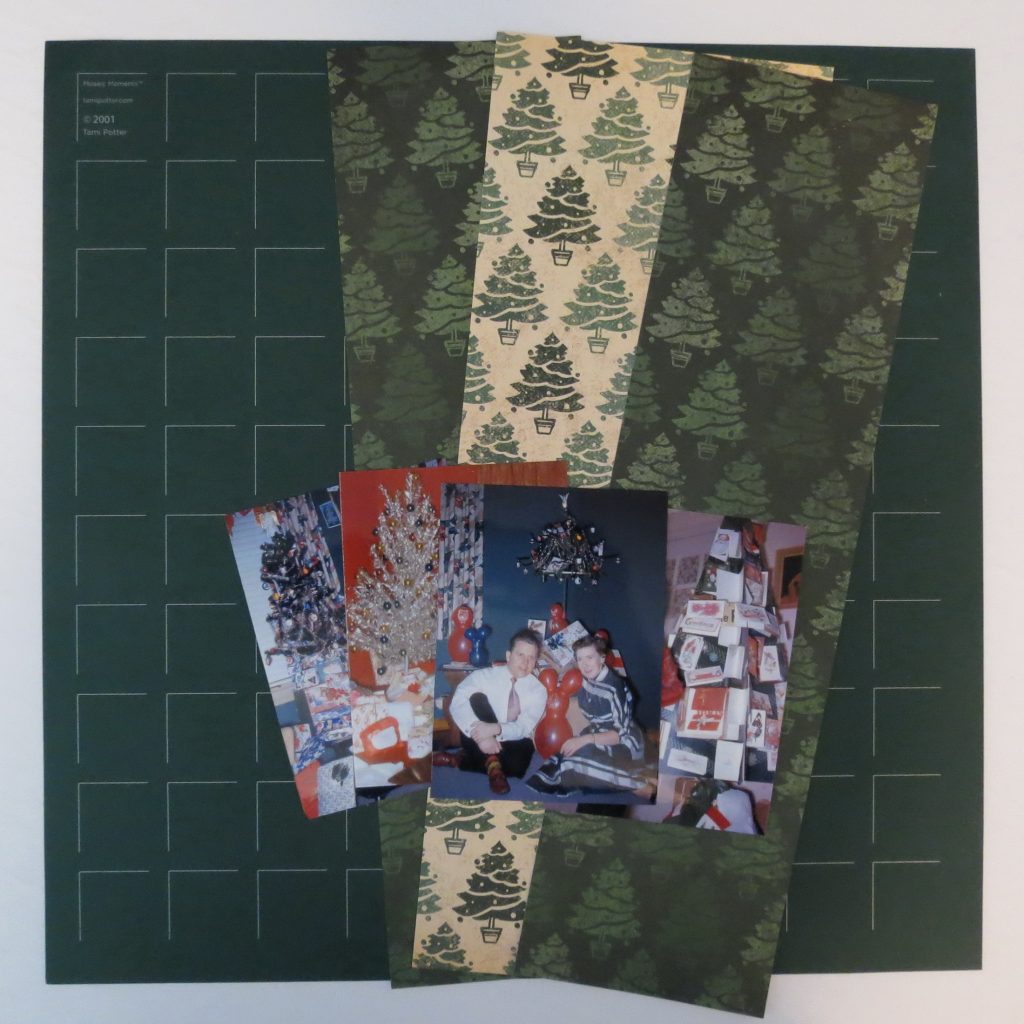 I chose a Forest Grid paper and searched my Christmas paper stash for one with a tree pattern to use to be in keeping with the topic. I found what I think is just perfect for my story by Bo Bunny. It's from an older collection and it is a double-sided pattern, one light one dark.
I cut the paper into three strips and then cut them to size using the backside of the Double-sided Craft Mat. Then it was quick to fill each of the spaces on the grid. The 2×3 spots are flipped to the light size and left open. Photos were then trimmed and put in each of the 3×4 spots. The center 4×6 spot is where I decided I should place my story. The print is quite small, but still legible. I've included a paragraph about each tree pictured and then a few more words about others not pictured and how the story ends.
I could have used the 2×3 and 2×4 spots for journaling, and that had been my idea in the beginning, but I didn't have a 5th photo that I could include in the center and it felt like a better idea to make the story the central focus.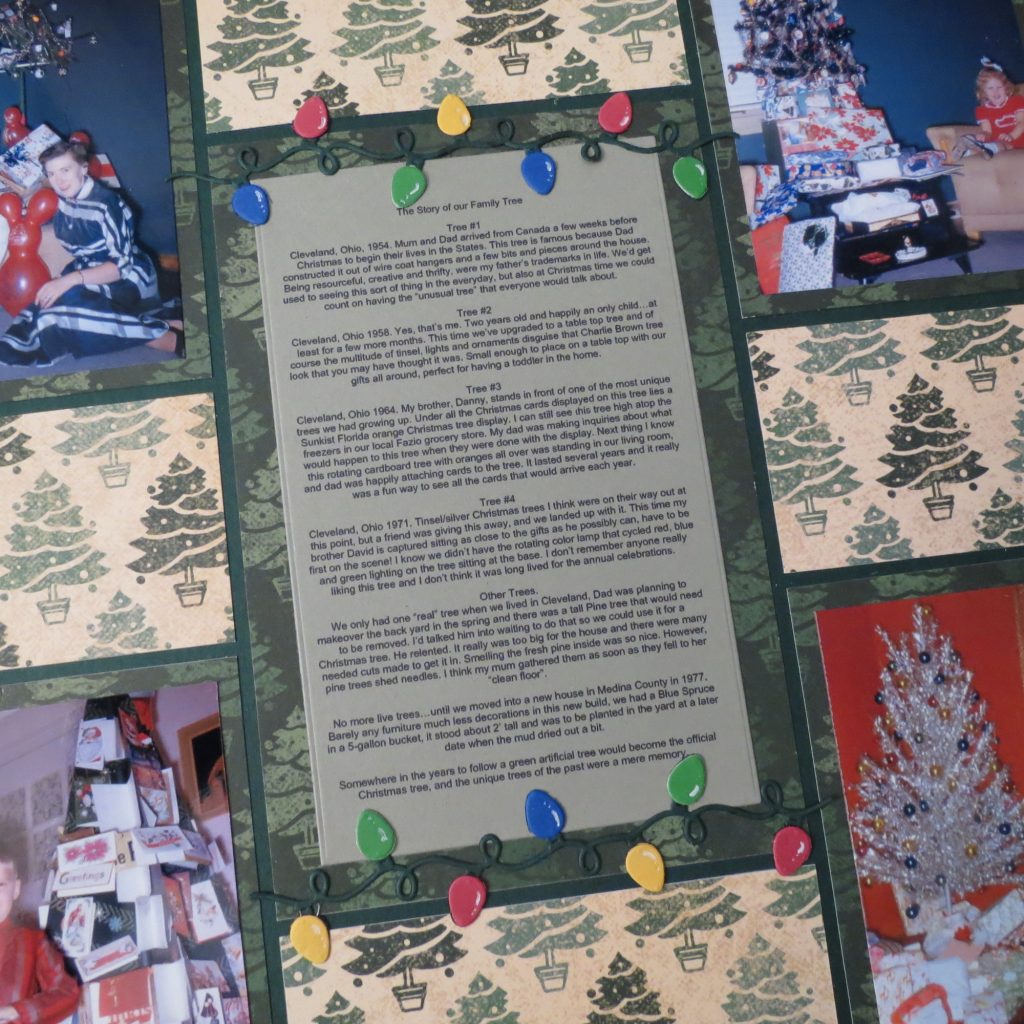 To add a final touch of color and keep with the theme, I've used a couple of strips of Christmas lights (Lawn Fawn – Mini String of Lights) to frame the journal block. White gel pen highlights on each of the bulbs and a touch of Nuvo Glitter Gloss for a bit of sparkle.
There you have it…a story I've been intending to scrap about for years, is completed in a few easy steps. Let's quickly review!
Choose some photos that will tell your story.
Organize your thoughts, make notes about your story that your photos illustrate.
Decide which photos to use.
Choose a pattern to contain the photos and adequate space for your story.
Choose cardstock or patterned paper for mats to cover the grid. Cut and cover the grid.
Place your photos in place.
Collect your outline and write a final script.
Print, cut, mount journal block.
Add embellishments if you wish.
Add some holiday sparkle and you are finished!
Here's how I've written the stories about our family trees that I've included on the page.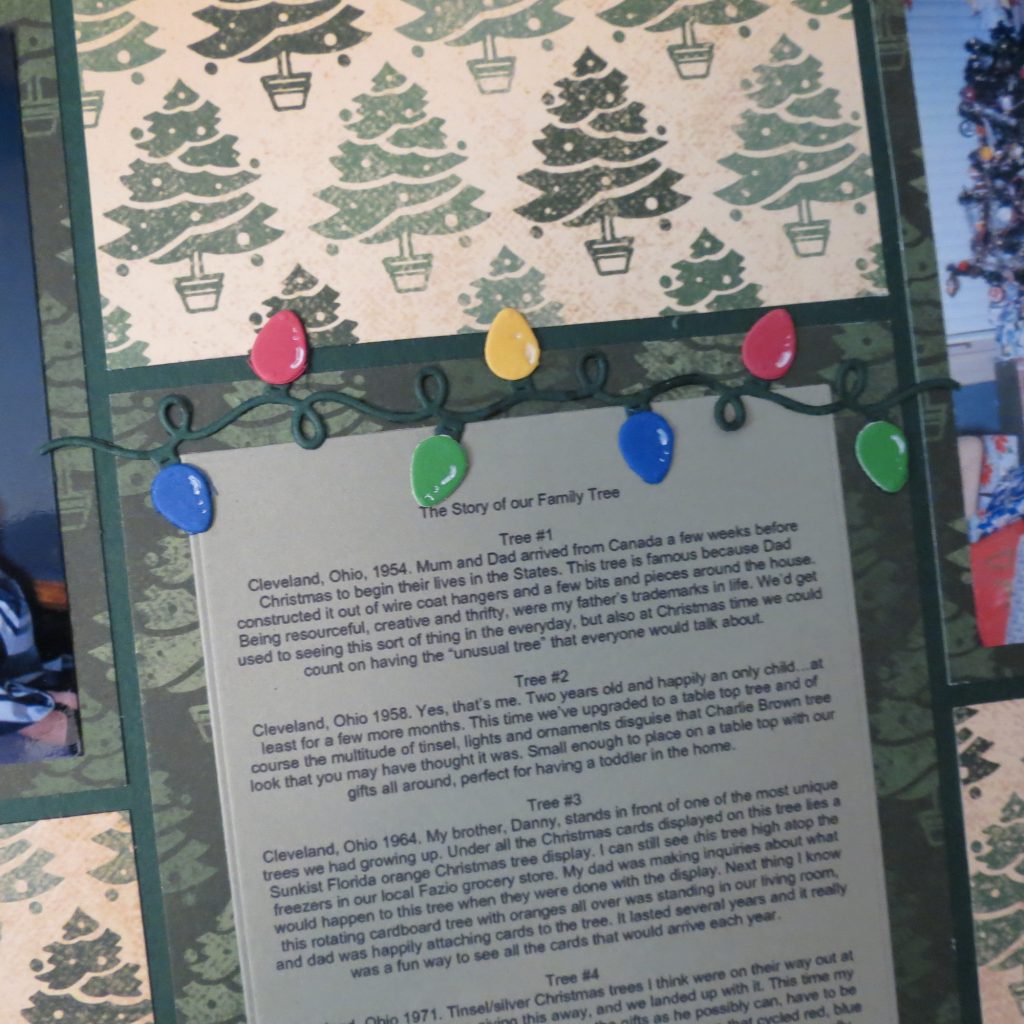 The Story of our Family Tree
Tree #1
Cleveland, Ohio, 1954. Mum and Dad arrived from Canada a few weeks before Christmas to begin their lives in the States. This tree is famous because Dad constructed it out of wire coat hangers and a few bits and pieces around the house. Being resourceful, creative and thrifty, were my father's trademarks in life. We'd get used to seeing this sort of thing in the everyday, but also at Christmas time we could count on having the "unusual tree" that everyone would talk about.
Tree #2
Cleveland, Ohio 1958. Yes, that's me. Two years old and happily an only child…at least for a few more months. This time we've upgraded to a table top tree and of course the multitude of tinsel, lights and ornaments disguise that Charlie Brown tree look that you may have thought it was. Small enough to place on a table top with our gifts all around, perfect for having a toddler in the home.
Tree #3
Cleveland, Ohio 1964. My brother, Danny, stands in front of one of the most unique trees we had growing up. Under all the Christmas cards displayed on this tree lies a Sunkist Florida orange Christmas tree display. I can still see this tree high atop the freezers in our local Fazio grocery store. My dad was making inquiries about what would happen to this tree when they were done with the display. Next thing I know this rotating cardboard tree with oranges all over was standing in our living room, and dad was happily attaching cards to the tree. It lasted several years and it really was a fun way to see all the cards that would arrive each year.
Tree #4
Cleveland, Ohio 1971. Tinsel/silver Christmas trees I think were on their way out at this point, but a friend was giving this away, and we landed up with it. This time my brother David is captured sitting as close to the gifts as he possibly can, have to be first on the scene! I know we didn't have the rotating color lamp that cycled red, blue and green lighting on the tree sitting at the base. I don't remember anyone really liking this tree and I don't think it was long lived for the annual celebrations.
Other Trees.
We only had one "real" tree when we lived in Cleveland, Dad was planning to makeover the back yard in the spring and there was a tall Pine tree that would need to be removed. I'd talked him into waiting to do that so we could use it for a Christmas tree. He relented. It really was too big for the house and there were many needed cuts made to get it in. Smelling the fresh pine inside was so nice. However, pine trees shed needles. I think my mum gathered them as soon as they fell to her "clean floor".
No more live trees…until we moved into a new house in Medina County in 1977. Barely any furniture much less decorations in this new build, we had a Blue Spruce in a 5-gallon bucket, it stood about 2' tall and was to be planted in the yard at a later date when the mud dried out a bit.
Somewhere in the years to follow a green artificial tree would become the official Christmas tree, and the unique trees of the past were a mere memory.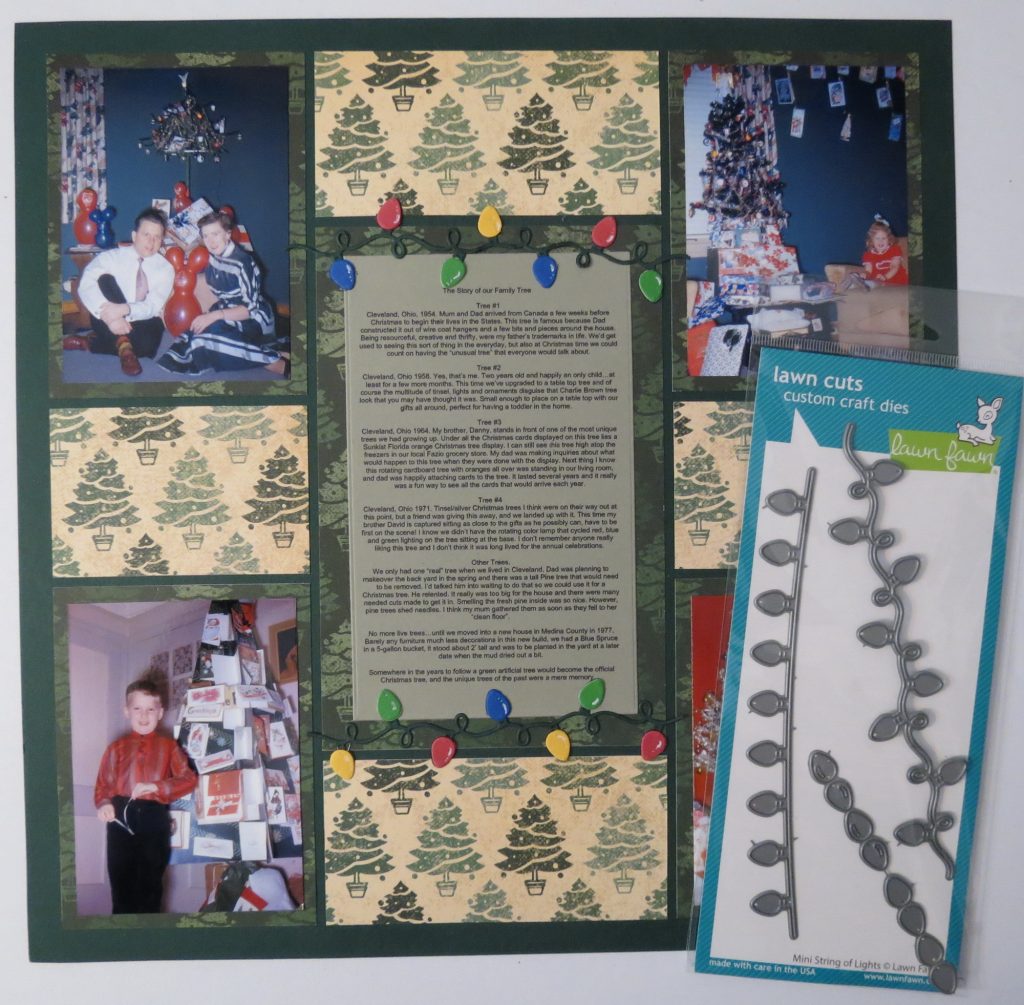 As you see, my story covers over 20 years of Christmas' in a short and concise form. You too can find a few words to gather your thoughts, memories and put them into words on your page and capture those memories of the holidays for all to share in. You will find that as you share your pages, that some will help you to remember other facts about the events and maybe even tell you how it "really happened"! Have fun putting it all together, and be sure to share it too.
Andrea Fisher