Tea for Two
This time we're going to look at scrapping with the basics. The Basic and the Layering Dies will allow many options for the looks we can achieve in a layout.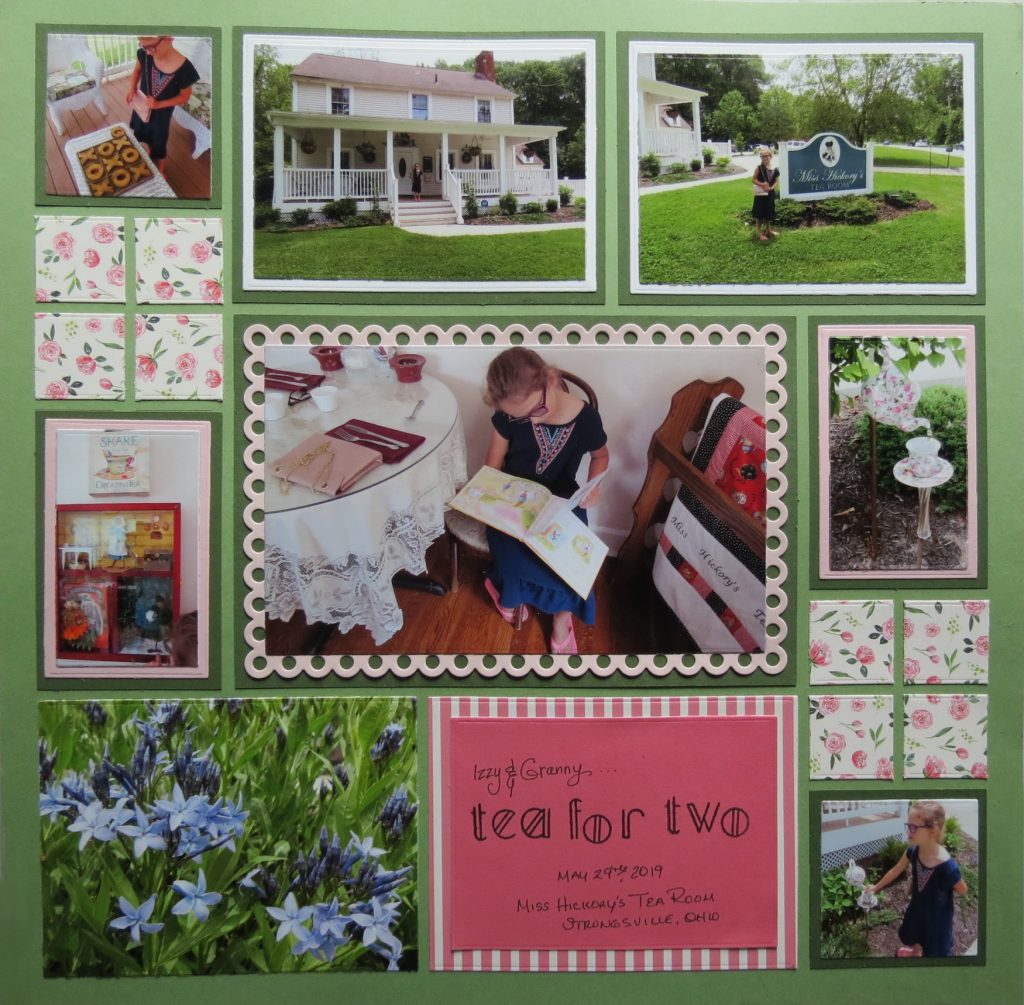 Let's also begin with a few scrapbooking basics:
PHOTOS
When you look over the photos you have to scrapbook, you might want to ask yourself a few questions.
1. What do I want to remember most about this event? Is it someone I was with, something that was said, or something that you saw?
I want this page to reflect all the things that Izzy discovered that day. The things she took special interest in and admired.
2. How do I tell that story? What is important to journal about? Will it be generally factual or directed to someone in particular?
The journaling on the page is directed to Izzy, this will be hers one day.
3. What pictures will capture this the best…there may be some great pictures, but what is best? You may well do multiple pages from these pictures, but how do you get the message across "in the opening paragraph" like you would in a written story? What will capture your audience?
I picked photos of all the things I thought had impressed her the most.
THE PATTERNS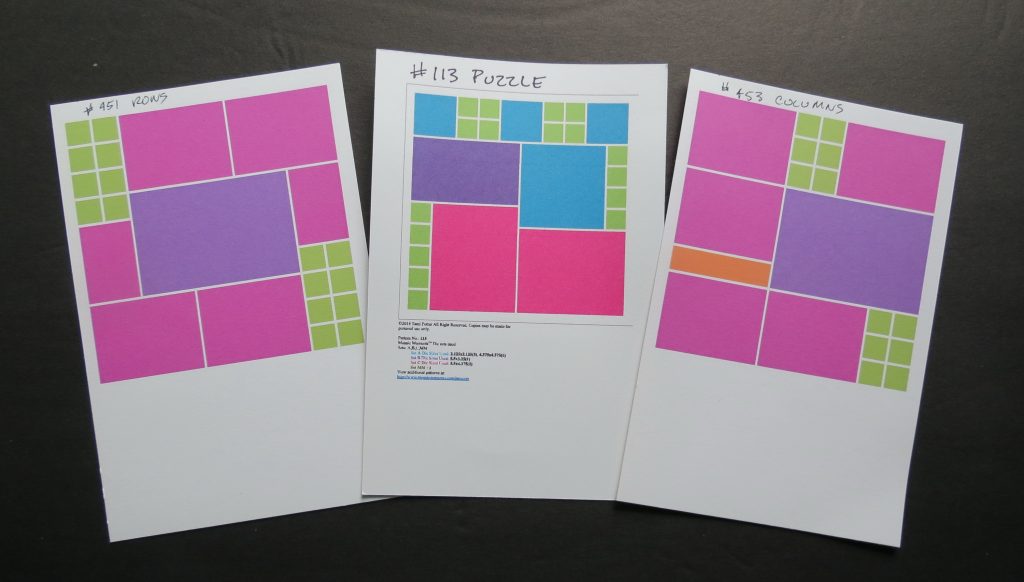 I needed three pages to properly cover the amount of photos I wanted to scrap. I also wanted the pages to work well together with repeated similar photo spots. I chose three patterns that had lots of horizontals, 1" squares and because Pattern #113 has a series of 4-1" squares and 2×2 spots, I decided to turn some of the 1" squares on Patterns #451 and #453 into spots for 2×2's.
THE DIES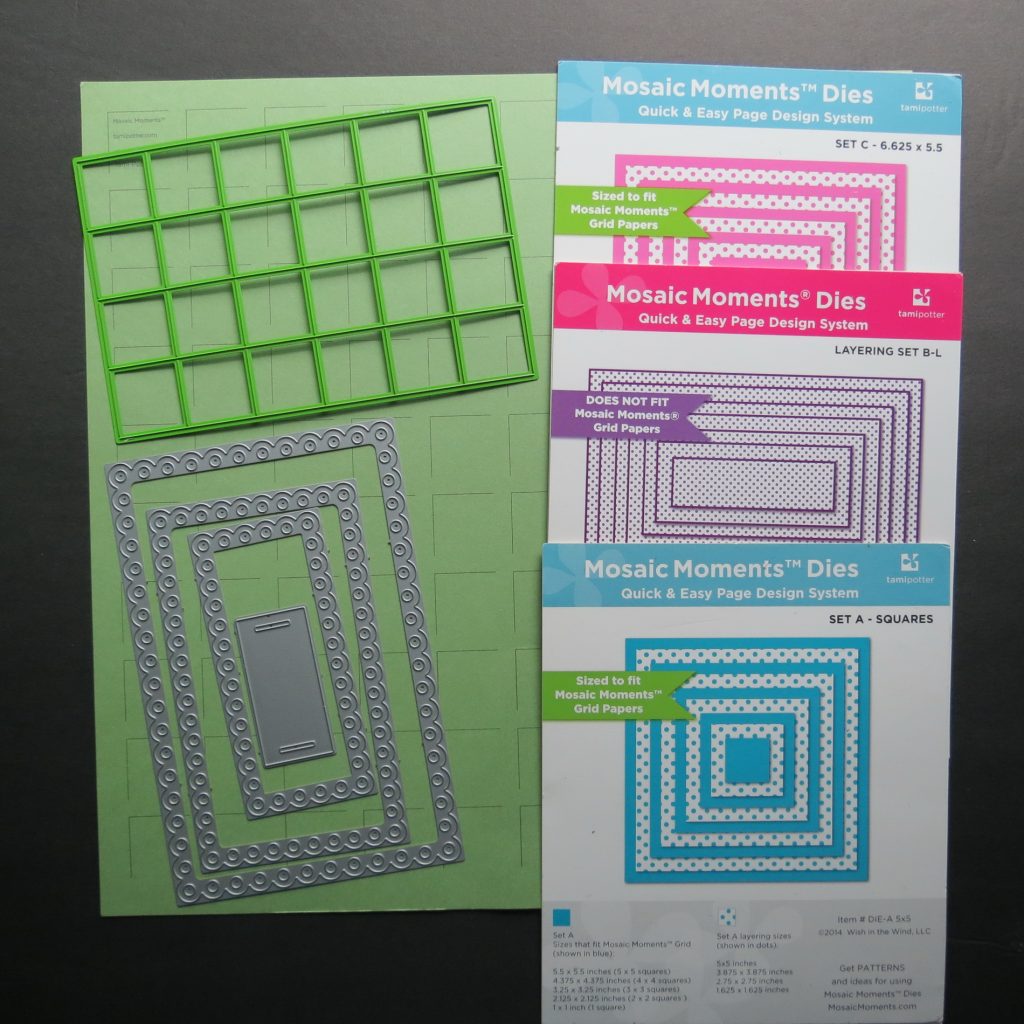 Of course, I'm using the Die Sets A, B and C and the Layering Dies AL, BL and CL. Additionally, I'm using a retired set of dies the Scallop Dot Mat. Even though you see all the new dies in action, don't forget to make use of all the older dies you have invested in!
For the 1" squares I used the 4×6 grid of 1" squares die to cut what I needed for my spaces.
Mats with the Basic Layer Die Sets A B C
Scallop Dot Border layers
Colors deep green, black, white, light coral and pink cardstock
6×6 – Carta Bella Botanical Gardens patterned paper for blocks and layers. Pattern papers from a coordinated collection blend together well. Repeating them on each page in varying amounts unify the pages. Keeping the colors mixed from page to page adds variety as well as consistency.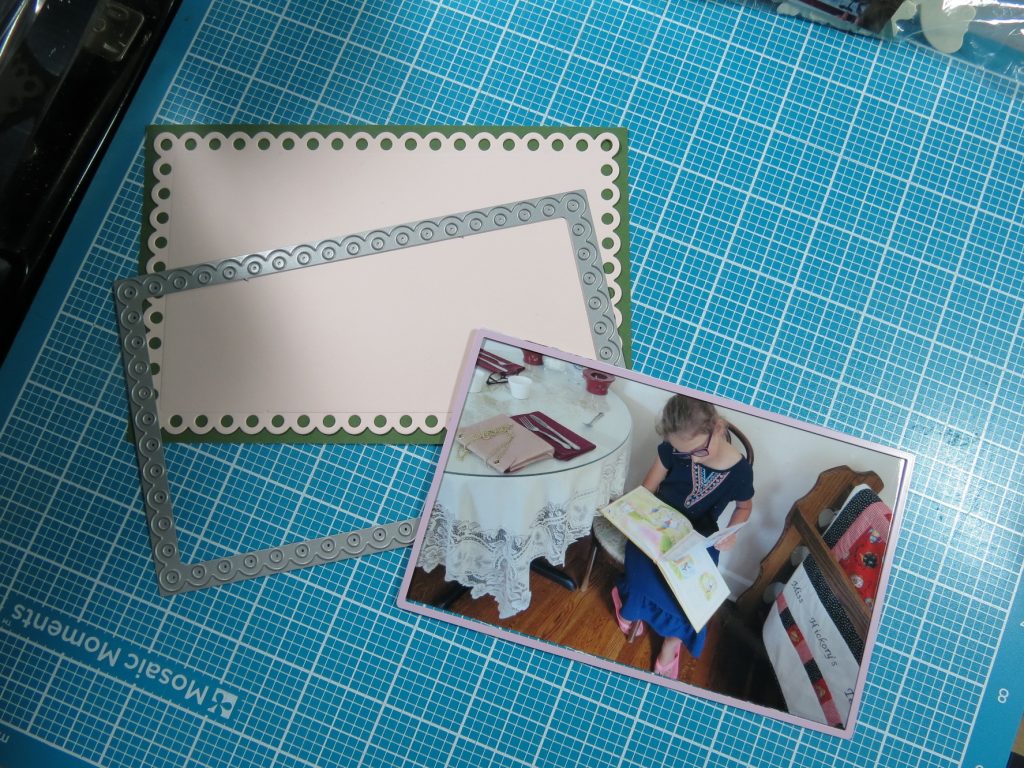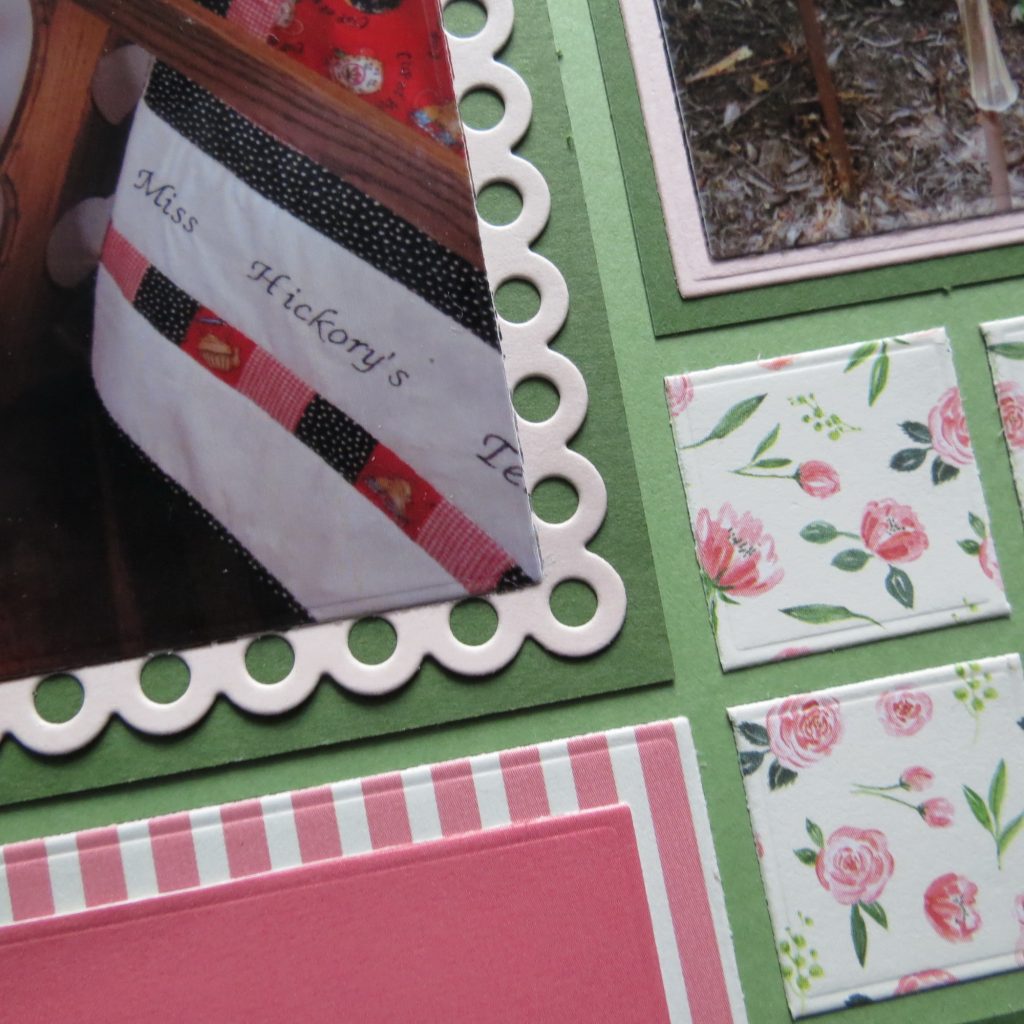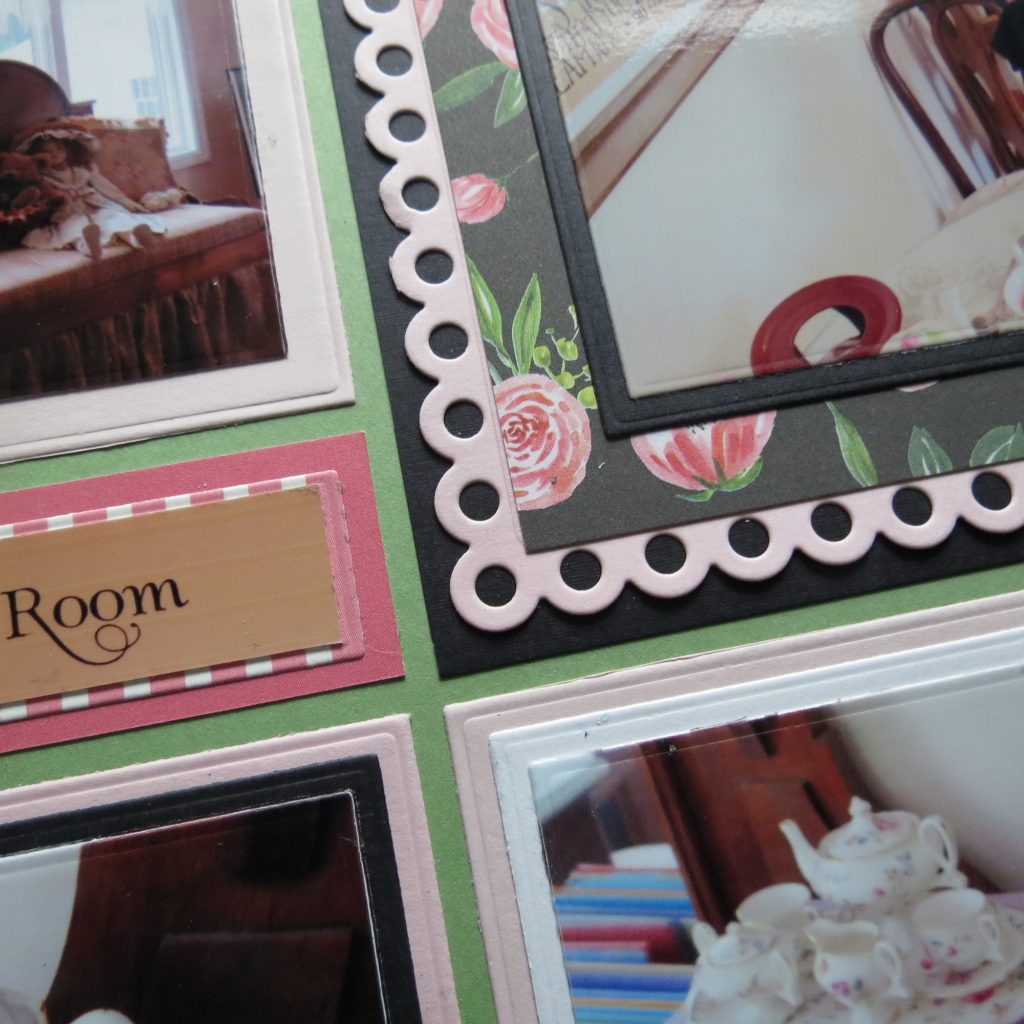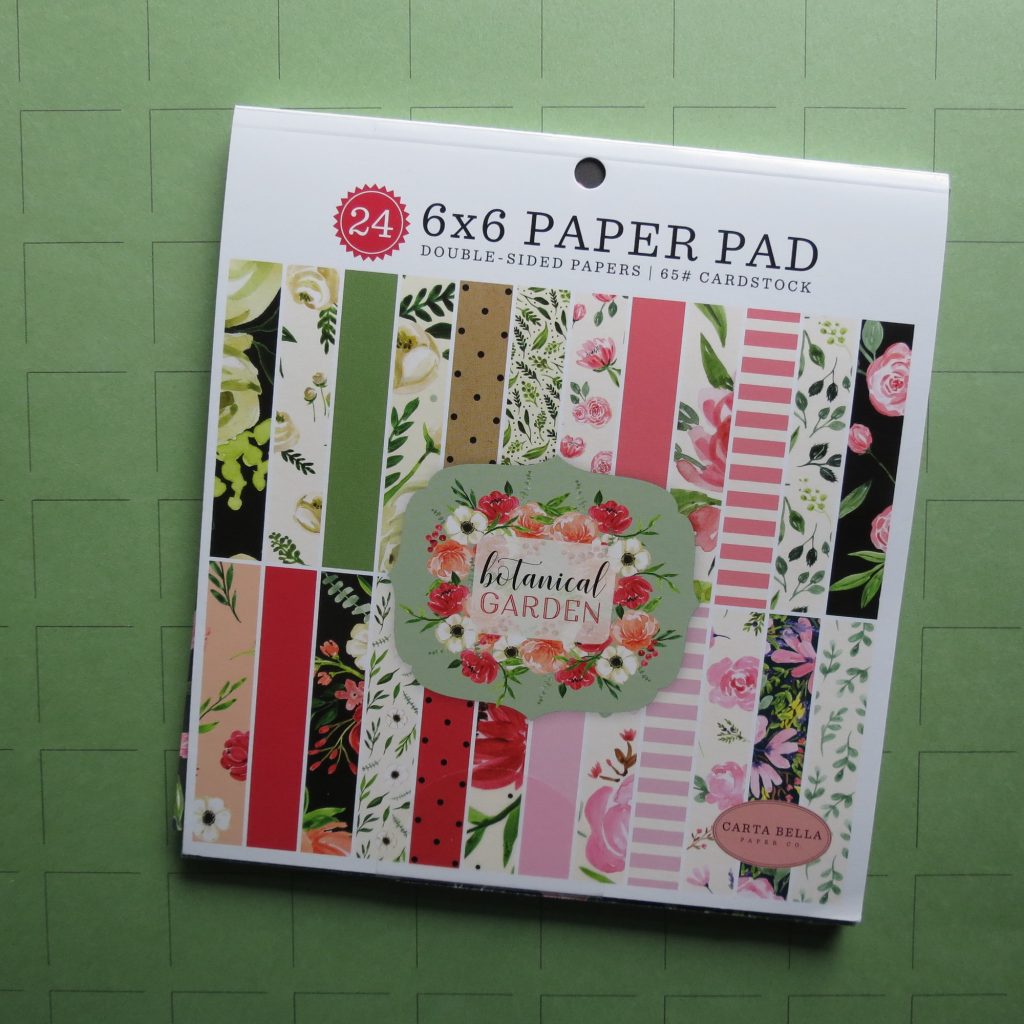 THE STORY
From the very moment we got there Izzy was taking in every special thing about the tea room. From the teapots pouring into teacups mounted in the gardens to the prisms that caught the light and made it appear that water was flowing from one to the other. She loved the teacups as lights along the counter and the teapot and teacup wind chime.

We were able to get a table in The Storybook Room that's been decorated just for kids. A book from the unique tree bookshelf caught her interest as we settled in. I took several pictures of the room and the things that captured her attention.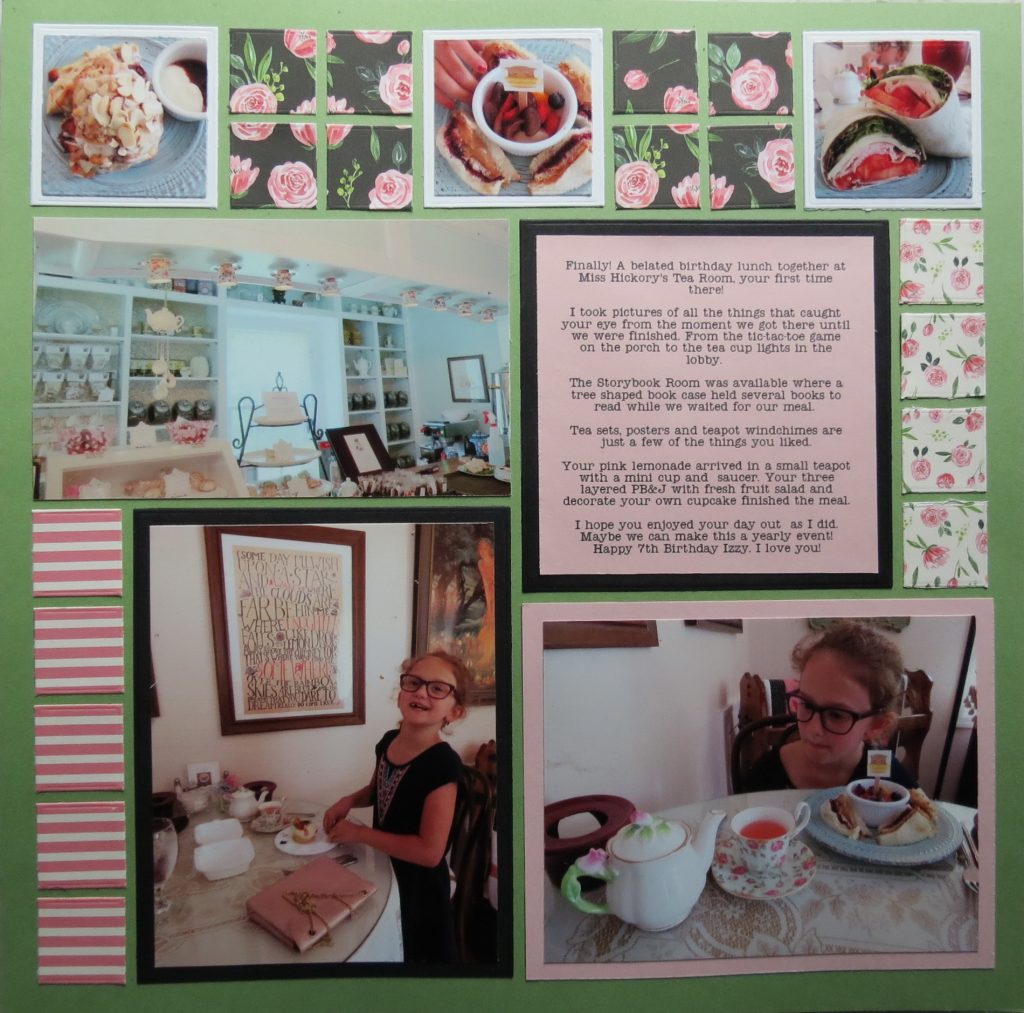 There was a poster beside her place at the table. Izzy's a new reader and found that the typography of the poster was throwing her off a bit and asked me to read it to her. So granny was two thirds through it before I caught on to what it was and began singing the rest of…we laughed together over granny's silliness. Later I realized she would have no references to the song, but one day, she will. Hopefully, she'll remember this moment we had celebrating her birthday.
The kid's menu gave her several kid-friendly choices and she picked a PB & J sandwich with a fresh fruit cup and pink lemonade to drink. She was so surprised to see her lemonade arrive in a mini teapot with a China cup! She was thrilled.

The dessert she picked to finish the meal was a decorate-your-own-cupcake. Now Izzy is the baking queen around here and loves to bake and decorate with Auntie Hannah. They brought out an iced cupcake on a paint pallet with each of the receptacles filled with sprinkles, candies, and gummies. She took great delight in placing the sprinkles on one by one! It took forever!! In the end, we took it home with us for her to enjoy later.

In the years to come, I hope when she looks at these pages that the memories of that day will be fresh and clear and good. She has seen the layout and I was pleased to know that many of the items in the photos are all things she went home and told her parents all about! They even commented on how the patterned paper matched the teapots on the page! I think this will be a page that will bring back those memories in years to come.
My journaling on the page captures a portion of this story and is written to her from me.
So when you are scrapping with the basics for your layouts, make your own lists of what you want to include and the story you want to tell and have fun putting the pieces altogether!
Andrea Fisher