This week's features:
Mosaic Moments Die: Mittens Border Die
Mosaic Moments Grid Color: Steel Blue
Mosaic Moments Pattern #125
Greetings and Happy New Year! Hope your holidays were wonderful and that you have lots of photos to get scrapping with in 2017. We'll begin with a winter layout and two great winter themed dies.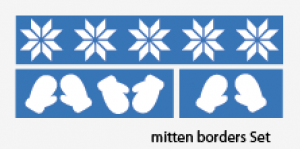 We're going to be trying some new features this year along with some of the old like today's featured die layout. The Mittens Border Die has three dies, one carpenter's star border and two mitten borders. One will fit a 1×2 space and the other a 1×3 space on your grids. To show off the mitten dies I chose Pattern #125 where there are spots for both the small and the larger mitten border pieces.
The Steel Blue grid made a nice foundation for some snowy day photos. I chose snow flake (Doodlebug Design) and winter words pattern papers (Heidi Grace Designs) to fill some of the spaces instead of photos.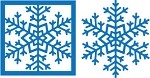 I also included the use of another die the Cornerstone Snowflake Set 1; I cut one cornerstone and one snowflake from vellum. I used Wink of Stella Brush to give the snowflakes a bit of glimmer. It is hard to see in the photos, but a slight glimmer is visible and adds to the flakes. I placed the cornerstone over the 2×2 square and the snowflake over the corner of the photo on the bottom right.
A few Zig Markers in colors to match were used to add a few snowflake details to the mittens.
For a title and journal spot the center 4×4 square was chosen. I doubled matted with Bazzil Bling cardstock (Blue Eyes, Blind Date) and snowflake pattern paper (Doodlebug Design.) I wanted a lot of the paper to show through so I tried using the vellum to print on, but it really spread and was illegible then I remembered I had printable transparent sheets (Scotch Brand). They have a rough side to print on and you can see through it. It was great to still see the paper, but the words weren't easy to read. I tried a piece of vellum behind the square and was happy with the results.
It's a nice, quick and easy page to put together with your winter photos and a great way to start the new year scrapping off right.
Thanks for joining us for another year of ideas for scrapping with Mosaic Moments!
Andrea Fisher