A great way to add interest to those "filler blocks" on your Mosaic Moments Pages is with bits of patterned paper. If your page calls for a more distressed look, try tearing your paper and layering it on top of a solid color block. You can add a bit of ink for an even more worn or distressed look.
Try adding bits of torn paper onto photo mats as well. (see examples)
Planning Tip: When taking photographs, take a look at your surroundings and see what inspires you. Snap a few shots to help you remember the details.
Can you tell where the inspiration for this page came from? Along the trail many of the walls looked distressed (You can see this best on the wall in the center photograph). I decided to do the same look on this page as well.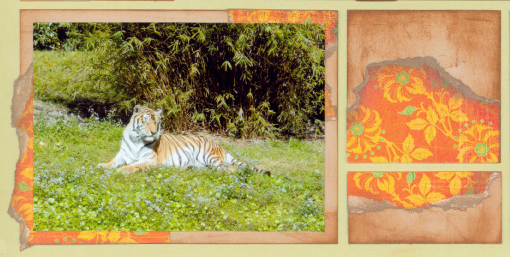 You can find this Symmetrical Pattern, #202, on our gallery.
"Maharajah Jungle Trek" supplies used: This page was created using Mosaic Moments™ 12×12 Bamboo grid paper. It also has Carob Cream and Almond Cream (chalked inked around the edges) Paper Tiles™. Pattern paper from BasicGrey™ was also used on this page.