We love those famous words spoken by Buzz Lightyear – "To Infinity and Beyond!" Today we we are sharing science fiction inspiration for a themed scrapbook page. This is a great project to go all out! You can have fun creating different cut outs and experimenting with different textures.
Material Used for My Science Fiction Page:
I enjoyed testing products and using them in unconventional ways.
List of How I used the Hitchhikers Guide to the Galaxy as inspiration:
Title: I was inspired by the Book Title (The Hitchhiker's Guide to the Galaxy) so I  created my own version of the title – "A Sci-Fi Lover's Guide to Disney"
Colors: My main Colors were Black (Since it reminds me of images of outer space), Blue, Green, (I wanted to colors to brighten up the image since it is a more humorous story) and Silver (this reminds me of metals). I also included purple as an accent color to add a little whimsy to my page.
Science Fiction Font: If you look at the main title, this is clearly a Science fiction inspired font. (This is Space Age, you can download it for free here.) The font alone says "this page is all about Science Fiction". Note: Use the Special fonts for your titles only – use a basic font for the rest of your journaling since it is easier to read.
Phrases: I used a phrase often seen with this book ("The answer to Life, the Universe, and Everything: 42"), but made it ""The answer to Life, the Universe, and Everything Disney". I used this as a subtitle to let the viewer know this page is all about tips at Disney World. This fits with the overall theme of the page.
Icons & Imagery: For this page I mainly used imagery of stars and planets – relating to travels in the galaxy. I used a glitter paper to represent the starry sky, and used several sizes of round punches to represent planets. Several of the circles were made by using Sticky Face Stickers and adding Foil leaves on them – this makes the circle look like little moons.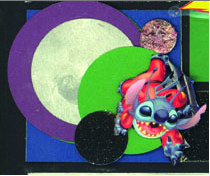 This is close up shot to show some of the imagery. I have several circles representing planets. I also used special stickers to make certain images pop for a 3D look. I wanted to make the character, a photo of Stitch (cut into a silhouette) look as if he is popping out at you!
Texture:  I definitely used some shine! I used foil leafing to add shine. This added great texture since it looks like a shiny metal and craters on a moon. I also created texture by adding a metallic silver chalk ink onto Paper Tiles. I was inspired by one of the photos last week and made it look like a distressed silver metal. Here are some close up shots of the textures on this page:

The Theme I incorporated into my page is based on a traveling theme. In "Hitchhiker's Guide," the main characters use an actual guide to help them during their travels. My page is a guide on how to have a Science Fiction Adventure at Disney World. Here I give tips and descriptions of each of the rides and entertainment.
Books are a great source of inspiration. Consider using your favorite sci-fi movie or book as inspiration for your next scrapbook layout. Adding a theme is fun and your page will stand out in your album since it is so unique!