Scrapbook pages…
INSPIRED BY Sherlock Holmes by Sir Arthur Conan Doyle
Perhaps the very first image that comes to your mind when the Sherlock Holmes stories are mentioned is the iconic silhouette of Sherlock, deerstalker hat, magnifying glass in hand and Inverness caped coat. This image is not one you might have imagined from the words in the stories, but from the Sidney Paget illustrations that appeared on the pages of the stories. This is a perfect example of how an illustration can help to shape the imagination of the reader. Hopefully we'll be giving you a few ways to use Sherlock Holmes as an inspiration for designing your scrapbook pages.
Maybe you've never read the stories and have only seen one of the many film versions of Sherlock, whether the rustic, Victorian Basil Rathbone version, or perhaps the Steampunk Victorian Robert Downey, Jr, or even the latest BBC version with Benedict Cumberbatch that has fans Sher-LOCKED!
So as I searched for inspiration to share with you it often became a bit difficult to keep it all straight…and separate! You can find all the things I've pinned on our MM-Sherlock Holmes Pinboard on Pinterest. You can interpret your own Sherlock as you please, but this is some of the things that stood out to me that could be used to create a layout inspired by the book.
Let's examine a few of the stories for clues to putting together your Sherlock Holmes inspired page. Let's begin with a few of the basics colors, textures and patterns, quotes, symbols and themes.
COLORS:
For colors let's take what we know of the Victorian Era: Dark, rich colors like reds, greens and plums. I think of them being as heavier, somber shades. As to Sherlock, I can't help but place him in browns, blacks and dark tweedy greens. That also leads us to:
TEXTURE & PATTERNS:
Tweeds, without a doubt, but Sherlock also wore a rich velvet smoking gown while at home. Other fabrics that might give us ideas about texture would be silks and damasks. These along with flocking showed up in the wallpaper of the time too.
QUOTES:
Once again, it's a bit tricky separating fiction from film!
Did you know the phrase "Elementary, my dear Watson" never appeared in an Arthur Conan Doyle story? While Holmes often remarks about his conclusions being "elementary" it is never coupled with "my dear Watson!" It is however, a great phrase that might be perfect for documenting your elementary student's activities or learning to ride a bike, drive a car, and climb a mountain. Any daunting task once accomplished may well be looked back in retrospect as being "Elementary!"
Here are a few more quotes and I hope they are all from the books, more can be found on our Sherlock Holmes Pinterest Board. Or at this quote site.
"There is nothing more deceptive than an obvious fact."
― Arthur Conan Doyle, The Boscombe Valley Mystery
"Mediocrity knows nothing higher than itself; but talent instantly recognizes genius."
― Arthur Conan Doyle, The Valley of Fear
"Education never ends, Watson. It is a series of lessons, with the greatest for the last."
― Arthur Conan Doyle, His Last Bow
"Life is infinitely stranger than anything which the mind of man could invent."                                            –The Complete Adventure of Sherlock Holmes
"To a great mind, nothing is little,' remarked Holmes, sententiously."
― Arthur Conan Doyle, A Study in Scarlet
"My mind rebels at stagnation, give me problems, give me work!"
― Arthur Conan Doyle, The Sign of Four
AND THEN THE ONE I'M GOING WITH….
"…When you have eliminated the impossible, whatever remains, HOWEVER IMPROBABLE, must be the truth."
― Arthur Conan Doyle, The Sign of Four
SYMBOLS:
We've come to expect the deerstalker hat, the magnifying glass, the Inverness cape, the violin, the pipe, the microscope, Watson's mustache, and bowler hat. Will any of these fit into your layout?
THEMES:
Sherlock Holmes was a man of forensic science at a time that this was rare. It is worthy to note that much of what Scottish author Arthur Conan Doyle wrote about Holmes doing, has indeed become a part of modern forensic investigative techniques.
Did you know that Arthur Conan Doyle was also a physician? He began his writing while waiting for patients! His mentor, Dr. Joseph Bell was famous for his deductive skills of observation that inspired Doyle in his writing. They were the medical version of Holmes and Watson.
Holmes was also a musician. Perhaps you can reveal the secrets behind your own musical talents.
What sort of things have you investigated? Has your family gone on a scavenger hunt, or geocaching? Maybe you like to hike the woods in the fall in search for fall colors or through our National Parks on vacation? Have you traversed Route 66, or the Lewis and Clark Trail? Have you returned home again after many years away to see the changes in the place you grew up?
I have chosen to tell a story about my start in genealogy. I began by searching my family roots trying to piece together the history of a particular piece of jewelry and the story on how my great-grandfather obtained it. While tracing your family roots there are plenty of opportunities to play detective!
Play the detective and see what you can find in your photo stash, or determine to shoot some new photos and tell your own short story with a few inspiring elements of a Sherlock Holmes Story!!
How my scrapbook page came together…
Quote:
 "…When you have eliminated the impossible, whatever remains, however improbable, must be the truth." I began with this quote because it fits so well with the search I undertook trying to track my great-grandfather's brief time in America. Documents often suggest conflicting information that needs to be sorted and doesn't agree with what you know, sometimes the improbable IS the truth.
Colors:
I was determined to stick with browns but did not like what I was getting. I found an Eggplant Mosaic Moments 12 x 12 Grid page worked the best with my photo and patterned paper I had found to use. The patterned paper is a green tweed like pattern and it was exactly what I was thinking about for this challenge. I used Military Green
Paper Tiles
for the corners, and the "book" titles.
Theme:
I chose
the detective
angle, because that's often the work you do to do a family tree. Searching, through
clues
to get to the facts or truth. My search centered around this broach
and this coin, a 1892 Morgan Silver Dollar:
I then used sections from several documents from my search, my clues, in a ship passenger list, a census from 1891 and a death certificate to fill three of the four squares in this pattern. You will find pattern 109 in our Pattern Gallery.
Symbols: A magnifying glass
to highlight a few of the documents details were the embellishment I chose to use circles from the centers of the
Mosaic Moments Circle Tiles
were used and the centers removed to leave a narrow rim for the main magnifier, a narrow strip of black for the handle and the centers filled with Crystal Lacquer for that glassy, magnified look.
Symbols:
Books
After all, this is the literary inspiration! The many stories of Sherlock Holmes in bound leather covers would fit with this page. I didn't use leather, but cardstock in our Military Green
Paper Tiles
in the two sections flanking the central photo as though sitting neatly on  a bookshelf. To add to that feel I scored my cardstock at the top and bottom with a double score.
Then by folding along the scores you will be able to take your ink and dab across the score lines for emphasis that adds to the old book look.
I had plans to do the titles in the printer in a font to fit the times. The printer however decided to die. I chose titles for each volume that reflect my story and give a tip of the hat to two Sherlock titles "The Adventures of James Eadie" and "The Return of the Silver Dollar."
Textures & Patterns:
I had a small fabric swatch that was perfect! However, not nearly enough to use in the layout. I searched through my collection of textured papers and found just what I wanted, something with a tweedy look
and
it was in green!! I used it to mat both journal blocks, the photo and the smaller outside corner sections. With the military green Paper Tiles in each corner I think it balances well. Because my printer was not working and I could not print on parchment, I had the text printed at the library and then used antique linen distress ink to give it some appearance of age.
Put it all together for the final look and case solved!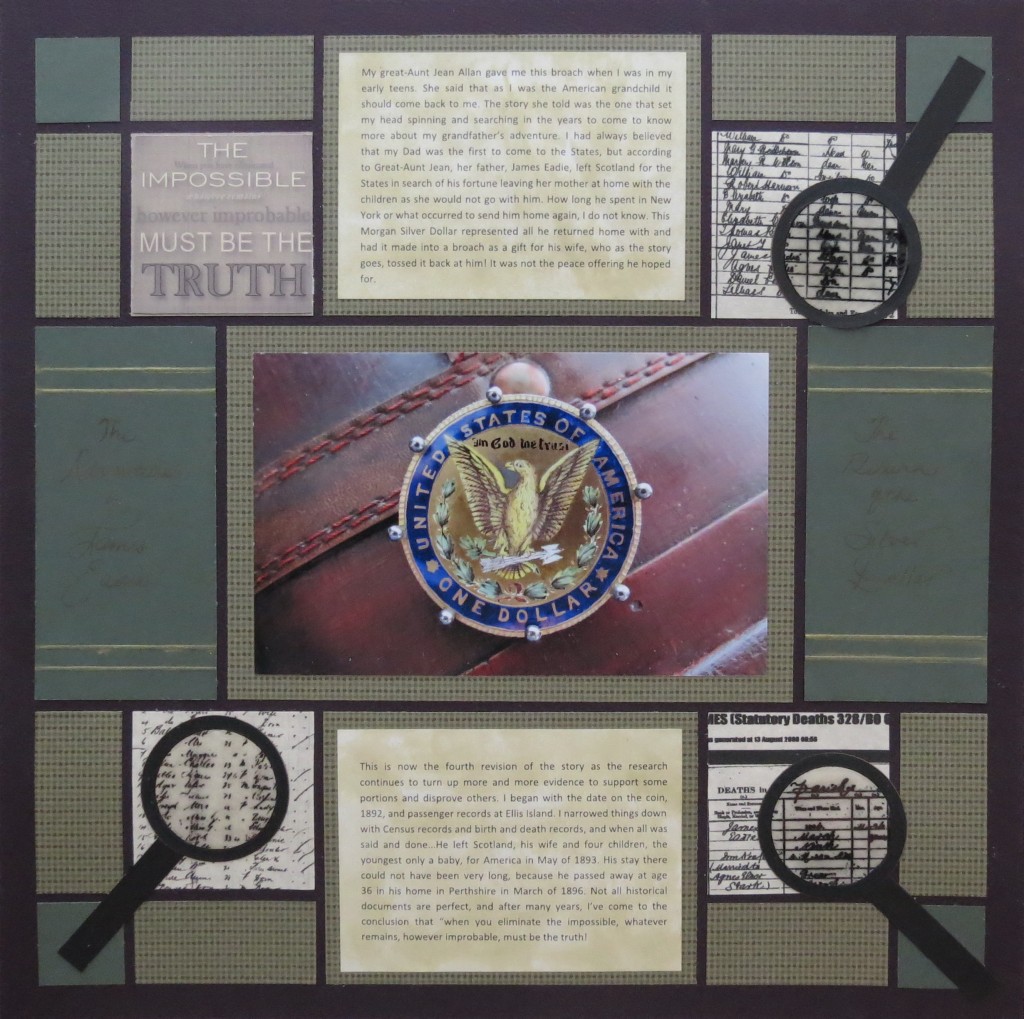 Thanks for dropping in, I hope you found a few ways you could turn your scrapbook pages into one inspired by Sherlock Holmes. I hope you'll share them with us on our Mosaic Moments Facebook page or our Story Board on Journella.
Andrea Fisher