Red, White and Blue on the Range. Departing slightly from the traditional red, white and blue of our patriotic holidays, I thought I'd attempt to adjust that palette to fit a wider application that might span the American West and not just the nautical East Coast.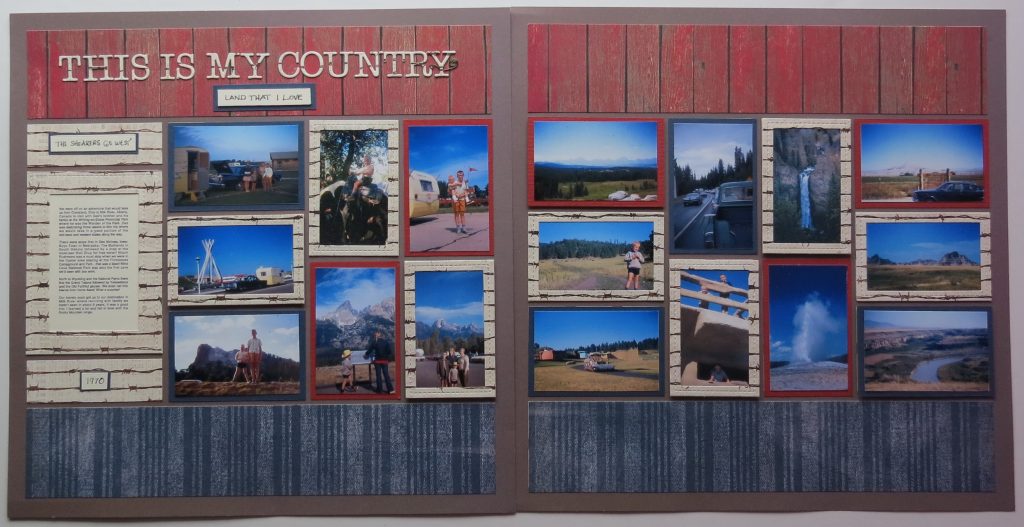 Every once and a while I venture back into slides taken by my Dad to work on an album that, if ever finished, will hold the story of me and my family as I was growing up. He worked exclusively in slides and over time and the poor storage by some who were in possession of them for many years, I've tried to salvage them, clean them up and digitalize. And yes, to then get them into an album for easy viewing and a place to include the narrative that for years Dad would tell as we regularly viewed the slides.
This double-page layout will include a selection of photos that mark our great three-week journey west from home in Ohio to my uncle's home in Milk River, Alberta, Canada where he was the head ranger of the Provincial Park. I've tried to pick out a few pictures from several stops along the way as an introduction for what will be included in additional pages that will follow. I've sized them to fit 2×3 spots on the grid and that works well as that is the slide size too. It also helps to hide any flaws due to age or damage to a minimum.
My Mosaic Moments Grid Paper is Mud Pie from the Trailblazer Collection. The patterned papers I've used are from Authentique Collection "Frontier", Frontier One, Frontier Three and Frontier Seven. Cardstock in Red and Blue and Cream will fill in as mats.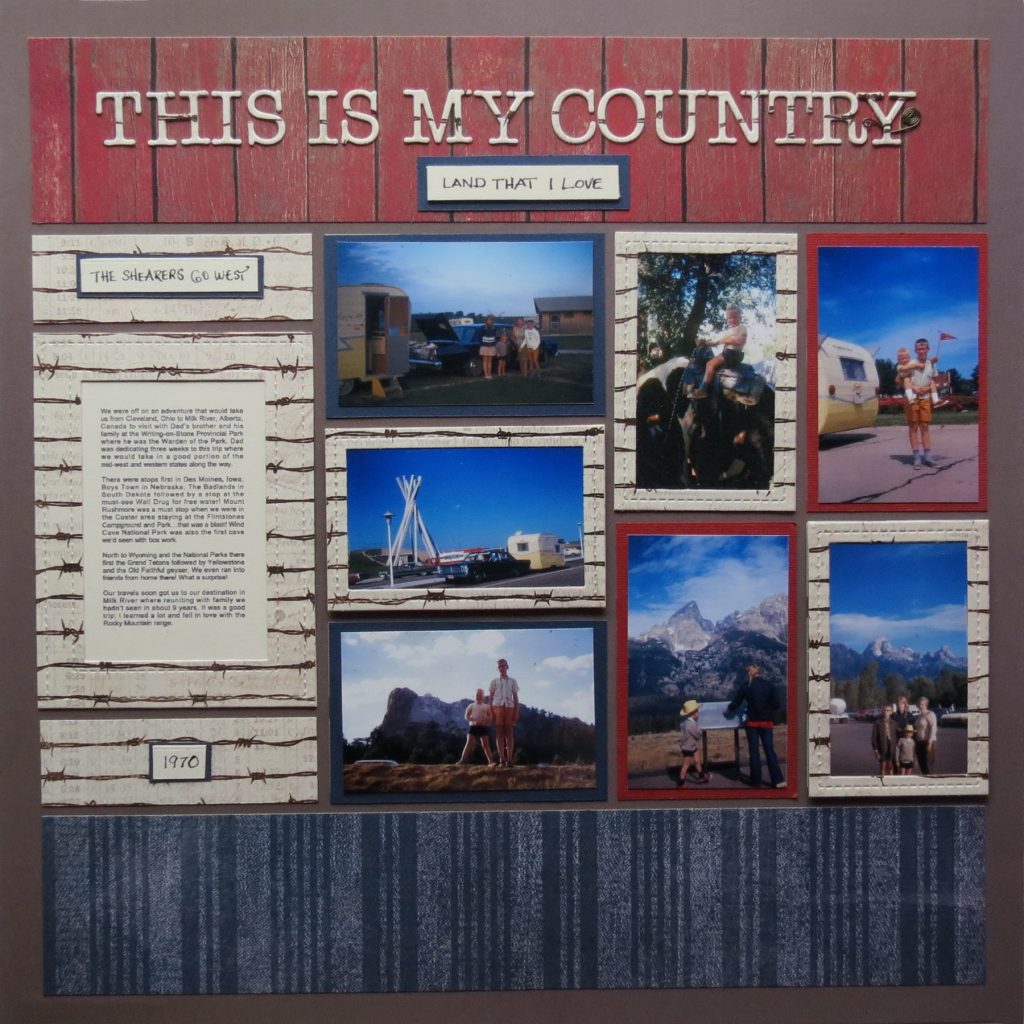 I have run a 2.125" strip of the red barnwood along the top edge and a 2.125" strip in the striped denim along the bottom. I've a 3×4 block cut with the Stitches Frame 3×4 Set that is where my journal notes are displayed.
I've arranged the photos in a pattern of three in a column and four uprights across the page. I thought I'd like to pop a few up with Foam Mounting Tape to break up the sameness of the sizes and I've used a combination of mats in red and blue with a few frames from the barbed wire paper to cut 2×3 frames using the 2×3 die from the Stitches Frame 4×5 Set.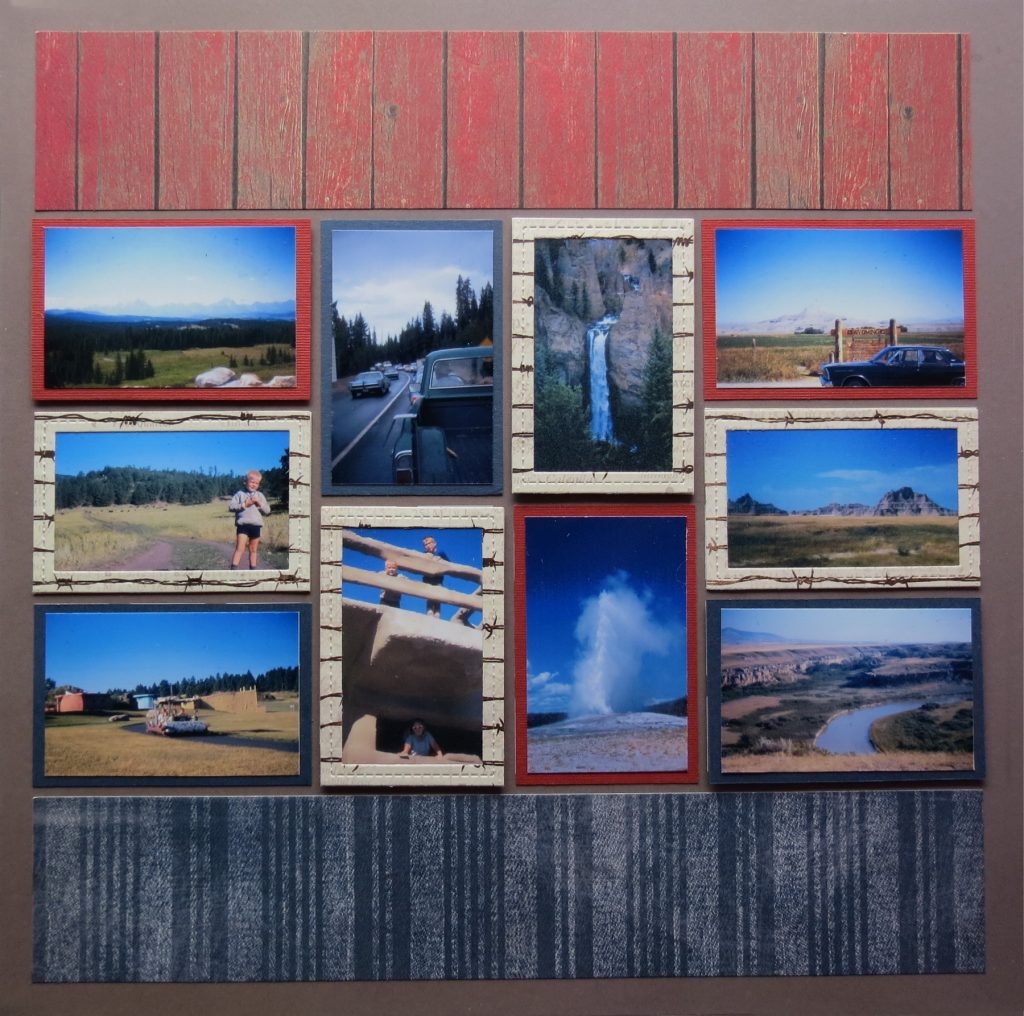 My title is cut from leftover pieces of the barbed wire paper using Mosaic Moments Alphabet 4. I have a hand cut a sub title that I've stacked, mounted on blue cardstock and attached below the title.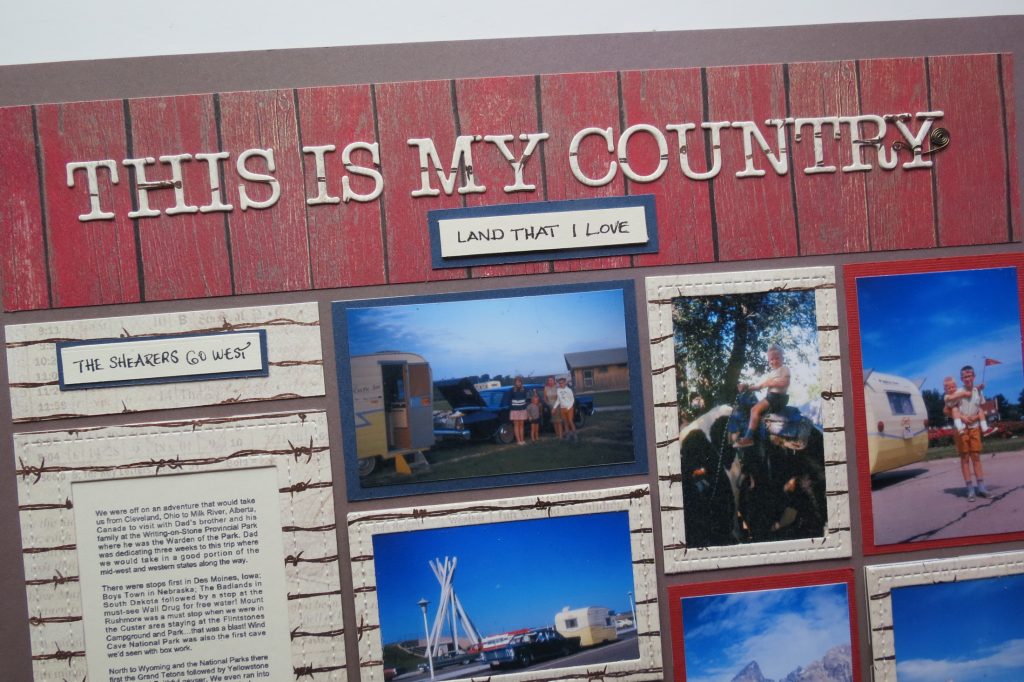 I wound a bit of wire in a coil around the final "Y". To have it lay flat on the paper I cut a third layer and cut a bit out to lay the wire in the space between.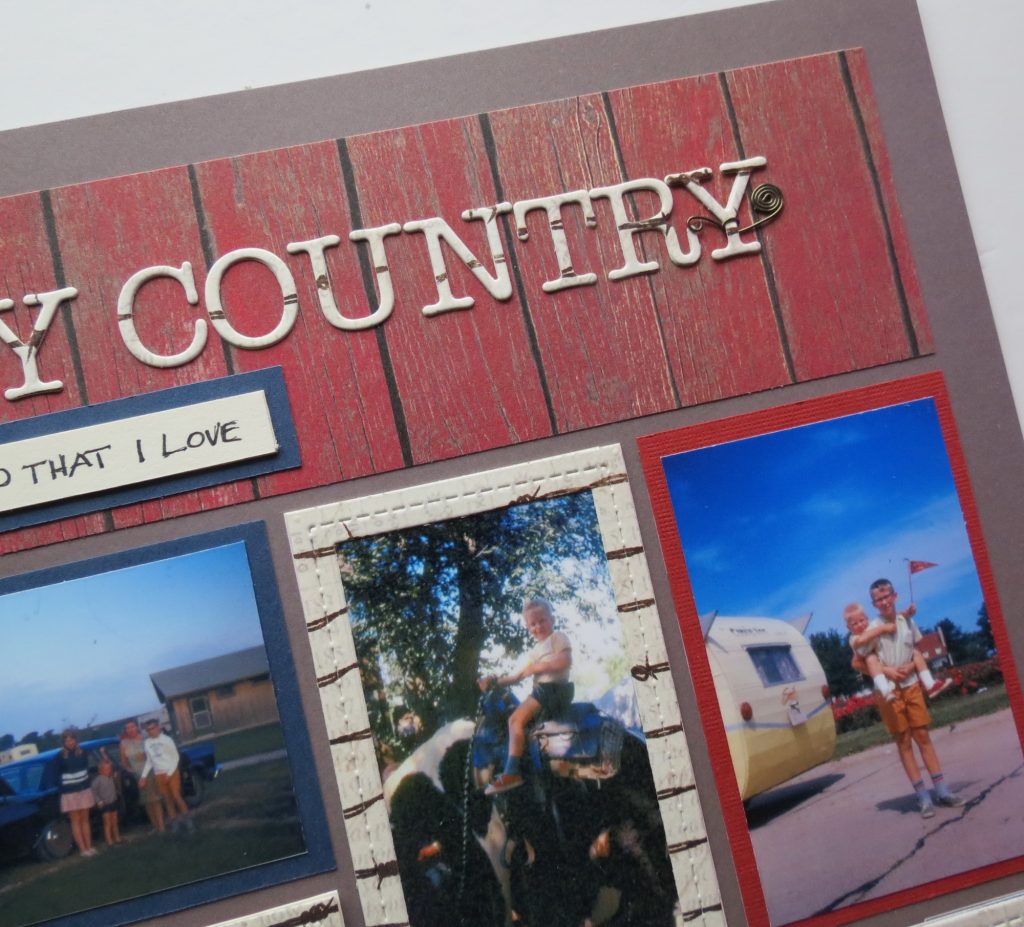 To get the letters spaced I lined them up on the Double-sided Craft Mat so they would fit in the topper space and then used post-it tape to keep them in line while I eyeballed placement. Then just flipped the whole thing over and added liquid adhesive to adhere to the page. I put an acrylic block on top to weigh it down for a wee bit until it was dried and flat.
I hope you might be inspired to try a variation of what you usually think of as a traditional Red, White and Blue for some of your holiday photos this year!
Andrea Fisher