As it gets closer to Valentine's Day, you might be wondering – What should I do for My Valentine? Or you might have noticed all of the fabulous Valentine scrapbook items, and you need ideas now! Either way, we have a treat for you. For this post, I gathered five love scrapbook page ideas that are perfect for showing off your Valentine! All of these layouts are very colorful and are lovely enough to place in a frame as a gift. I hope you get some inspiration and ideas from today's pages – now go ahead and take a look below: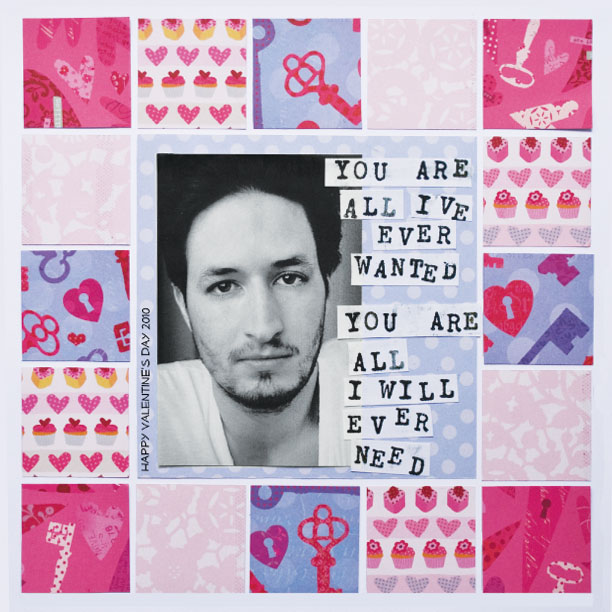 "All I Want" by Elizabeth Moon
Isn't this a lovely layout by Elizabeth Moon? If you like to use a lot of patterned paper, this is the perfect page for you! Sometimes we only need (or only have) one photo for a layout. This is a great opportunity to add lots of designer paper and embellishments.
I love black & white photographs. I think the simplicity of Elizabeth's photo helps balance out all of the colors from the paper. I highly recommend this look, especially if you plan to use a lot of bright colors.
This is one of my favorite romantic pages. Not only are the photos fabulous, but I love the fun patchwork with the different papers. It really gives this page a lot of personality- just like this cute couple!
To add more personality, I placed several large elements over the long strip of patterned paper. I like how the large photo (the Focal Point) overlaps it since it gives a unique look, and helps it get most of the attention. I also added a Cornerstone in an unexpected way by not placing it right on the grid.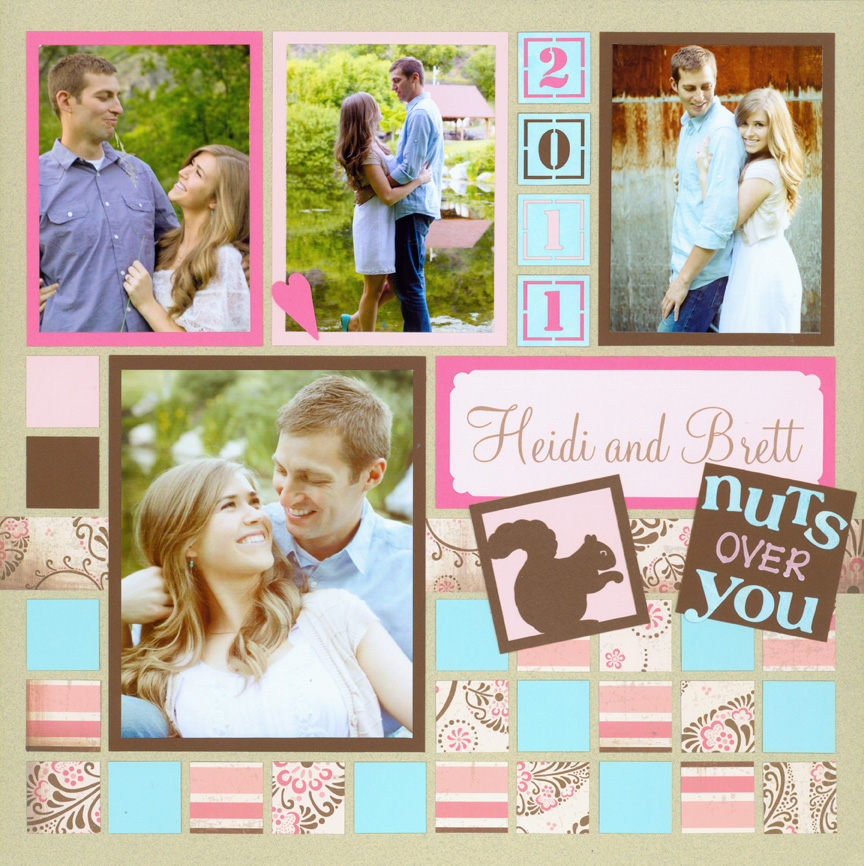 "Nuts Over You" by Paije Rodriguez
3. Fun with Conversation Tiles
"I Love You" by Tami Potter
Personally, I don't like the taste of conversation hearts – but I love the idea of decorating my pages with them! Tami used her Free Download, Color Conversation Squares (Note this layout has the older version). This is a very easy project – just simply cut the squares with a 1in. punch!
Other Ideas with the Free Download:
Use these on a card for your valentine (Check out RTC!)
Place around the table as a 'confetti' decoration for Valentine's Dinner
4. A Unique Mosaic Background
Here is a unique layout made by Theresa. The entire background of her layout is made of photographs cut into 1 in. squares. Afterwards, she laid out her fancy embellishments, and added a larger photo. Isn't this an awesome idea for a lovely layout?
This is a great way to show off some large embellishments. Pick out photos such as blossoms, valentine candy, roses, etc.  for your background. You can either print one large photo, or print several smaller ones to blend together.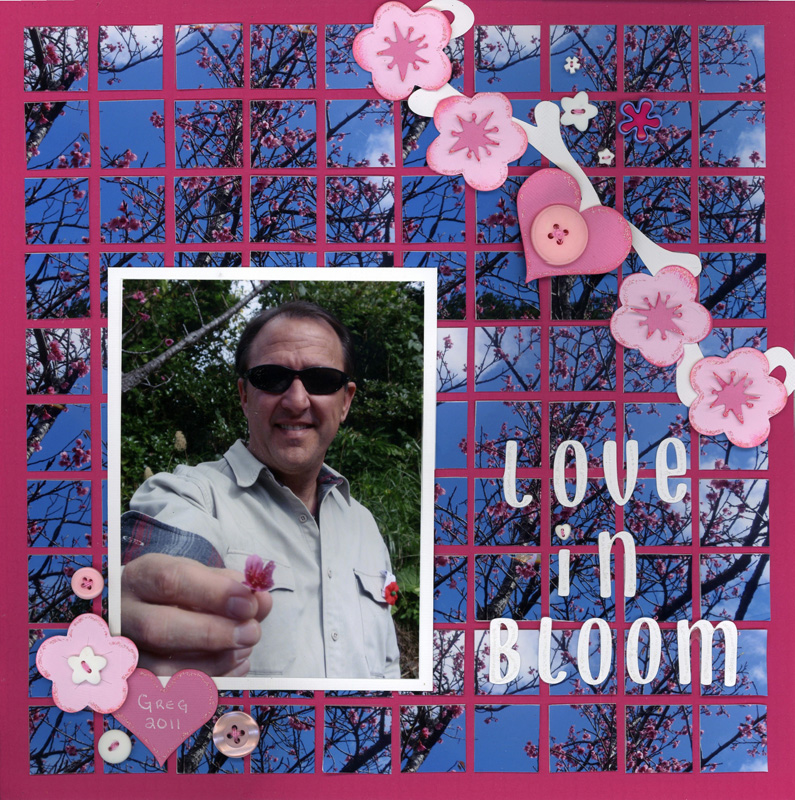 "Love in Bloom" by Theresa Amlong
5. Gotta Have some Hearts!
"First Photo Together" by Paije Rodriguez
If you plan to create some Valentine Pages or Cards, definitely grab some Heart Tiles! For this layout, I only had one photo. So, I took the opportunity to play with a lot of patterned paper (all from BasicGrey™) and Heart Tiles for extra fun!
Here are some ways you can use the Tiles:
Frame your Photos
Place Patterned Paper Behind them (as shown)
Frame numbers or Letters using stamps or stickers
Use Large Hearts to frame a title or journaling
Thanks for reading through my list of love scrapbook page ideas. Check out the "Valentine" category to get more Valentine's scrapbook ideas, and don't forget to check out our Youtube Channel for even more tips!
Until next time,
Happy Scrapping!