Fort Worth Stockyards
Inspiration: Mexico
Featuring Cornerstone Tile Dies
This week our Inspiration journey will take us to Mexico! Here in the US our southwestern states are heavily influences by Indian, Spanish and Mexican cultures. So whether you have travel photos you want to feature with a touch of Mexican flair or your toddler's first adventure eating a taco we'll look at some ideas for bringing the festival to your pages.
The photos I'm using this week are from the Fort Worth Stockyards where twice daily cowboys drive a small herd of Texas Longhorns through the cobblestone streets for the tourists to see. These Cattle Drive photos are fairly neutral in color which makes this ideal for bringing in some color to liven it up.
The Stockyard area is a great place to visit if you are in the Dallas-Fort Worth area. Lots of little shops, the stockyards, the bar that was CD's Bar in Walker Texas Ranger, Billy Bob's and the Cowtown Cattlepen Maze that was featured on the TV show The Race. I'll eventually get to scrapping them, but for now I'll focus on the Cattle Drive.
I've broken down the Inspiration Boards into these categories:
ARCHITECTURE
ART
COLOR
CULTURE
FONTS
TEXTILES
TILES
TRADITIONS
TRAVEL POSTERS
For my layout I chose to work with Color and the Hand-painted Mexican Tiles. The tiles are so lovely and so there are so many patterns but they are also expensive! Being able to create a few out of paper using our dies is a great way to get them into your layouts.
I used Mosaic Moments 12×12 Beach Grid and Colormates cardstocks in Charcoal, Aqua, Desert Coral, Persimmon and Gold to build my tiles for my page. I have used Pattern #186 a symmetrical pattern.
The dies are easily layered and you can try so many combinations for different looks. I cut several out to play with until I got what I wanted for my row of 2.125" squares in the pattern. I used the pop-up Flower die in the smaller size in the 1" spots at the bottom. For the long strip at the bottom I ran the strip through an embossing folder by Cuttlebug-Textile for a look of tooled leather that I thought worked with this theme.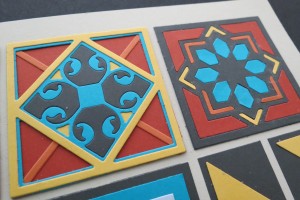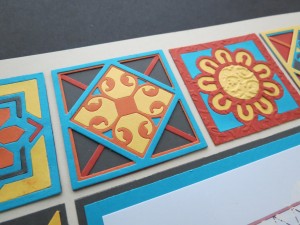 It took a bit more playing around with paper to come up with the design for the 1" tiles flanking the center photo. I really liked the dark charcoal that blended in with the mat of that photo. Because I had double layered the mat I began to work with some of the scraps from the other tiles. Triangles seem to be a repetitive pattern I saw in the Mexican Inspiration board so triangles were plenty and worked out well. They are not halves of 1" tiles so they were going to be a bit off center until I tried centering them and leaving a narrow border around the outside edges. That kept the charcoal tiles prominent, but now they tied the colorful top tiles to the decorative bottom row with an interesting pattern.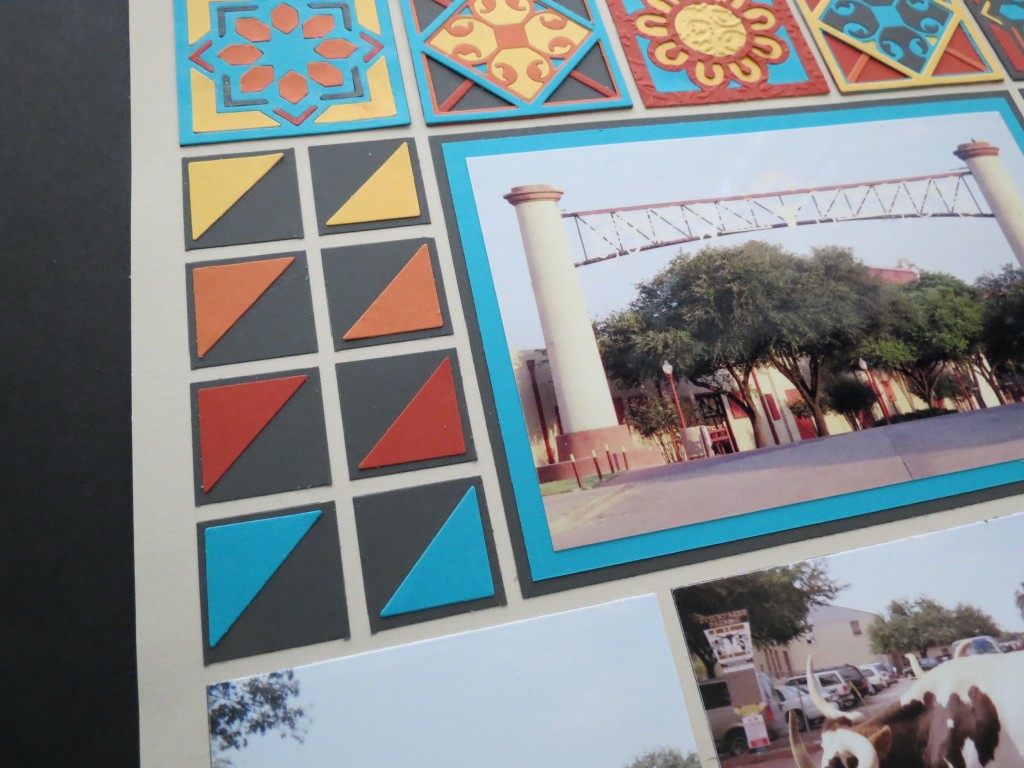 It was only much later that I noticed the Stockyards sign that is featured in the center photo appears to be an arch of squares and triangles. That was nice!
So if you are interested in adding a little more color into your layouts see if our Inspiration: Mexico ideas will add some spice to your pages!
Inspiration: Mexico on Pinterest
Andrea Fisher