They call it Commencement. It's a time of new beginnings, of bright futures, of dreams coming true. One chapter ends, a new one starts. In today's post, Graduation Scrapbook Ideas, I'll show you a few trendy ideas to commemorate this accomplishment for someone you love and want to honor.
I want to thank a couple of friends for allowing me to use their photos from their graduations a few weeks ago for these projects when mine fell through. Danielle, Teri, thanks so much!!
I have enjoyed following Danielle's journey these last two years of college as she has been a prolific photo-documenter of her days at college. She has taken some terrific shots during this time that she gave me freedom to use to put this graduation scrapbook page together. Her use of Instagram really became the jumping off point for me. It was the perfect use of Tami's page pattern #118 "All Squares." I have also included embedded pieces, star banners, chipboard, glimmer mist, and metallic embroidery thread.
The world is continually changing in how we take pictures and while many of us still use a traditional style camera, more and more people are using their phones to document life. Instagram is one of those apps that help to bring those photos to life. The square format of the Instagram photos is perfect for use with our Mosaic Moments Scrapbook Grid System. There are several developers that specialize in prints and prices vary. Some print full bleed edge to edge, with white 1/8" borders, or white ½" borders and sizes of 2 x 2, 3 x 3, 4 x 4 and 5 x 5. All are perfect for our Grid Paper! Print with full bleed and mount on white paper tiles or cut into 1" squares to fill in full mosaic style!!
Now if you aren't an Instagram user, you can still imitate the look as I have done here. My phone is a simple phone and I'm lucky if I can get it to dial out or not ring during church service!! What I have done here is to crop my photos to squares and print with white borders, and others were printed and mounted on paper tiles. Anyone can get an Instagram look with ease!!
So let's get started with Danielle's page. I've used Mosaic Moments 12 x 12 Dark Ocean Blue. I chose this new color because I really love it and it's the school's colors! The page pattern is "All Squares" and it lends itself well to including multiple 2 x 2 size and several of the shots from graduation day with friends. All were treated in the same Instagram look.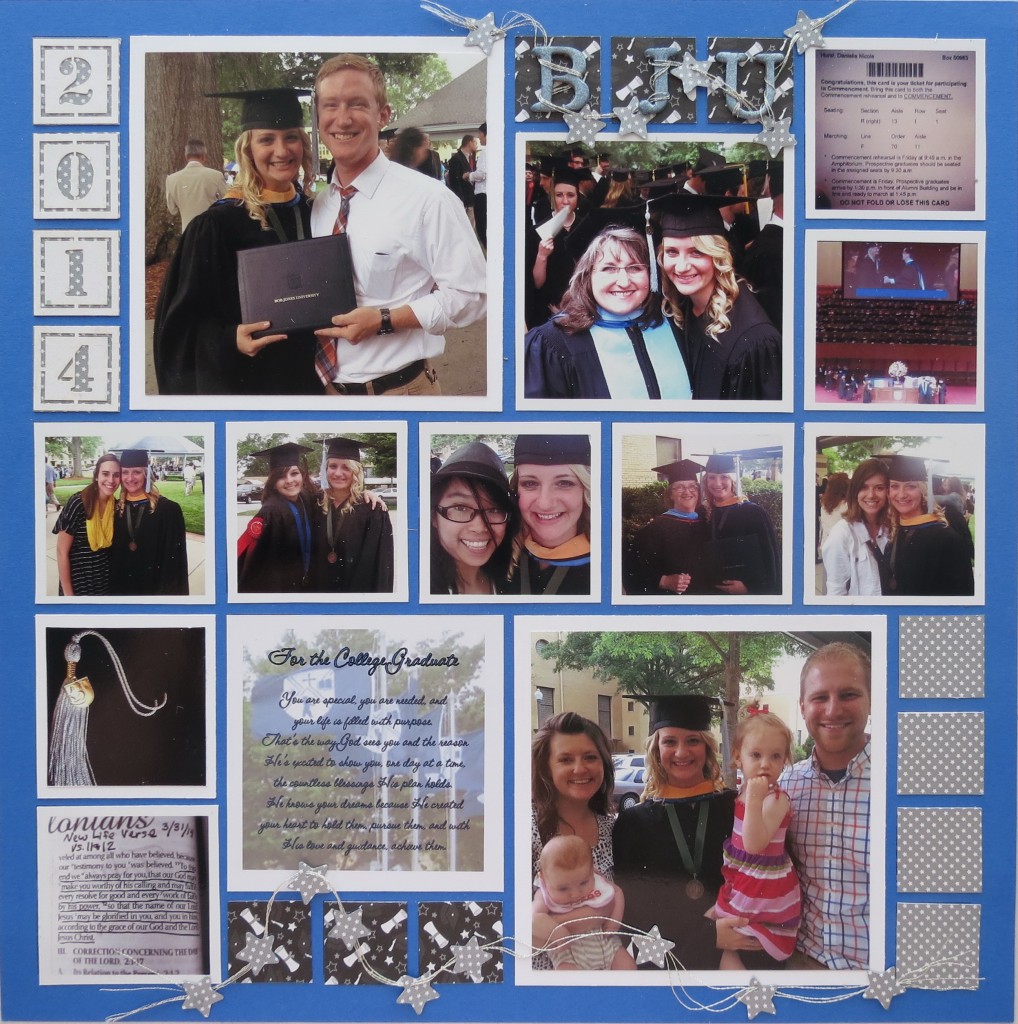 In addition to the larger squares with family and friends, I included a few special interest spots. One was the verse from a card she posted that her Grampa sent her that had meant a lot to her, a perfect encouragement to the graduate. The card itself wouldn't fit into the square format so I choice to print the sentiment on a photo that I'd cropped from one of her other pics that has some of the flags flying over the campus. I reduced the opacity so that the poem would stand out.
She had a really nice photo of her mortar board, tassel and school crest that was perfect! Another photo included was one of her graduation ticket…because there's a story that goes with it and the photo below it with her accepting her diploma, it'll be a memory she'll never forget! Finally, because graduation tends to make us think of "what's next" in life, I chose a photo she took of her New Life Verse from II Thessalonians 1:11, 12 to remind her in the days ahead where she's going, and who's going with her. I'm hoping that these are special bits and pieces for her too and will be good memories.
Now to the add-ons, 1" squares of graduation patterned papers were used behind the 2014 date cornerstone blocks. The blocks were treated with Tattered Angels Pearl Glimmer Mist to add a little sparkle.
I punched stars out of several 1" squares, and ran a three strand line of metallic floss behind stars in another pattern, firmly fitting them back into or embedding them into the star shape. Some stars were punched to string and hang on the line. I let this string drift over the page along the bottom in a free-style manner.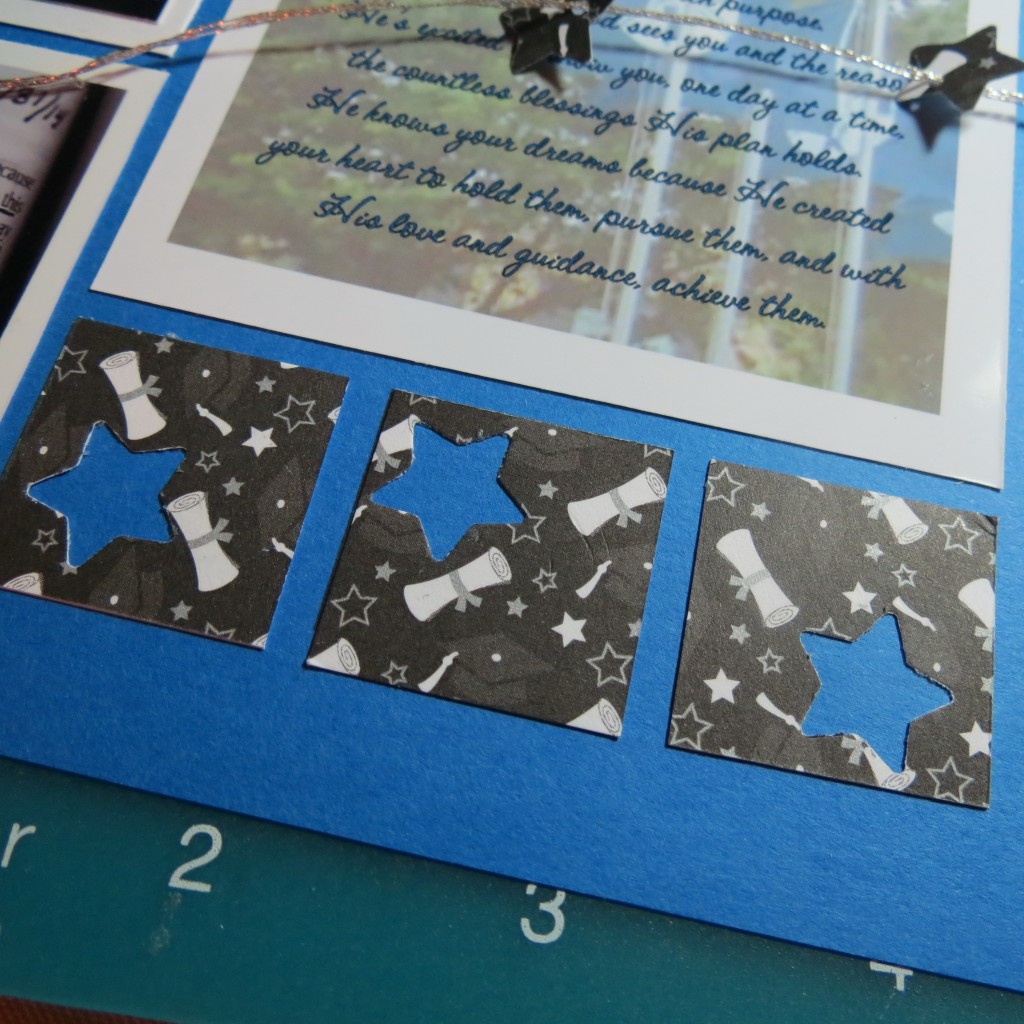 On the top of the page I have used chipboard letters BJU for the school, inked them with metallic blue ink and then wrapped a string of stars around and across and mounted on 1" squares.
Now on to Teri's page for her son Chris' graduation. She provided a few candid shots from her son's graduation that show off his personality. For this smaller 8" x 8" Mosaic Moments Scrapbook Page a Washi tape border will frame the grid layout and I'll also use chalkboard tape, a China marker, a star brad, graduation paper by Doodlebug Designs, Mosaic Moments Frame Cornerstone, Brick Red, White, Black Paper Tiles and a Black Circle Frame 'out' piece.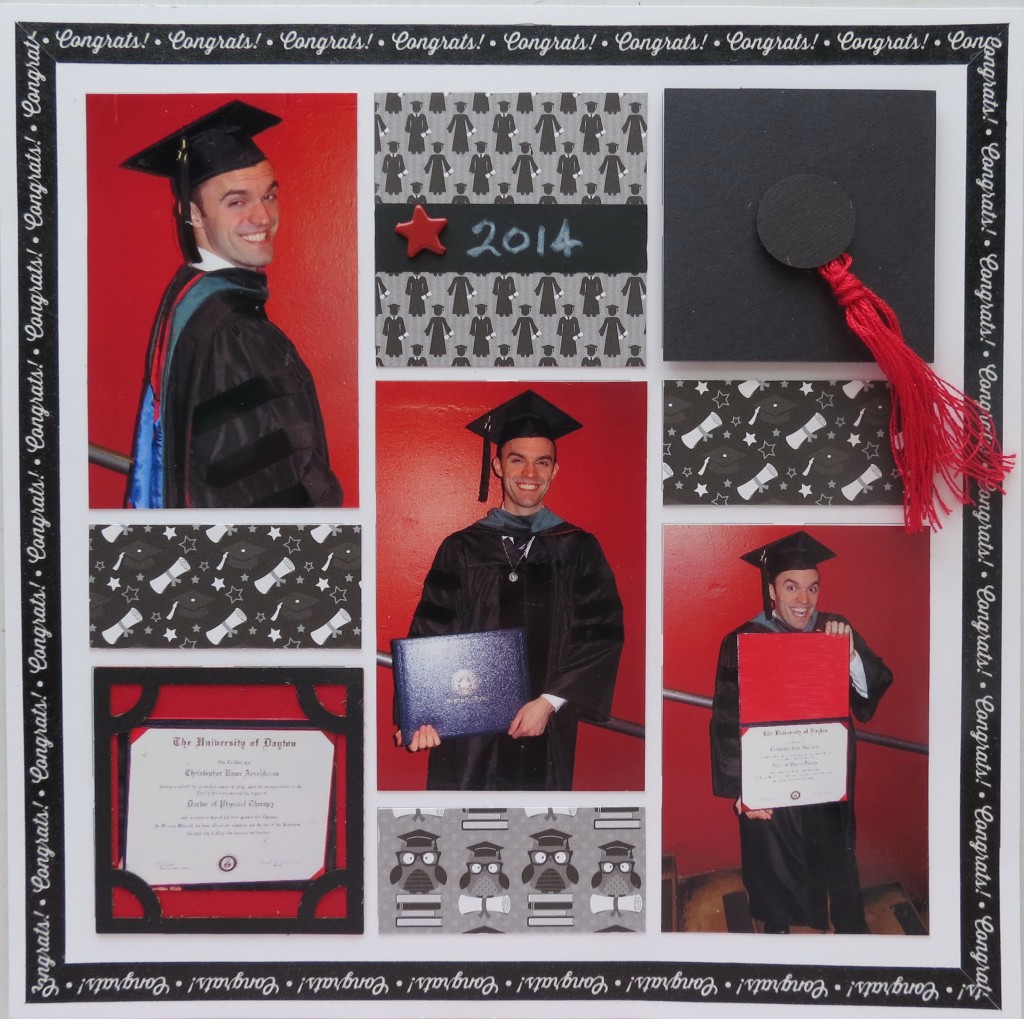 I cropped three photos to fit into a 2 x 3 block size and arranged diagonally across the page. I also cropped a close up of the diploma and used a frame cornerstone in black, replaced the background with a brick red paper tile to match the other photos and then mounted the photo.
A quick and easy embellishment was created with a black square paper tile, a black center from a circle frame, a pop glue dot and some red embroidery floss to create a mortar board and tassel. I used a toothbrush (that I keep for crafting) to brush out the floss and untangle it from its packaged state. Then the square was adhered using foam mounting tape. This gives a little dimension and adds to the "hat" look.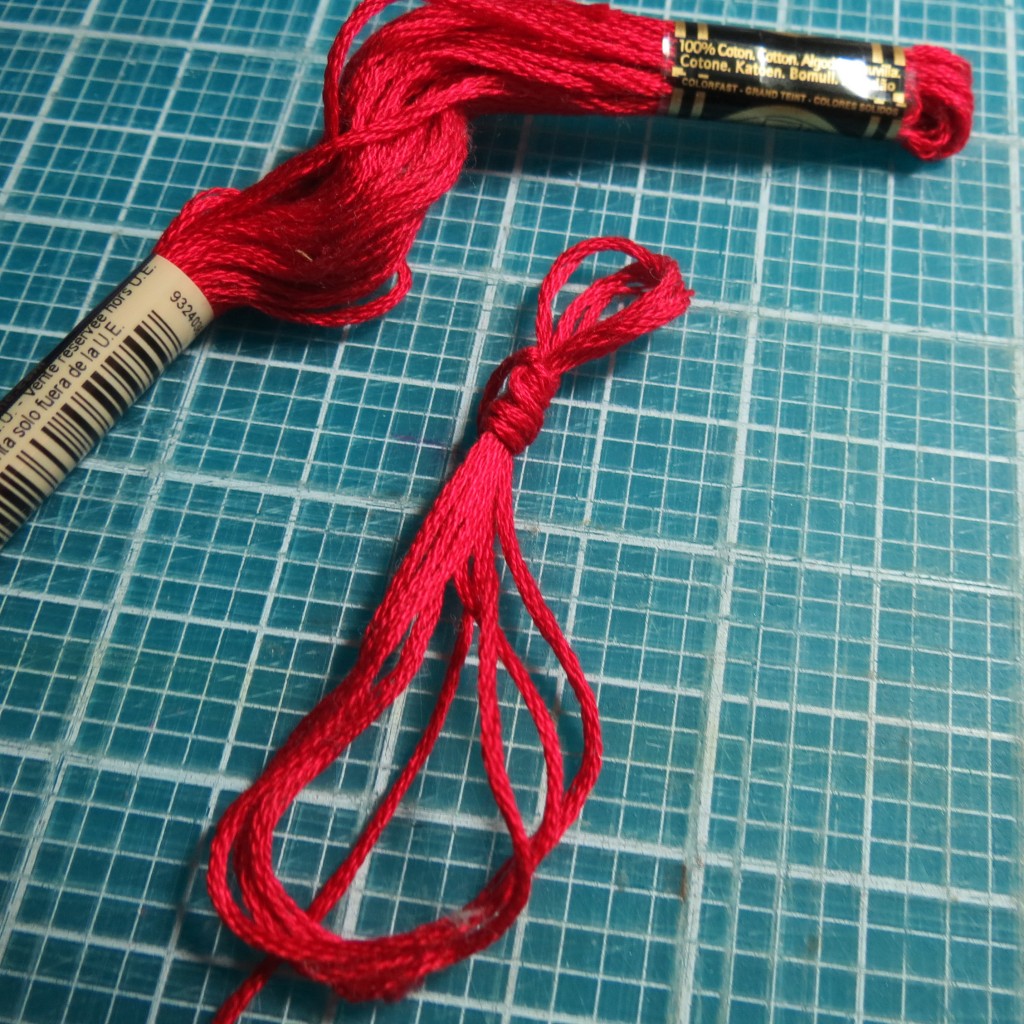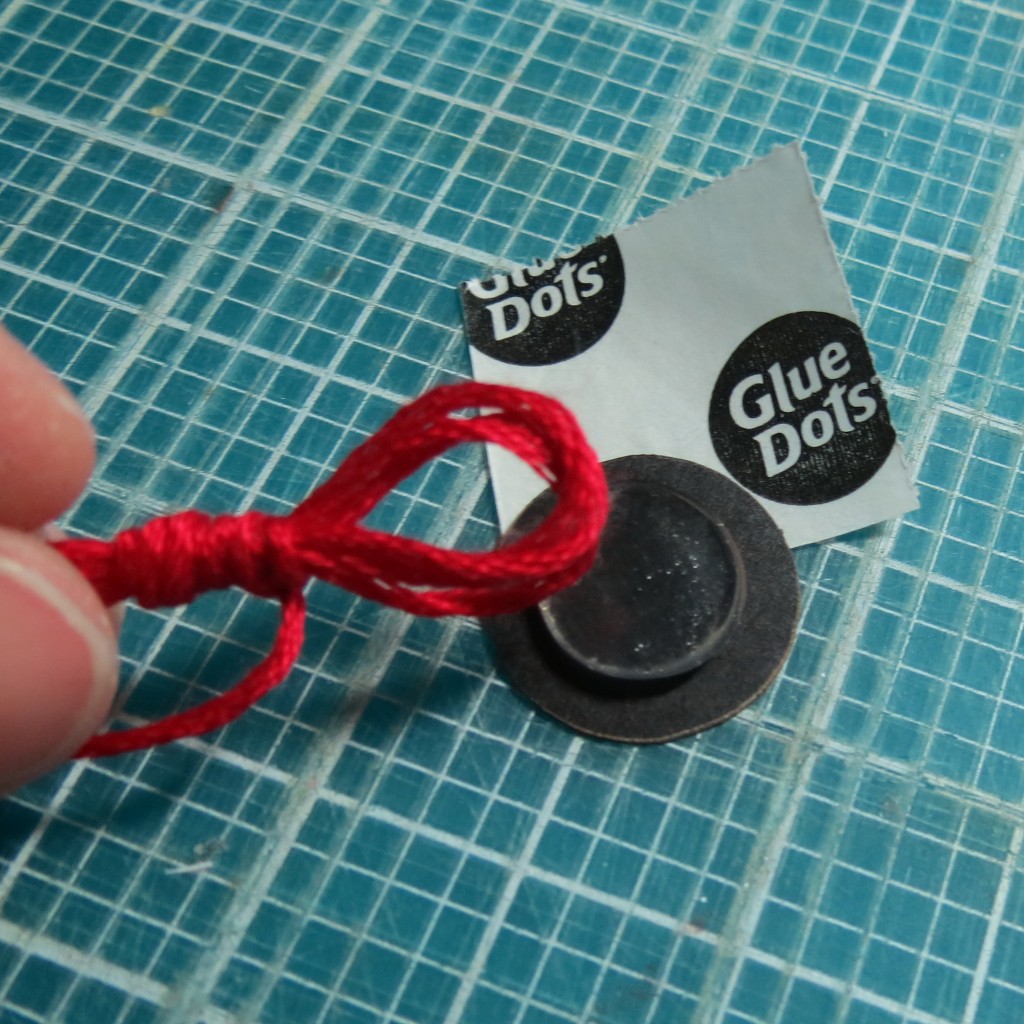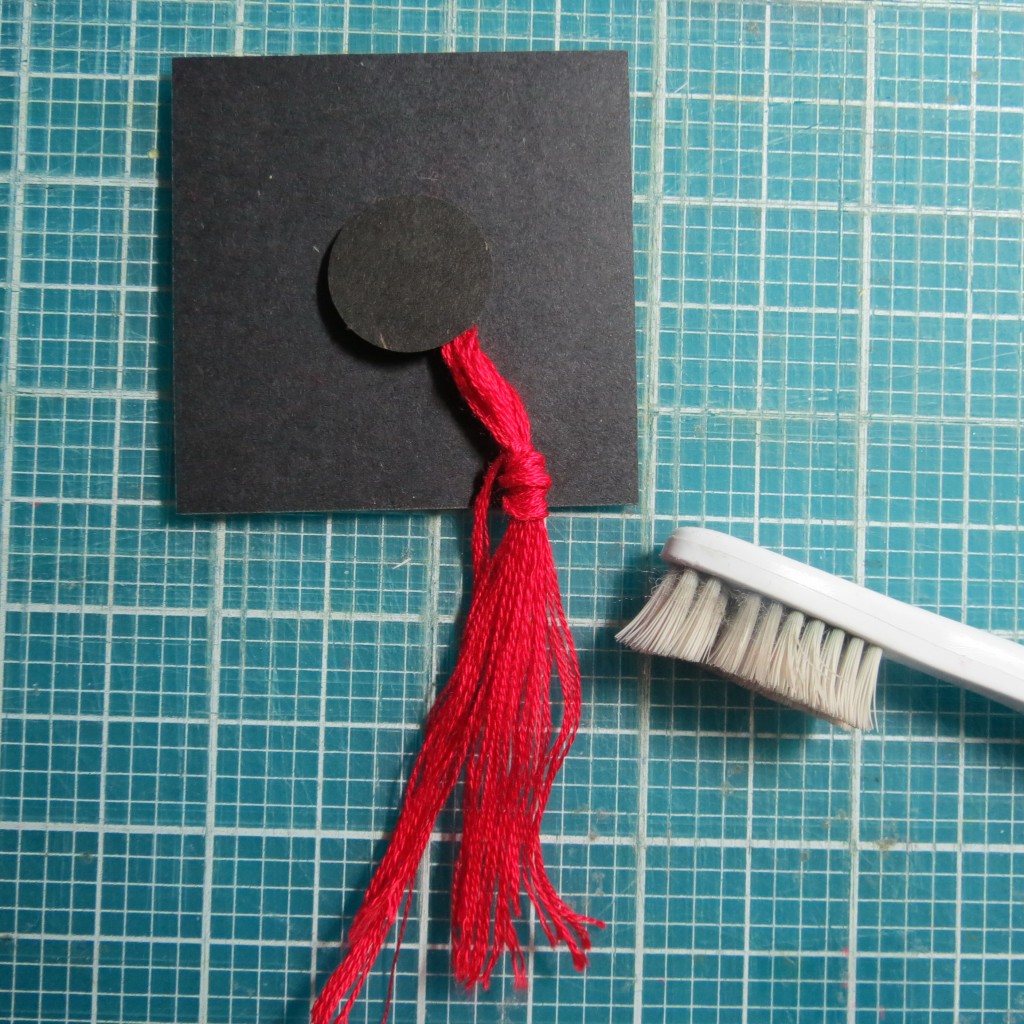 This white 8"x 8" Mosaic Moments Grid page with a wider border was a good page to place a narrow Washi tape border. I used my see-through quilt ruler to measure from the outside edge to place my tape. I ran the tape edge to edge and overlapped the tape. Then placed the metal ruler diagonally so that the inside of the tape corners line up with the outside corner then using my X-Acto knife gently cut through both layers of tape and removed the excess and create a perfect mitered corner.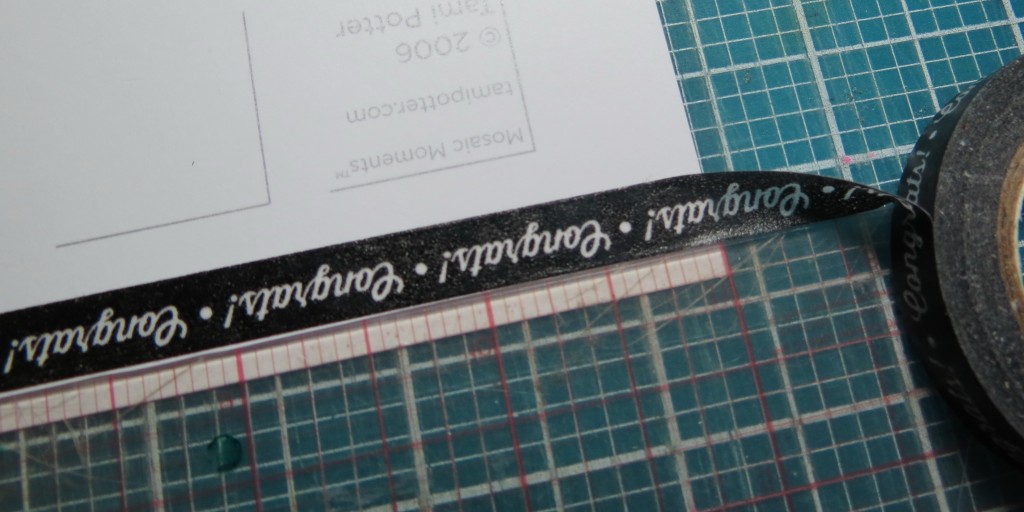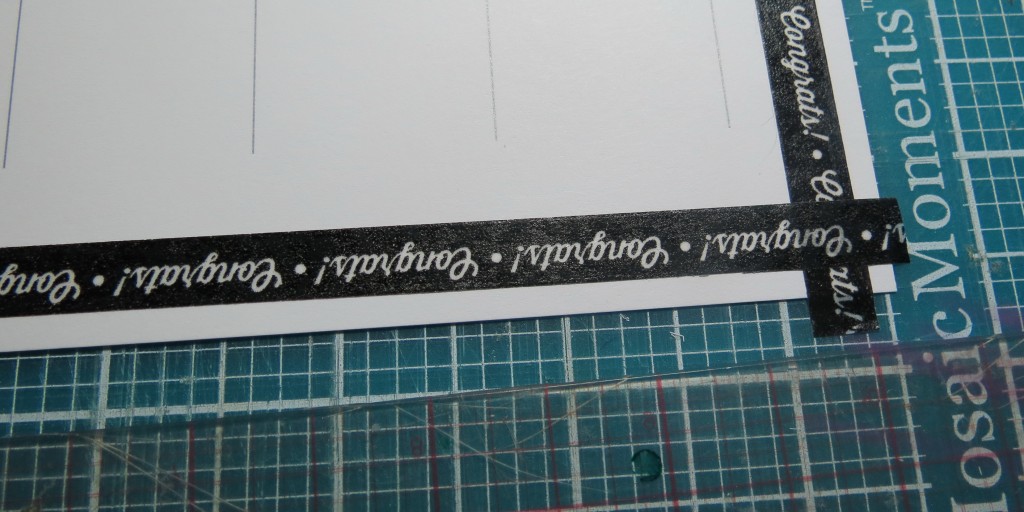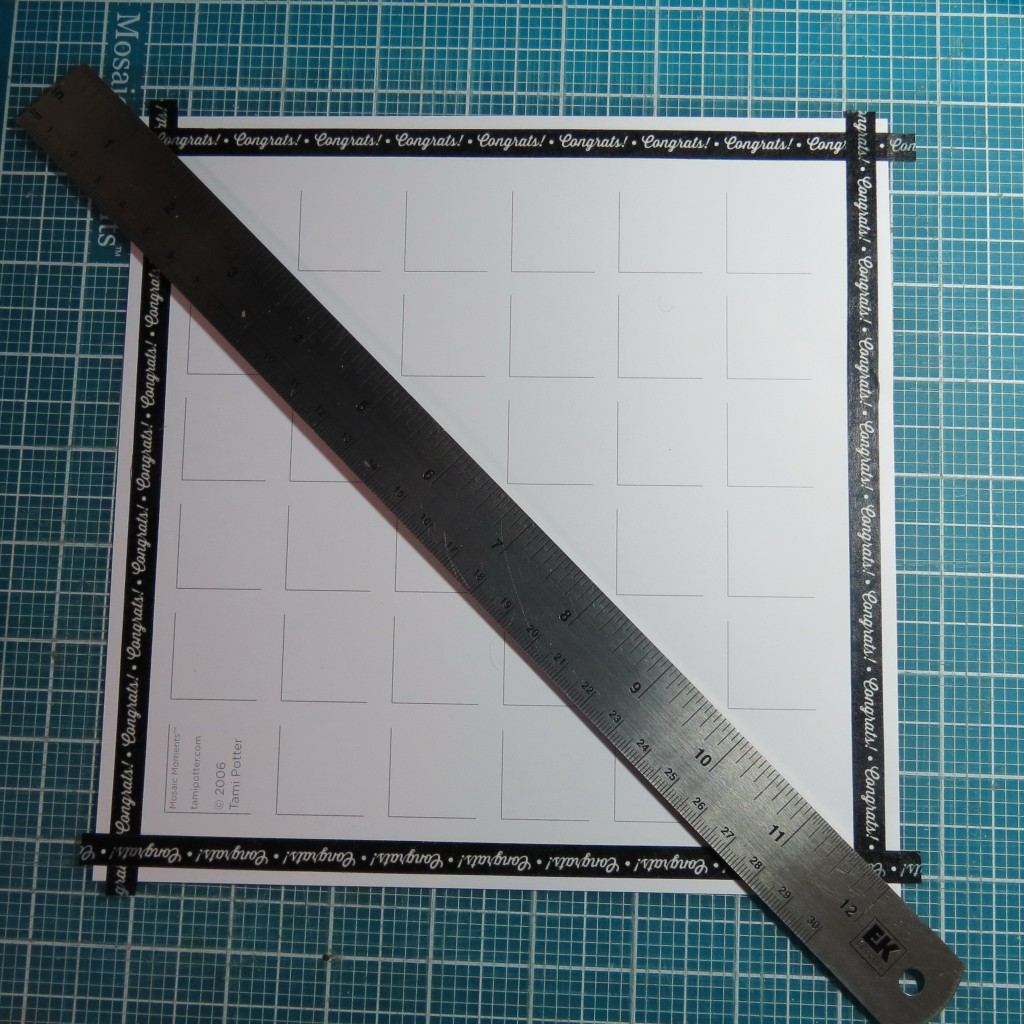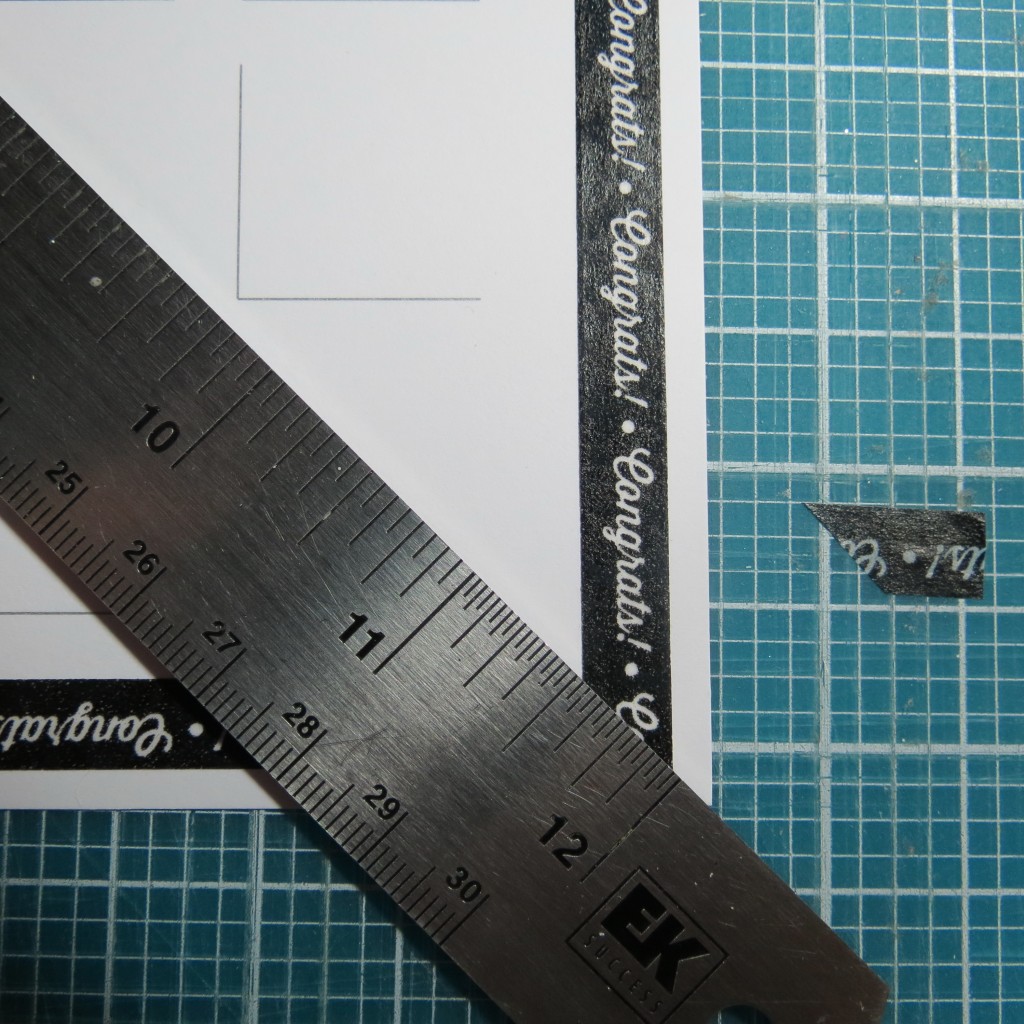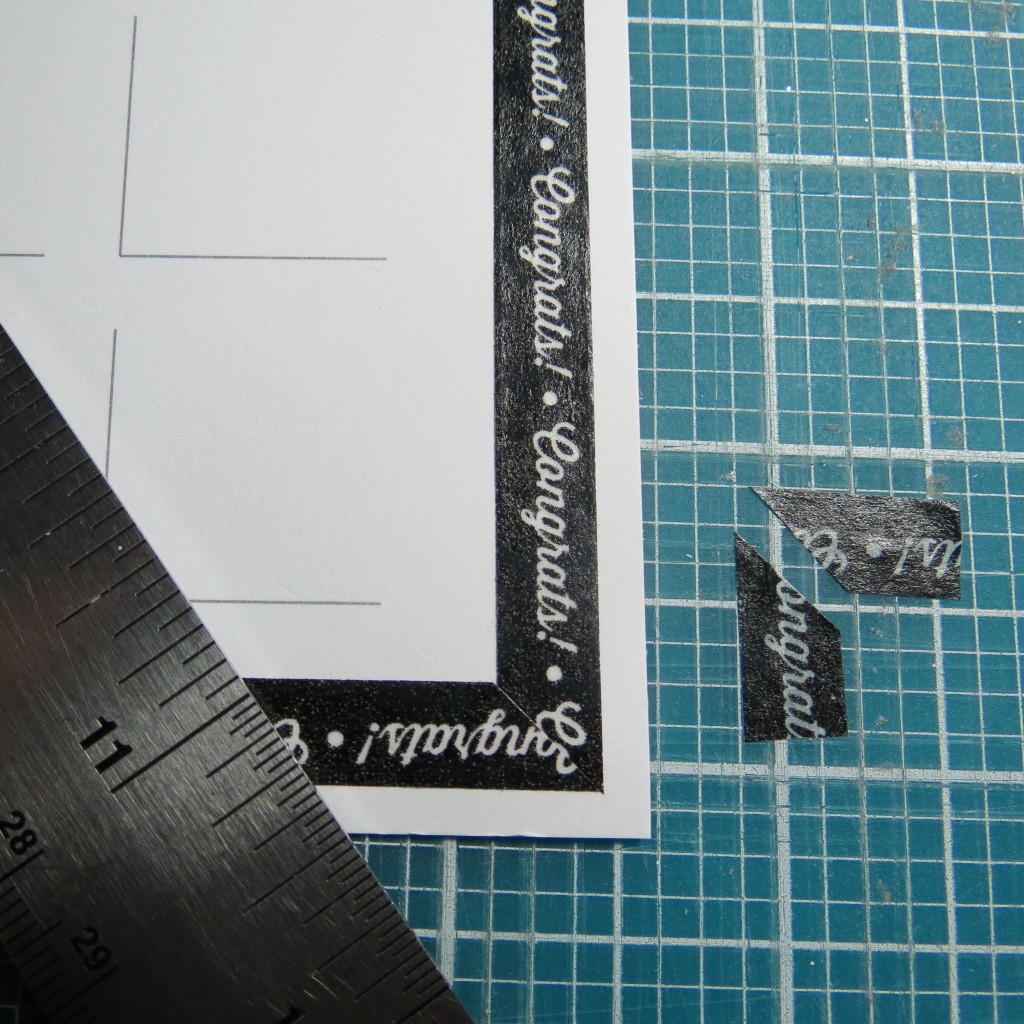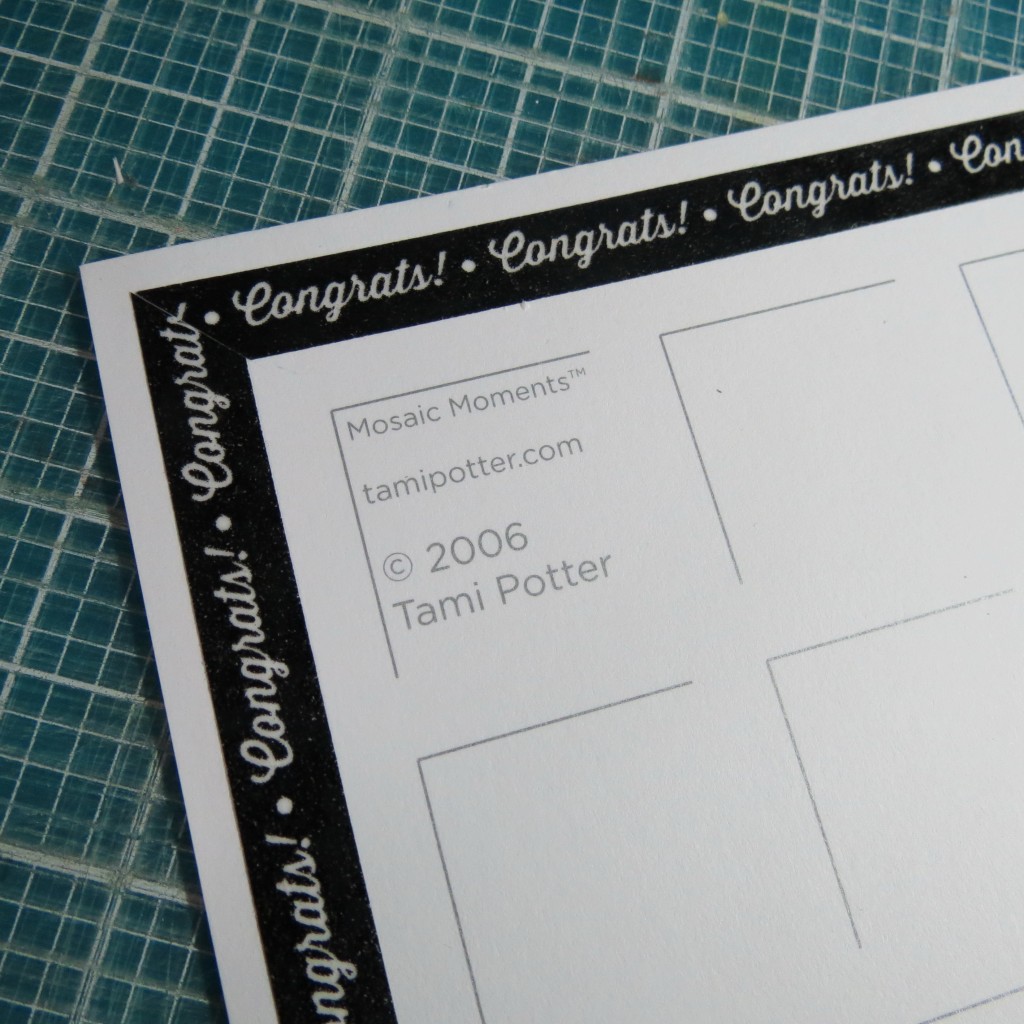 A strip of chalkboard tape with the date written using the white China marker was placed on a 2 x 2 block of patterned paper and a red star brad was added for a touch of color.
This page fits nicely into an 8" x 8" Memory Frame purchased from Hobby Lobby. There is sufficient depth in this frame to allow room for the height of the graduation cap. It's great for any page that may have bulky embellishments. The frame also rests on the outside edge of the Washi tape border perfectly. Happily…the tape is on evenly!!
Enjoy the graduation events this year and show us the pages you put together on Journella!