The Beauty of Mosaics made easy.
Every once and a while you'd like to scrap some photos but find you just don't have a lot of time. You may even think attempting a Mosaic Layout will take oh, so much longer. I'd like to show you how it can be done…Quick!
A key to making it quick is choosing a pattern that is not too complicated. Then after choosing your photos, keep your embellishments simple or to a minimum letting your photos be the star!
GETTING STARTED
Let's begin with Page Pattern #200. This is a symmetrical pattern with 8 design spots and made using only one die set…Die Set B. In about an hour the photos will be printed, die cut, embellished, matted and finished!
PREPARING THE PHOTOS
1. I chose to use a panoramic photo to fill the bottom three spots. I began with a photo I liked and then cropped out the extra above and below to acquire the photo I want to print. Then on an 8.5"x11" sheet of photo paper I printed the photo. I could have printed the whole photo but for me that's a waste of ink and paper. Cropped, It leaves me with a half page that I can use later for a 4"x 6" and 3.5"x5" photos.
Now using the dies for a 2×4 and 4×6 I began at one end and cut the first 2×4 spot, then the 4×6, and with the remaining section the final 2×4 die to cut. Then adhere them all to the grid page.
2. The next photo I used was a 4×6 landscape photo. I cropped it into two portrait photos a left and a right side before I printed each out as 4×6 portraits. Die Set B was used to crop them to fit each of the 3×5 spots on either side of the top center photo space.
3. The third photo is printed as a 4×6 and an X-Acto knife was used to trim ¼" off the long side for an even border and mounted on a 4×6 Cotton Candy Paper Tile.
EMBELLISHMENTS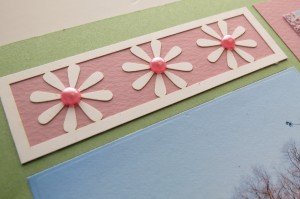 The top two 1×4 spots are the perfect places for a quick page embellishment using a Daisy Chain Cornerstone Tile or our newest Flower Die. Attaching to a Cotton Candy Paper Tile with Stick It! makes this step so very quick and easy. Now your page is finished…or…you could add a bit of pizazz to the center of each flower. I've used pink pearls for a pop of color but I considered using gem stones, however the oversized pearls added just the right touch.
This page is complete, including printing time, in about an hour! I hope you'll make a pattern selection from our Pattern Gallery and see for yourself how quick you can make a beautiful Mosaic page!
Andrea Fisher