Fireworks, parades, picnics and friends are all part of our Fourth of July celebrations.
Here are five ideas to remember the fun on the Fourth ...
---
---
---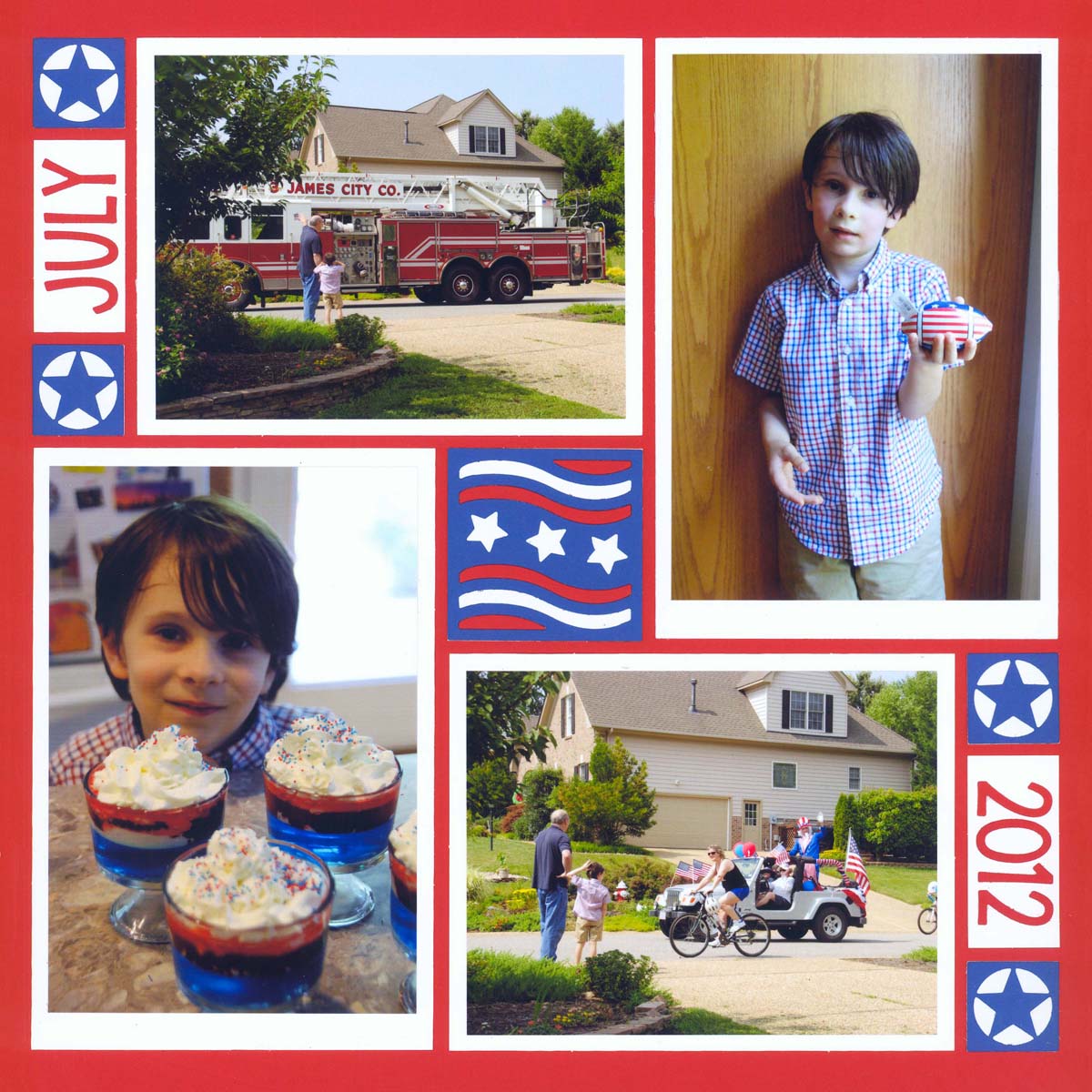 "July 2012" by Paije - Page Pattern #117
When the entire day is filled with fun, take one photo of each activity and include them on one page (or a double-page layout).
For instance, you might include a photo of the parade, one of the food, one of the decorations, etc.
Get some close-up and some distant photos to balance out your page.
2. Embrace Embellishments
---
When you have a festive event to showcase, why not have a little fun with the embellishments?
On this layout, Paije incorporates many of the embellishments into her layout as if they were photos.
For example, in the circle on the top left, she has a photo. In the one on the bottom right, she has a saying that says, "Let Freedom Ring." And, right in the middle of her page is a giant firework!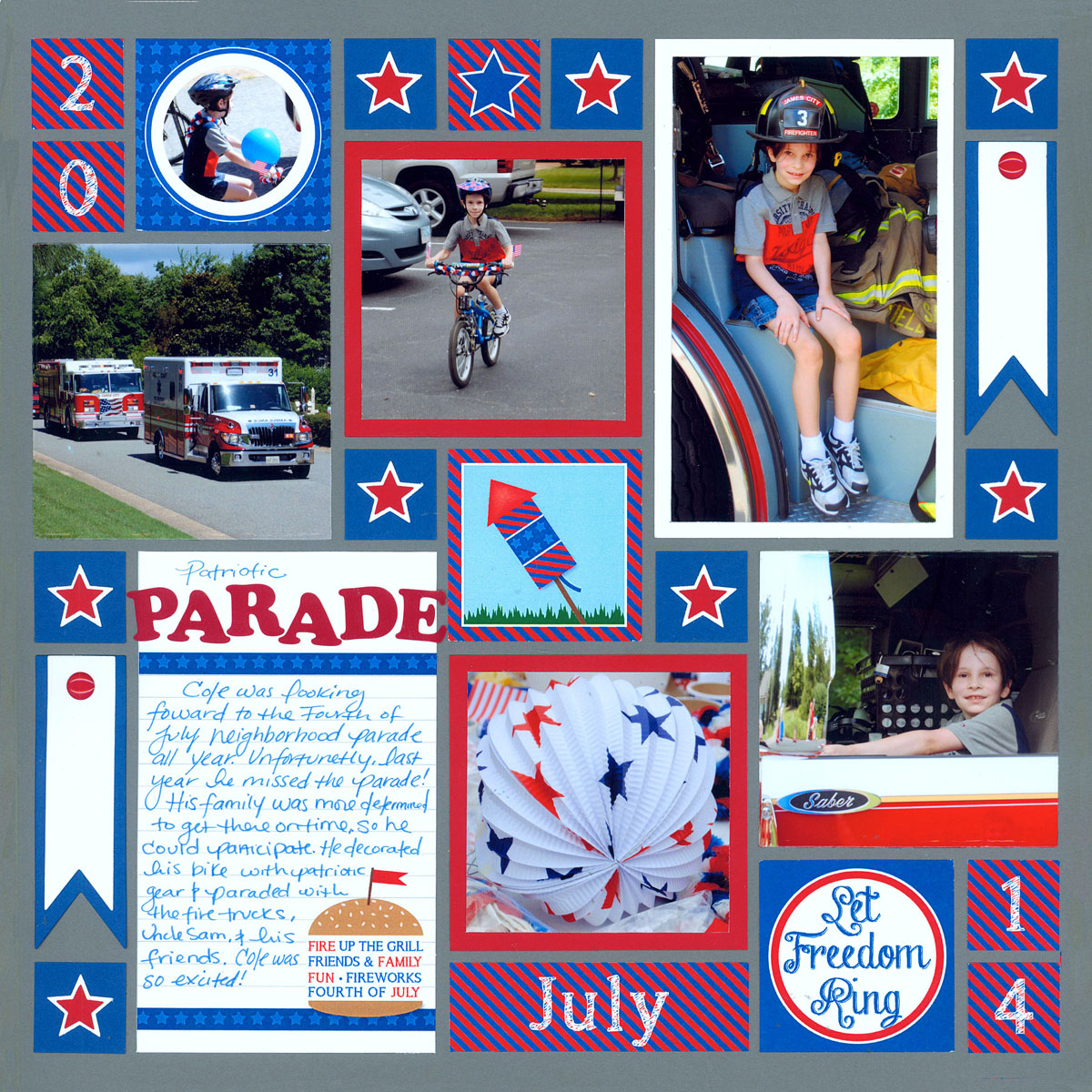 "Patriotic Parade" by Paije - Page Pattern #250
3. Feature the Photographs
---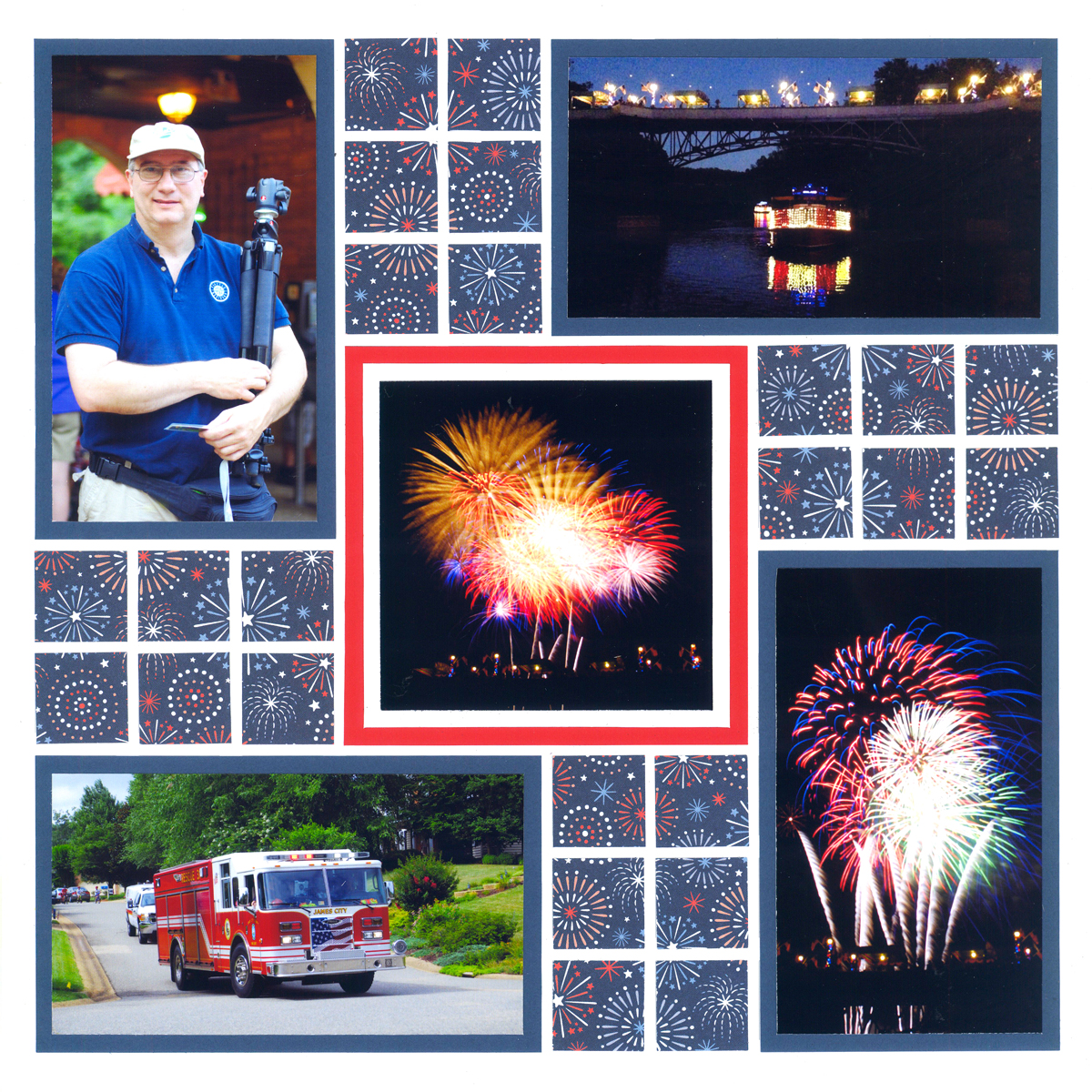 Fireworks are one of the harder things to learn to photograph, and when we do, the results are breathtaking.
Show off those amazing photos with a simple layout that features both the photos and the photographer (or the photographer's assistant).
4. Go for the Stars and Stripes
---
Create a major work of art by making your own stars and stripes to accent your Fourth of July photos.
It's easy using one of the corner dies. You can make thin or thick stripes depending on which set of corner dies you use.
Here, Paije used the 1" corner dies to make her stripes and then accented them with gold stars.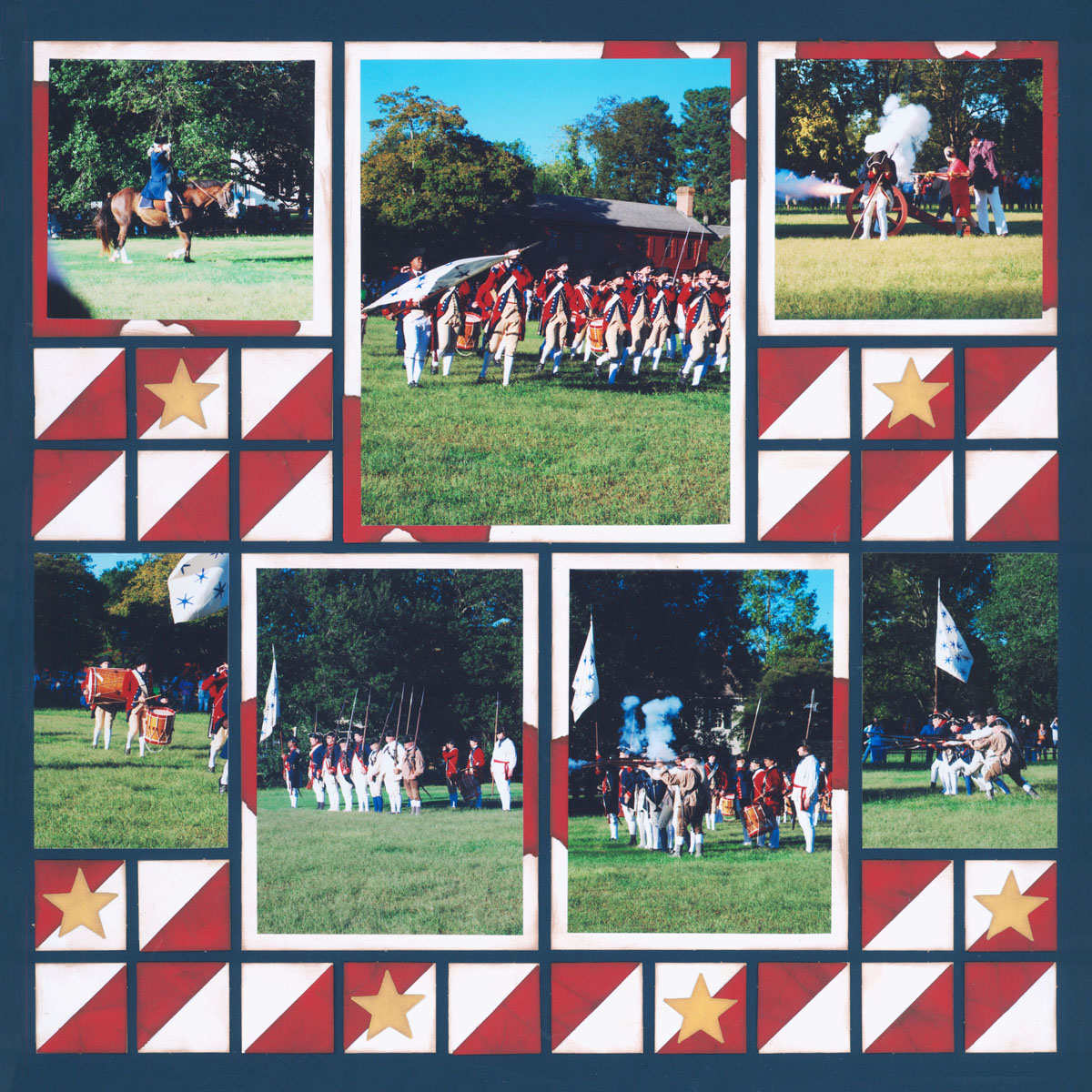 "Fife & Drums" by Paije - Page Pattern #309
5. Create Patriotic Portraits
---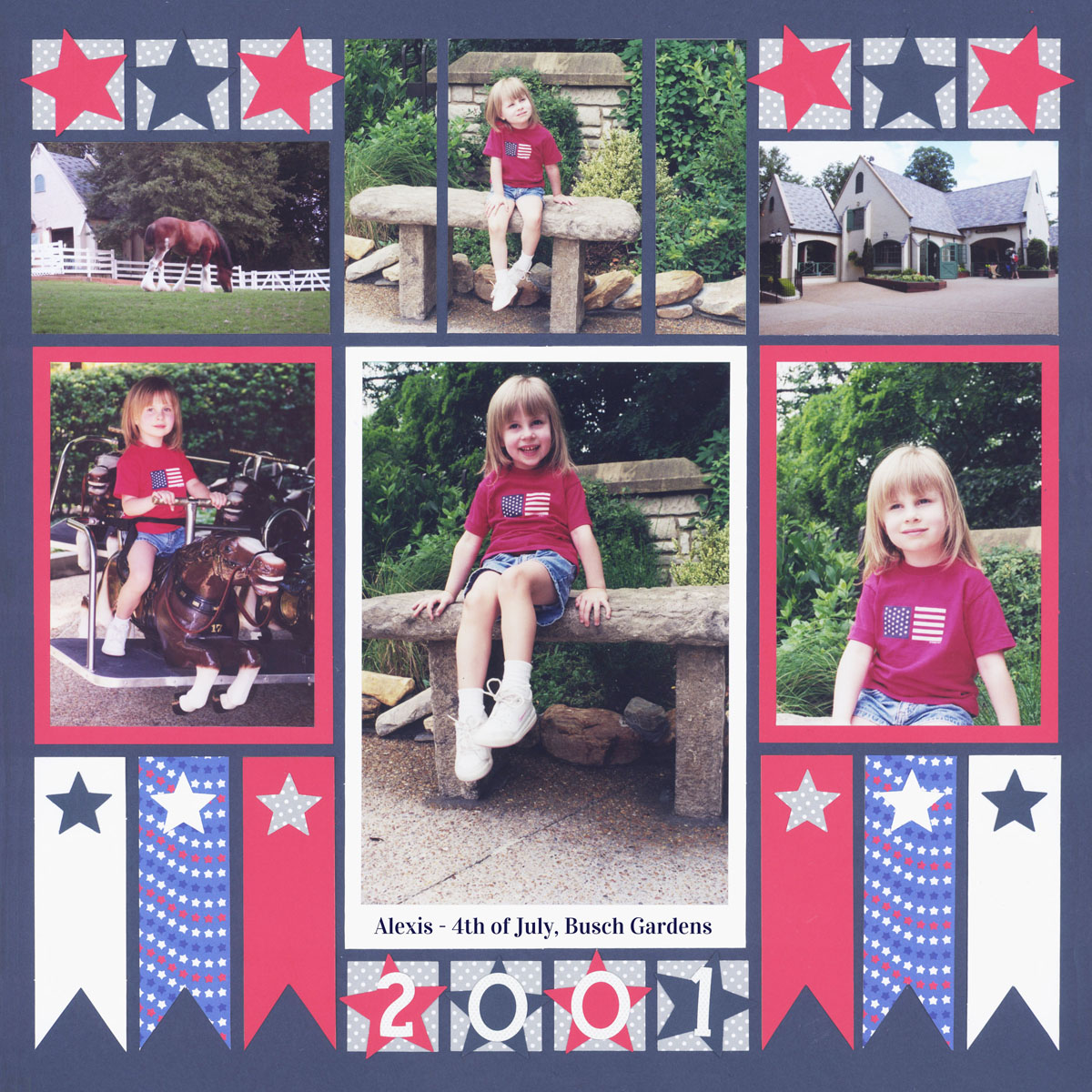 "Alexis on Fourth of July" by Paije - Page Pattern #252
Celebrate with a photo shoot of someone special, then use patriotic colors and patterns to finish off the page.
On this layout, the banners and stars add to the festive feel of the Fourth of July.