6×6 Holiday Cards
The holiday season is approaching and there is no time to waste! If you are in need of some card ideas, you're in luck! In today's post I show four different styles of Christmas cards to help you get some ideas and inspire your card making projects. All of these cards were made with 6×6 grid paper, but you can also RTC grid paper to get the mosaic look.
6×6 is a great size since it allows a good variety of photographs, embellishments, and journaling. There are numerous styles and layouts you can do on the grid paper. So take a look of the card layouts below to get your Holiday Fun started:
Materials for Your Holiday Cards:
You may want to consider gathering these materials before creating your cards:
Embellishments to match the style of your choice – consider using flat embellishments like pattern paper, stickers Cornerstones, etc, remember that thicker/3deminsional objects may make the envelope too bulky!
Photographs of your choice – For Cards you may want to use portraits
Card Style 1: A Formal Holiday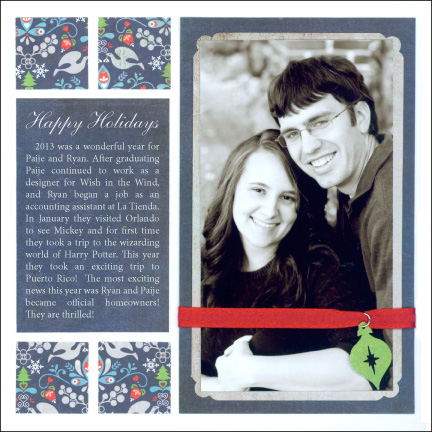 So, I'll admit that this is my favorite card on this post! It's simple and elegant. It's a lovely formal style with Navy as the main color with a little red and green to represent Christmas.
If you would like a formal Style choose colors such as: Navy, Plum, Gold, Silver, Brick Red, and Forest Green.
I suggest using a black and white photograph since it matches the theme better. You can brighten up your page, as I did above, with a colorful ribbon and charm (make sure the charm fits easily in an envelope).
The Layout: Here I placed a larger photo on the right side and placed matting behind it for some interest. On the left is a design spot perfect for adding a small amount of journaling. This is a great option if you do not have enough time to write a full newsletter, but would like to give a little update about your year.
Card Style 2: Mix & Match Fun!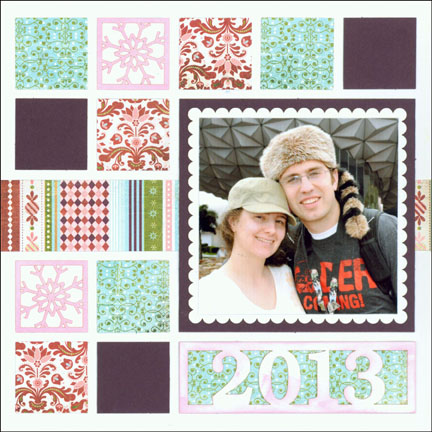 Front Side of Card
This is a fun and colorful layout! Here I used a few different pattern papers from BasicGrey™, plum paper, and a couple of white Mini Snowflake Cornerstones (chalk inked pink). If you want a lot of patterned paper consider doing a patchwork look as I did on this page. This page is really quick with the 1 in. punch and you don't have to line up the patterned paper perfectly. So Easy!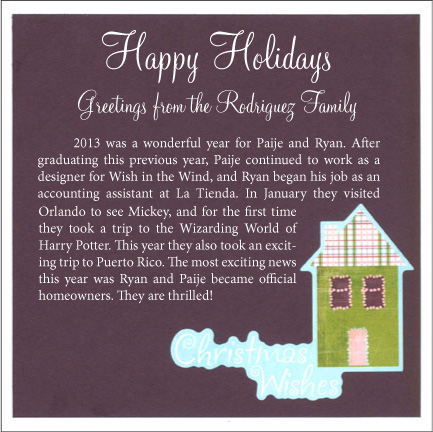 Back Side of Card
There is not a grid on the back of the card, but it's still a good space to add large embellishments and more journaling! Either hand write a message or print some journaling onto card-stock. Test your printing to make sure the type will show up on your card properly.
Card Style 3: A No Photo Option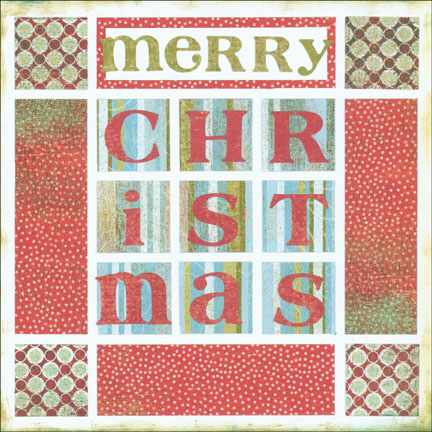 If you didn't take many photos this year, consider making a no photo card. The Mosaic Moments™ still gives a unique look and it's fun putting matching patterned paper together. I decided to use a traditional red and green Christmas color theme. You could also add multiple embellishments to add interest.
There are many embellishments you can use. Here I used three different types of pattern paper and alphabet stickers. I also used chalk ink around the edges of the grid paper to give it some more color. You can also write a simple hand written note on the back.
Card Style 4: Lots of Photographs!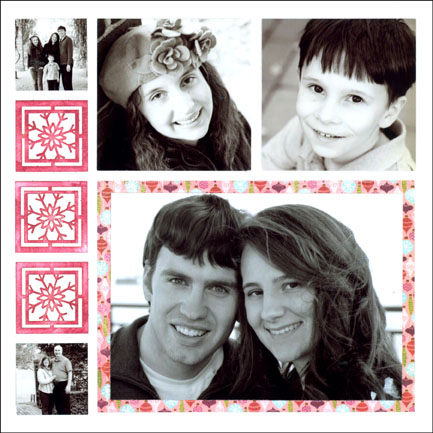 Front of Card
What attracts many of us to Mosaic Moments™ is all the photos we can add to a single page! Use the grid to show multiple photos from a portrait session with your family or snapshots of events and travel through out the year. You can also add a couple of mini Cornerstones or patterned paper to fill extra space.
I love this modern look with black and white photos with a pop of color! If you like a sleek, clean look this is a great style!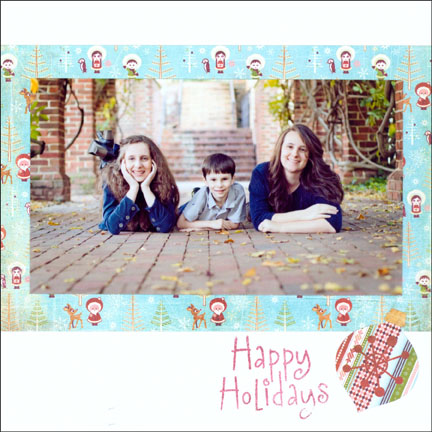 Back of the Card
You can mat a photograph on the back of the 6×6 grid paper. Add interest to your card by putting black & white photographs on one side and color photographs on the other. Here I used pattern paper to mat my photo, added a sticker, and put a simple "Happy Holidays" message.