Article by Candy Spiegel
Scrapbookers are experts at recording the highlights of the year. We faithfully photograph birthdays, trips to the zoo, weddings, and graduations, and turn those experiences into beautiful albums for everyone to enjoy.
There are many additional moments, feelings and things in our lives that could (and should) be turned into layouts for our family. These are things we do not typically take out the camera for, or never think of recording, but these are the things, looking back, we will probably enjoy the most. And, in the future, our great grandchildren will treasure these pages.
In the spirit of the year 2020, we have put together a list of 20 important things in your life you may have never considered scrapbooking before – complete with examples to get your creative juices flowing.
---
---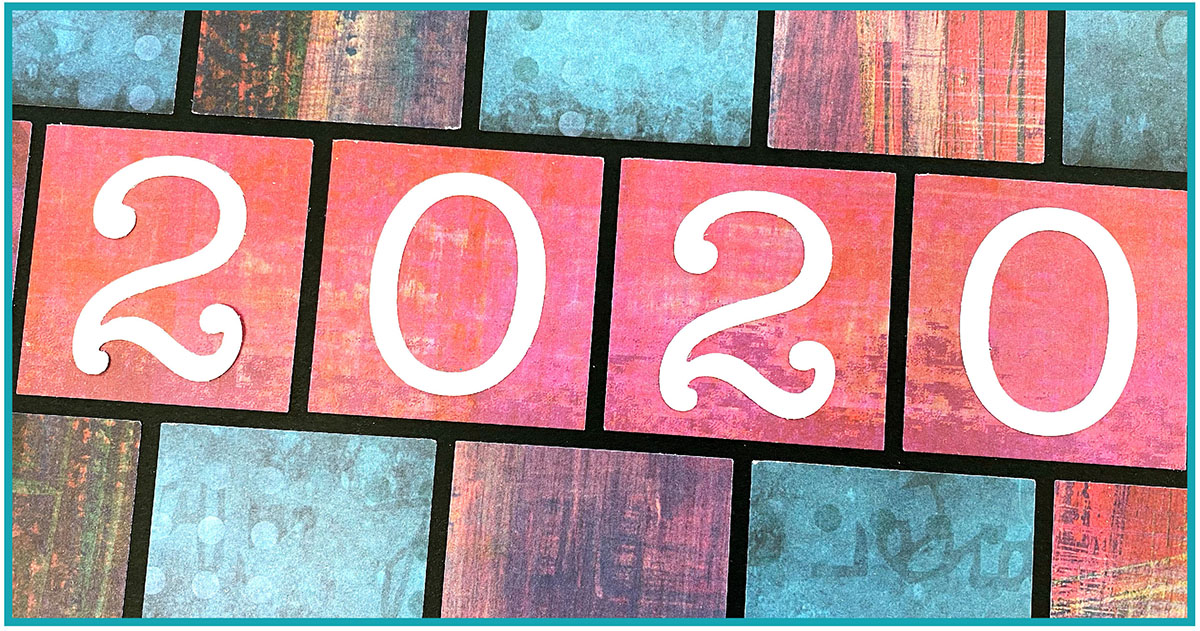 ---
With the new year comes the opportunity of a new beginning and we often set goals for ourselves. Writing the goals down is a good start to making them come true. But, by scrapbooking them, we will have both a better record of the work it took to achieve that goal and additional motivation to make sure we follow through.
Perhaps your goal is to participate in a marathon or 5K event for the first time. Take photos, or get someone to take them, of you working out, buying new shoes, your healthy meals, and of course, running. Record your times and distances for your first run, as well as one further on in your training. You might even include a mini calendar showing all of the days you worked out. These will be great to showcase alongside your completed event. They will demonstrate your hard work, dedication and results.
This would work well for any athletic event, including preparing to make the football team or learning to ride a bike. But, you could also adapt it to getting into your dream college (showing the studying, report card, applications, acceptance letter), joining the community theater (auditions, making sets, trying on costumes, practicing, playbill), reading the entire Bible (pictures of the schedule, showing yourself reading, documenting the time you read, recording favorite passages), or any other goal you, or your family members, set to fulfill.
---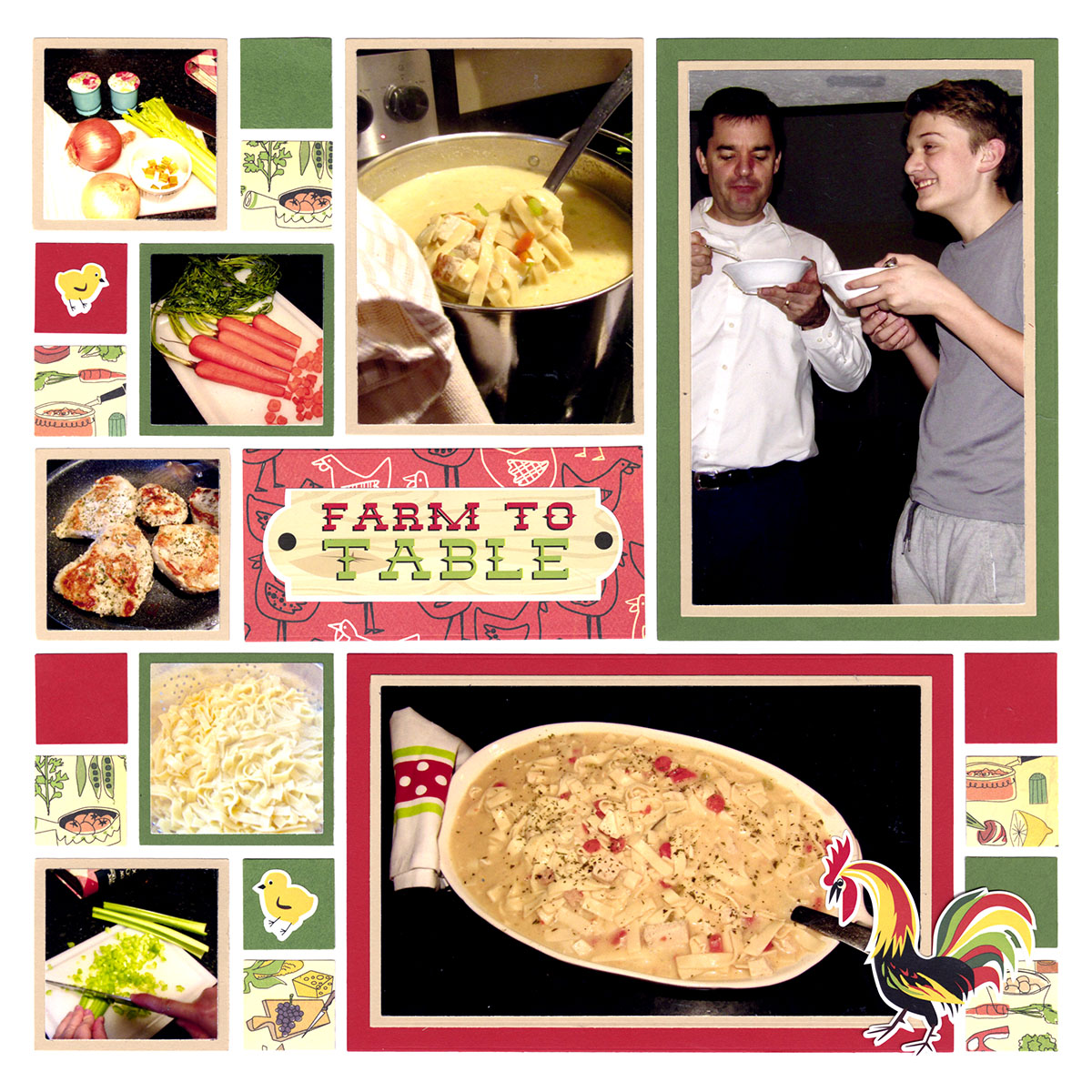 "Chicken Noodle Recipe" by Jodi Benson
---
In the near future, everyone will want Grandma's secrets for the perfect pie crust and Aunt Jane's meatball recipe. Record these special family recipes, alongside photos of the person who made them, and the family traditions that go along with the food.
This is an album you will likely want to make multiple copies of to present to each new bride as the family grows. It will be a treasured possession by all who are lucky enough to receive a copy.
---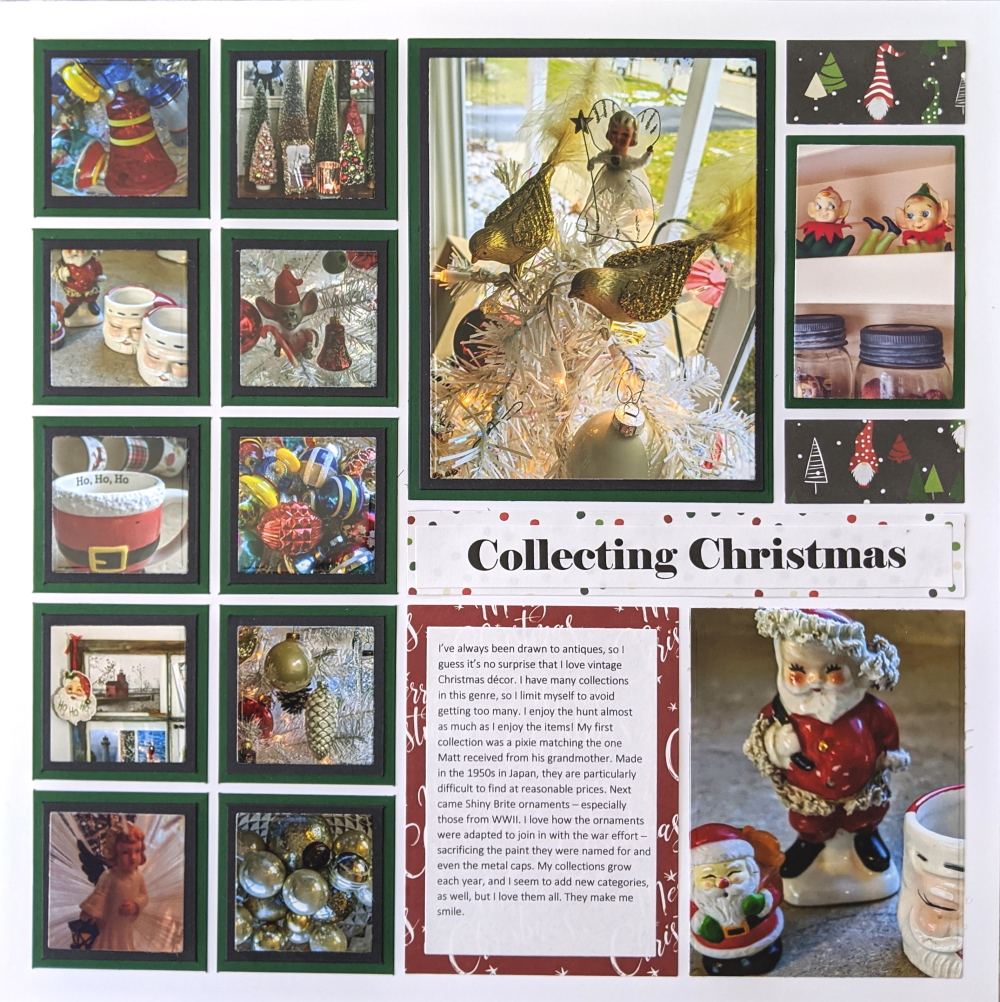 ---
Whether you (or your loved ones) collect Pyrex, coins, farm tools or frog figurines, take the time to document them. Photograph the entire display, as well as close-ups of some of the special ones. Include how your collection began, what you love about them, where you have collected them from, which ones were special gifts, how valuable they may be, the history of the items, and any other interesting tidbits. This allows you to express the collection's importance to you, as well as telling your loved ones what to do with the collection in the distant future. And, as a collector, the process will allow you to share in the joy of collecting all over again.
#4 - Continuing Education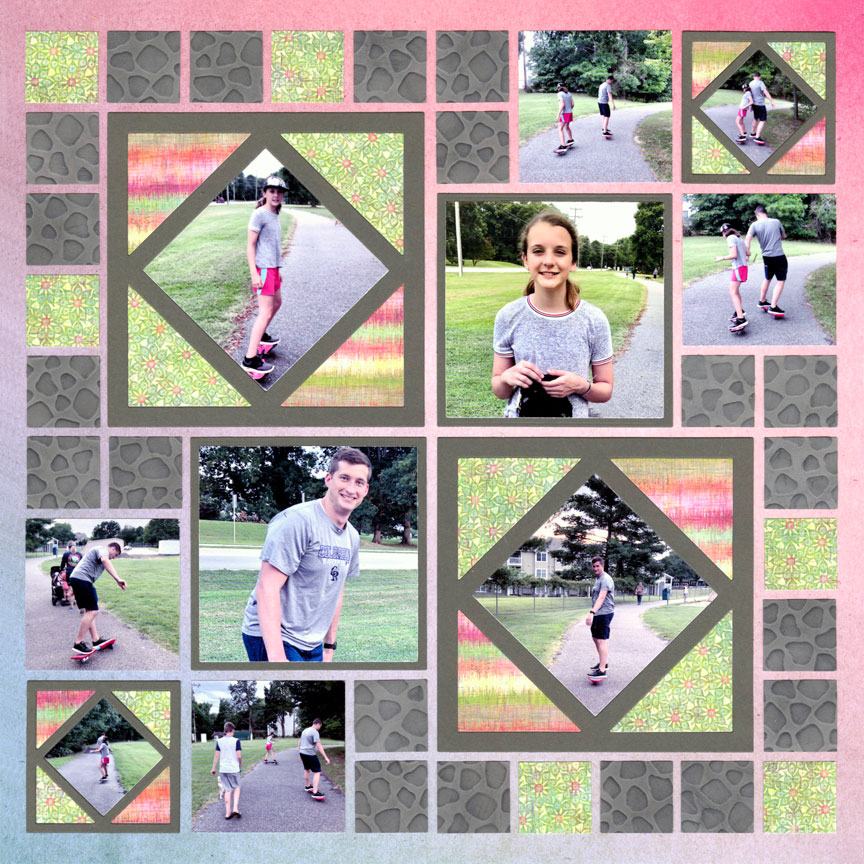 "Skateboarding" by Jodi Benson
Jodi's daughter wanted to learn how to ride a skateboard. Jodi took pictures of her son-in-law teaching her daughter.
---
You (or a loved one) may be learning to play the guitar, to paint watercolors, or cook a gourmet dinner. You may try quilting, writing poetry or building a robot. Whatever it is, be sure to record the process by having someone take pictures of you doing it. Also take photos of the equipment and tools, the building where your classes are held, your teacher and/or the class hard at work. Include some milestones, as well, like a finished poem, music to the first song you learned, the first salad dressing you made from scratch, etc.
---
Changing your eating habits is an enormous challenge. Whether you are trying to lose weight, lower your blood pressure or control diabetes, this is a monumental event in your life that should be recorded. Start with a before photo, measurements (place them in a pocket so they remain private), and blood-test results. List your goals (again, put them in a pocket if you want them secret), photograph a favorite cookbook, take pictures of your healthy meals, measuring yourself, attending a support group, visiting the doctor or lab and a summary of your new eating plan.
Then, as you go along, take new photos and include new results – either weight, inches lost or blood work. You might also record how you are feeling or any bonus changes that you did not expect – like being able to walk faster, sleeping better or having more energy. Being able to look at your goals and see the results is further motivation to continue on your journey.
---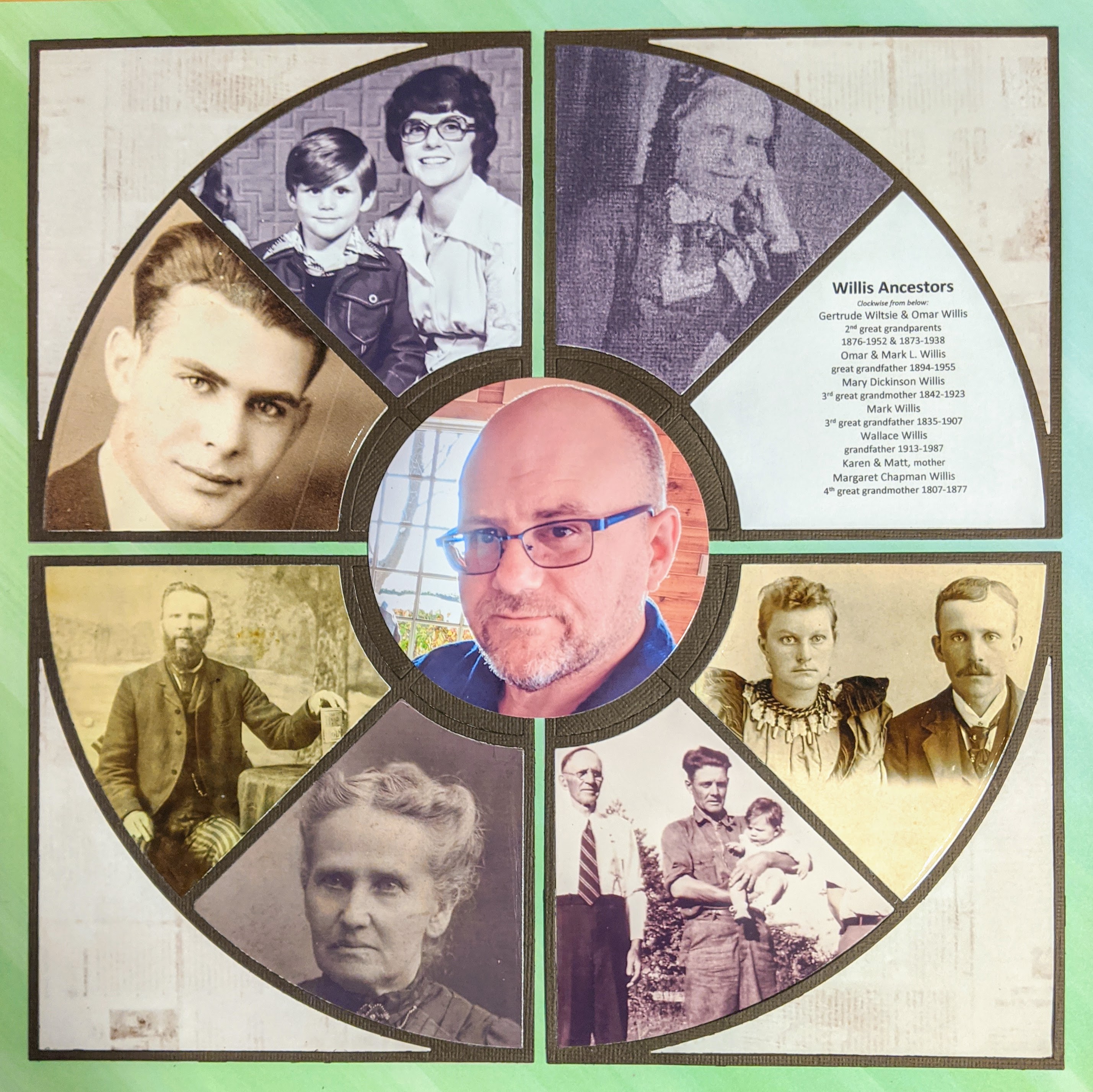 ---
Recording your family's history, finding out where you came from and who you are is on trend at the moment, but genealogy has long been a beloved hobby. Scrapbooking is the perfect way to record your discoveries and share it with your extended family.
A scrapbook page provides a place to present photos, census records, pictures of a headstone, lists of children and details about each ancestor. You might also include some historical events that were happening in their lifetime, like WWII, a hurricane, the Great Depression, or a gas shortage. Include photos of their house, their church or the place they worked, if available. You might include a small picture of an heirloom from that ancestor, deeds to their farm, naturalization records and other documentation about them.
You can create a family tree on a scrapbook layout or include family stories, like the trip across the ocean or how you are related to George Washington. You might even make a page about genetic disorders, DNA testing or your family's medical history.
If your family has a strong resemblance to one another, it is fun to make a page that shows how the same smile, for example, can be seen from one family member to another. Or, if generations share a career, you might put up a picture of each person farming, being a lawyer, or serving in the military.
With enough information provided, your family can get to know their ancestors through your scrapbook.
---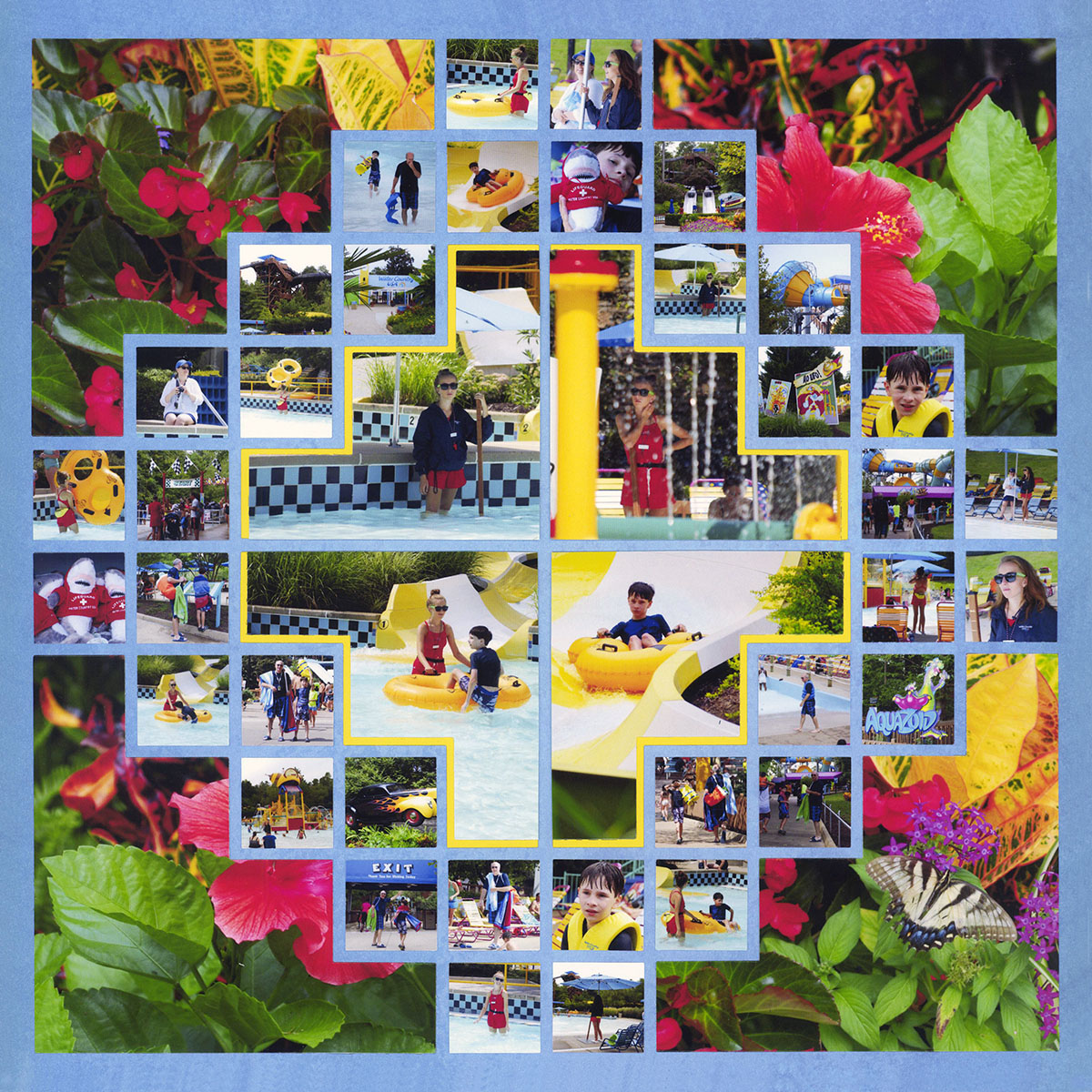 "Alexis at Work" by Paije Potter
This layout is not just about spending time at a water park - Tami's daughter worked here one summer, so of course Tami had to document it!
---
Create a page about work. Show the office, store or factory where you spend so much time. Have someone take a photo of you in your uniform or work clothes. If possible, get a photo of you working. Explain what you do, how you make a difference, how long your shift is, etc. If you travel, you might include photos of your suitcase, hotel room, or airplane. If you go to multiple locations, share the mileage you drive each week or take pictures of each of the buildings you frequent. If you work in a restaurant, share photos of the menu and food.
If taking care of the family and home is your priority, list all of the things you do to keep the household running smoothly. Include a daily list of times to wake up, make breakfast, get the kids off to school, put the baby down for a nap, help with homework, make dinner, etc. You might also include a weekly schedule, like laundry is done on Monday, grocery shopping is Thursday, or the bathtub is cleaned every Wednesday.
Include why you chose that career, how you have worked your way up the ladder, or why you enjoy doing what you do. If you have close work friends, include them on your layout, as well.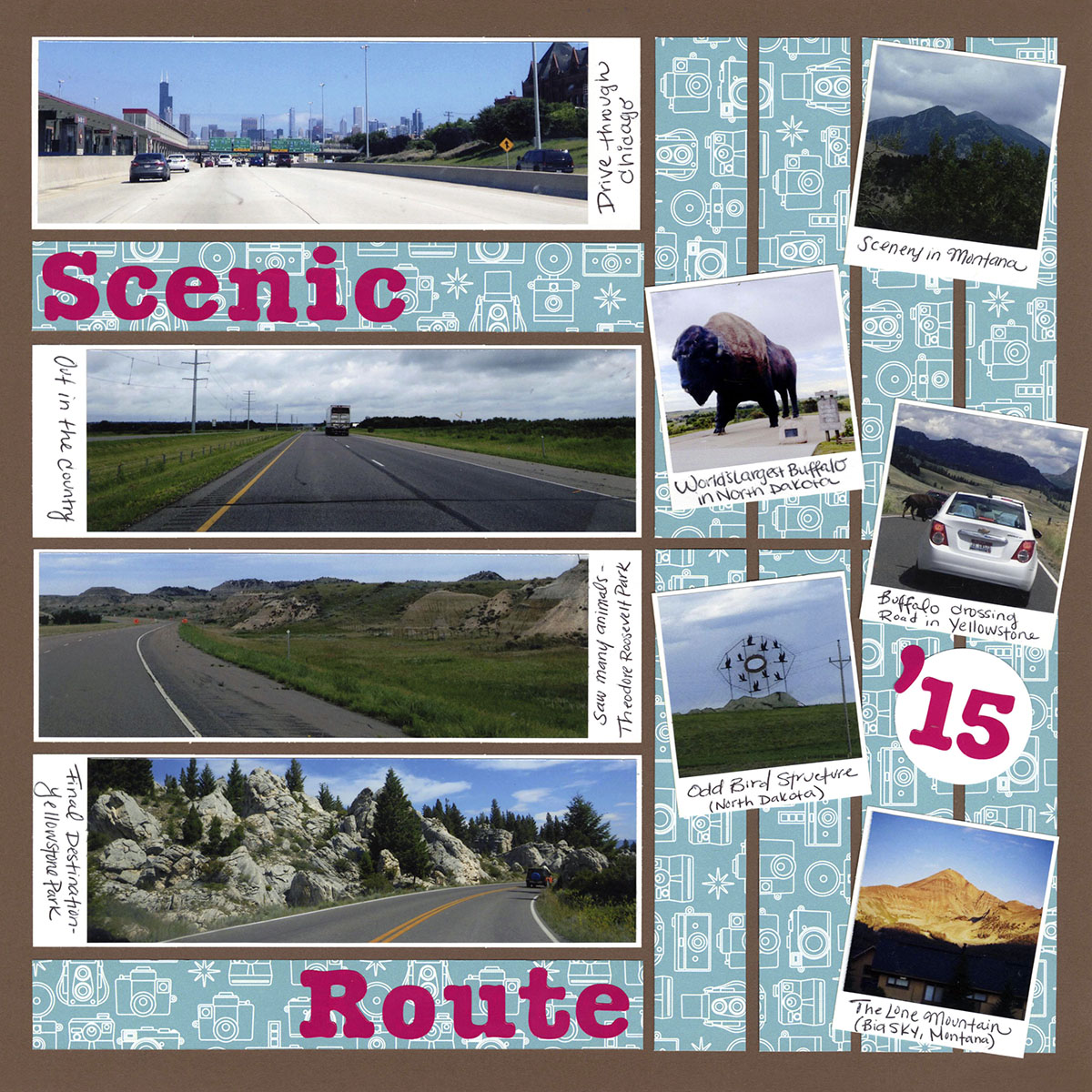 "Scenic Route" by Paije Potter
This layouts shows a road trip journey of traveling from Ohio to Wyoming.
---
If an exciting, new trip is in your future, get into the spirit ahead of time and record the journey, as well as the destination. Spend some time researching the place you are going and scrapbook some of the things you hope to see, your itinerary, the process of getting a passport, lists of what you plan to take, photos of the airport, maps, and the history of the area. You might even create a few pockets to hold your receipts, booking information and other documents.
This process will create layouts that will be fun to look back on, but they also make it easier to scrapbook the destination after the fact and prevent you from missing something important.
---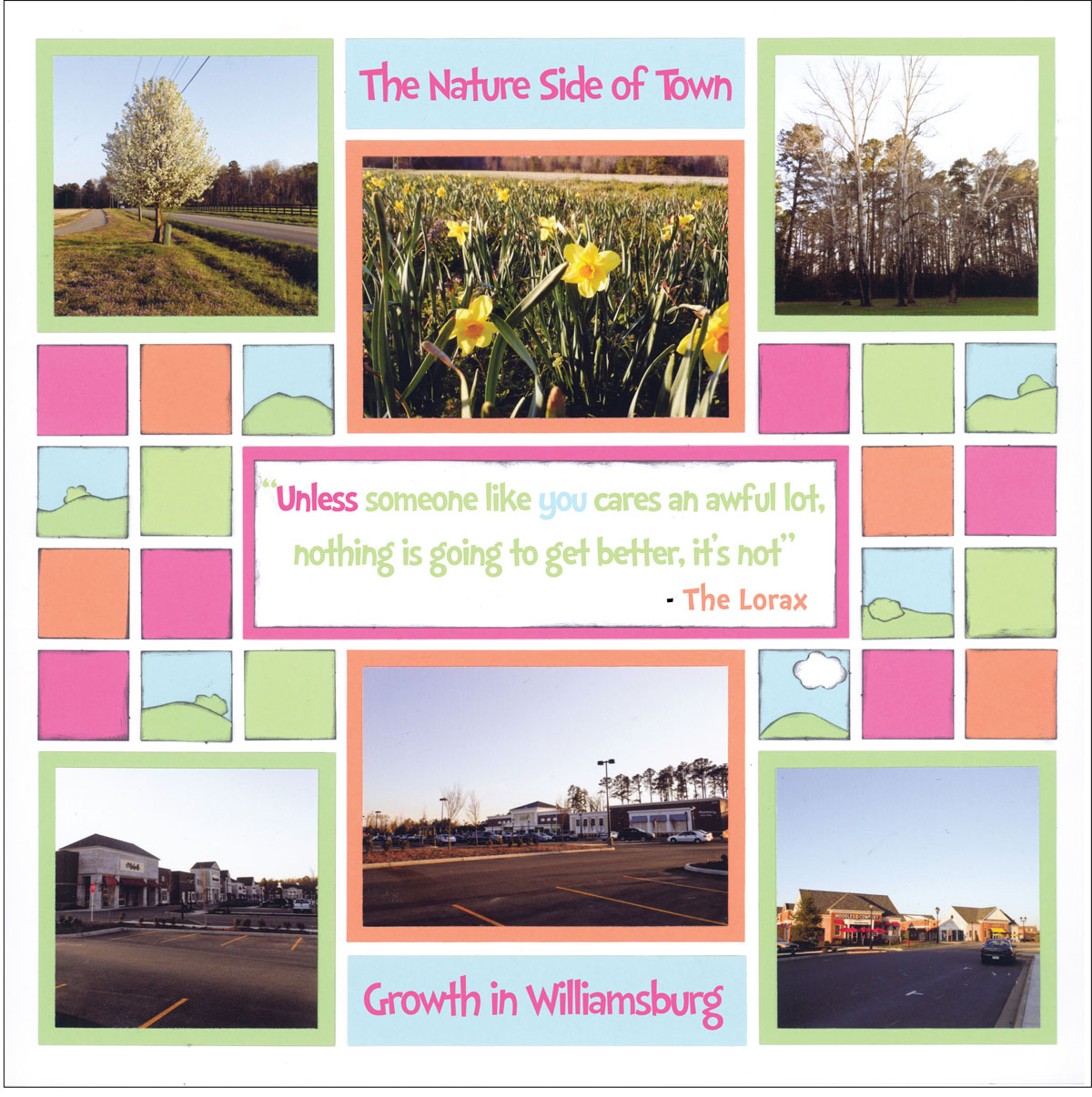 "Williamsburg" by Paije Potter
This layout shows the preserved nature areas of Paije's hometown Williamsburg, plus the growth of new shopping areas.
---
Where you live is important. Document the town's architecture, history, growth and landmarks. In just a few years, things may have changed drastically as farmland becomes strip malls or department stores become stadiums. It will be more impressive to say, "I remember when …" when you can pull out a scrapbook and show your memories to future generations.
---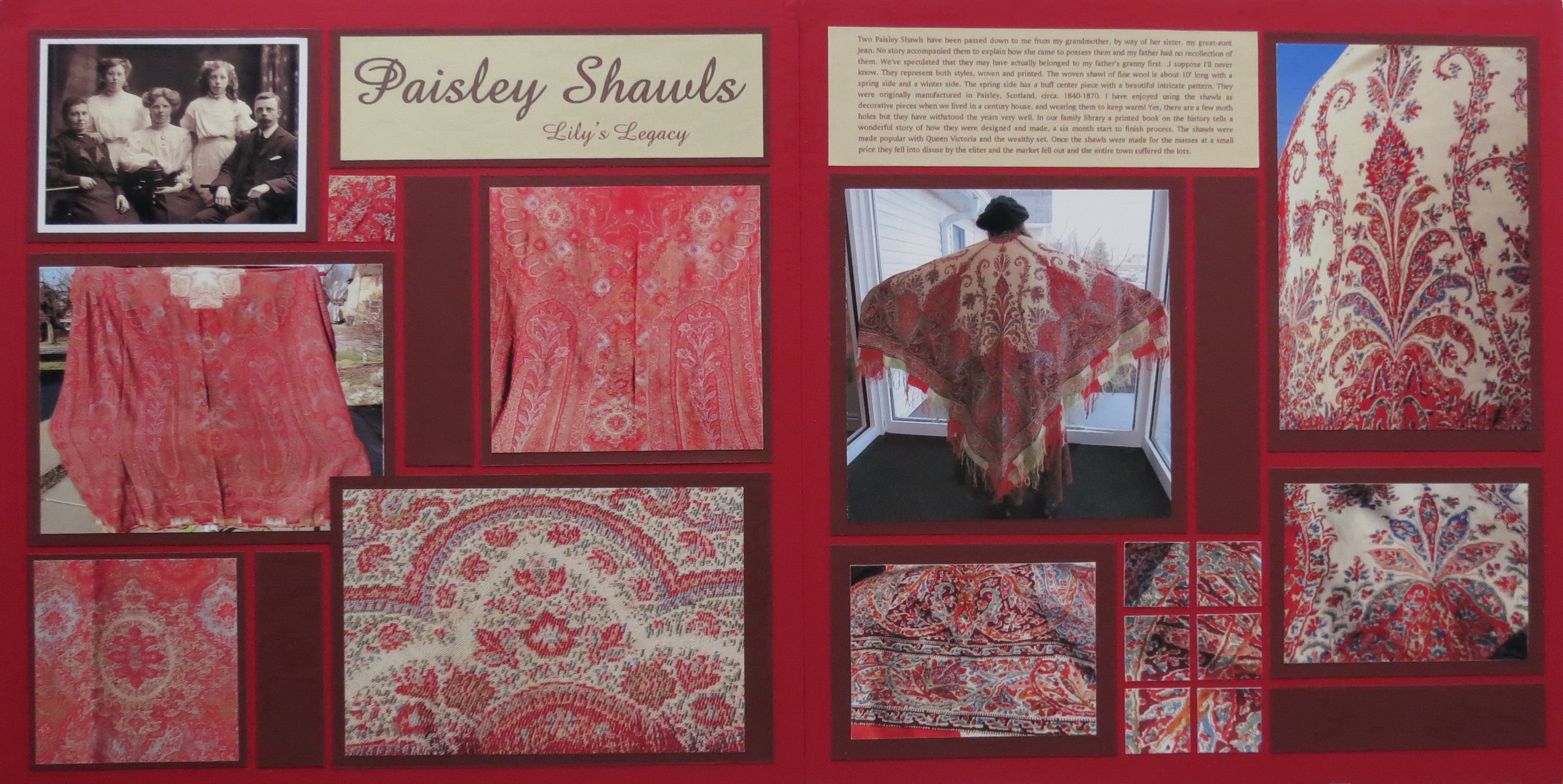 "Paisley Shawls" by Andrea Fisher
---
Great-grandpa's family Bible, the serving bowl brought over from the Old World, the quilt made by grandma when she was a young girl, and the table Uncle John made from logs found on the old family homestead are all important family heirlooms passed down from one generation to the next. Documenting these items and explaining why they are important and where they came from is crucial for the historian in the family for a few reasons.
First, there is only one heirloom and as families grow and spread out, most members of the family have no contact with the item. By photographing it, and including the photo of the person the artifact came from and the story behind it on a scrapbook page, all members of the family can enjoy the heirloom and that piece of history does not get lost.
Secondly, unfortunate events happen and items are broken or lost, they don't fit into a person's aesthetic, or there is not room for them. By placing it a scrapbook page, they can still enjoy the history without actually having it on display.
---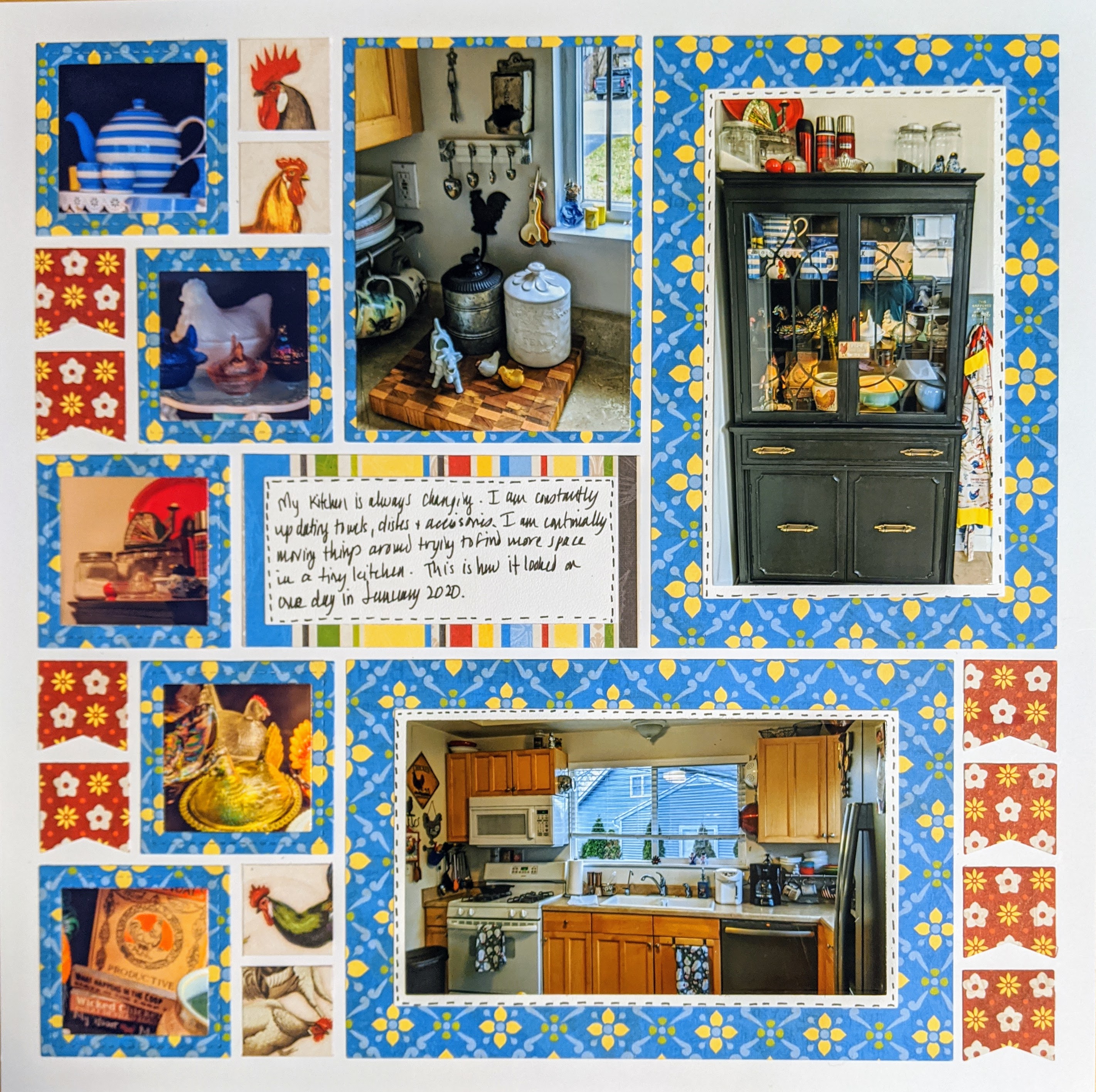 ---
What will one day be a family heirloom is today's everyday item. Think about Grandma's depression-glass bowl. Back then, it was simply an affordable serving bowl. Today, we value it as a precious reminder of our grandmother, the special pudding she served in that bowl, and the fragrant smell of her home during the holidays.
Our grandchildren will likely think the same of our everyday items. We never know what item they will cling to or what will evoke their special memories, so take some time to photograph the kitchen, your desk, the china hutch, the television and other everyday items.
---
Along with everyday items, it might be fun to include recent technology. With as fast as technology is advancing these days, these items are likely to become useless in just a few decades. It will be interesting to look back and see a record, a computer, a DVD player, or even a game system, when they are no longer in the future. Just think of the things our grandchildren today may have never seen, that were common when we were kids – VHS, cassette tapes, typewriters, movie projectors.
If you are lucky enough to have photos, you might do a page that shows how technology has changed in your family. For instance, if you have a photo of Grandma on the phone, you might include a picture of your grandchild on their cell phone next to it. You could explain about calling the operator, having a rotary dial, or listening in on the party line. Future generations will cherish the pages.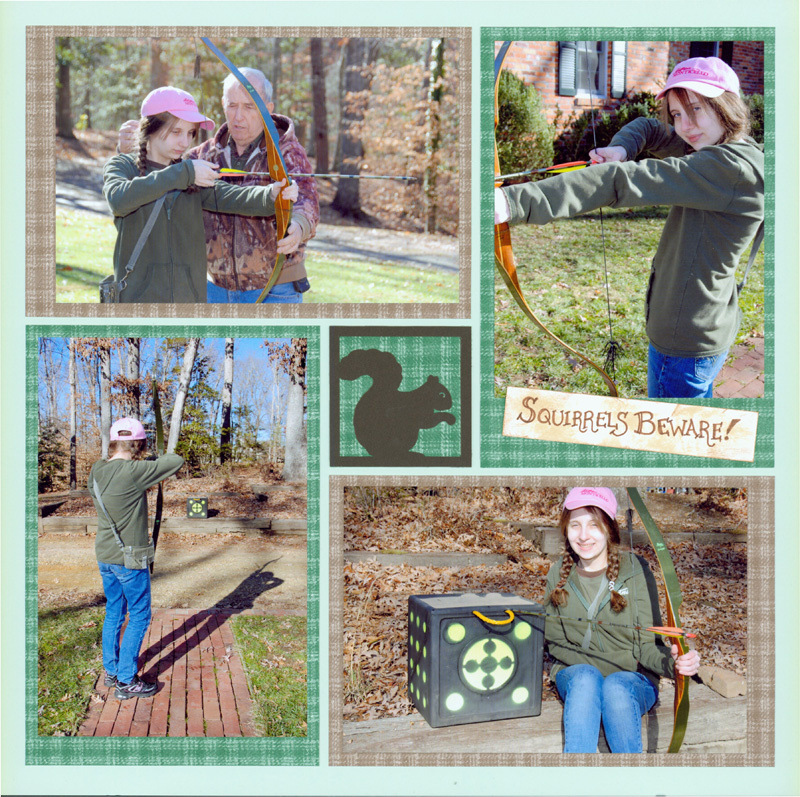 "Squirrels Beware!" by Tami Potter
Tami's daughter wanted to learn how to shoot a bow and arrow - so Tami documented her first time doing so.
---
We record baby's first word and first steps, but our firsts are equally important. So, try doing something new – trying a sauna, kayaking, or tasting Thai food for the first time – and record those moments on a scrapbook page. Was it hard? Did you enjoy it? What did you like or dislike about it? Will you try it again? You may learn you enjoy trying new experiences and create an entire album devoted to firsts.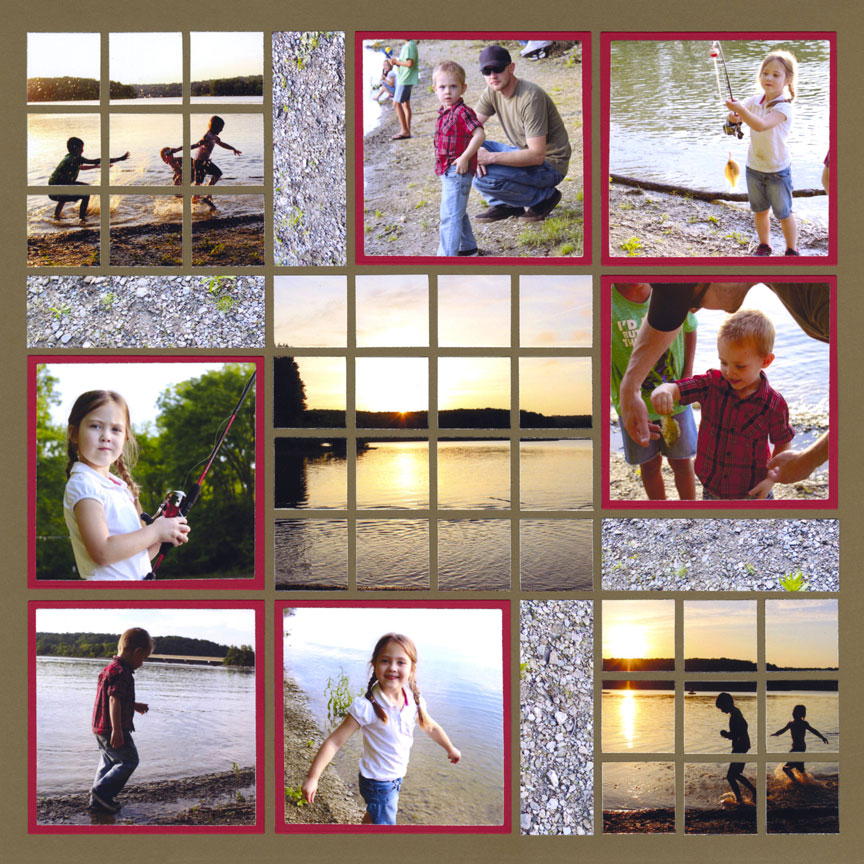 "Fishing Codorus" by Lauren Jones
Lauren and her family love to go fishing. She documented her children catching their own fish and their facial expressions during the experience.
---
Perhaps you enjoy sailing, making ceramics, riding horses, photography or bird watching in your spare time. Be sure to create a page about your hobbies. Include photos of you experiencing the hobby, as well as pictures of finished products, necessary tools, and the sites you see while doing it. You might include a favorite photo you took, a unique bird you saw, or the sunset over the water.
Be sure to include how you got started, what you enjoy about it, and how you feel when you are in the midst of it. Be descriptive and take your family along with you on the adventure. Help them understand the feelings of thrill, the satisfaction, the wind in your hair, or the peaceful relaxation that results from your hobby.
#15 - A New Holiday Perspective
---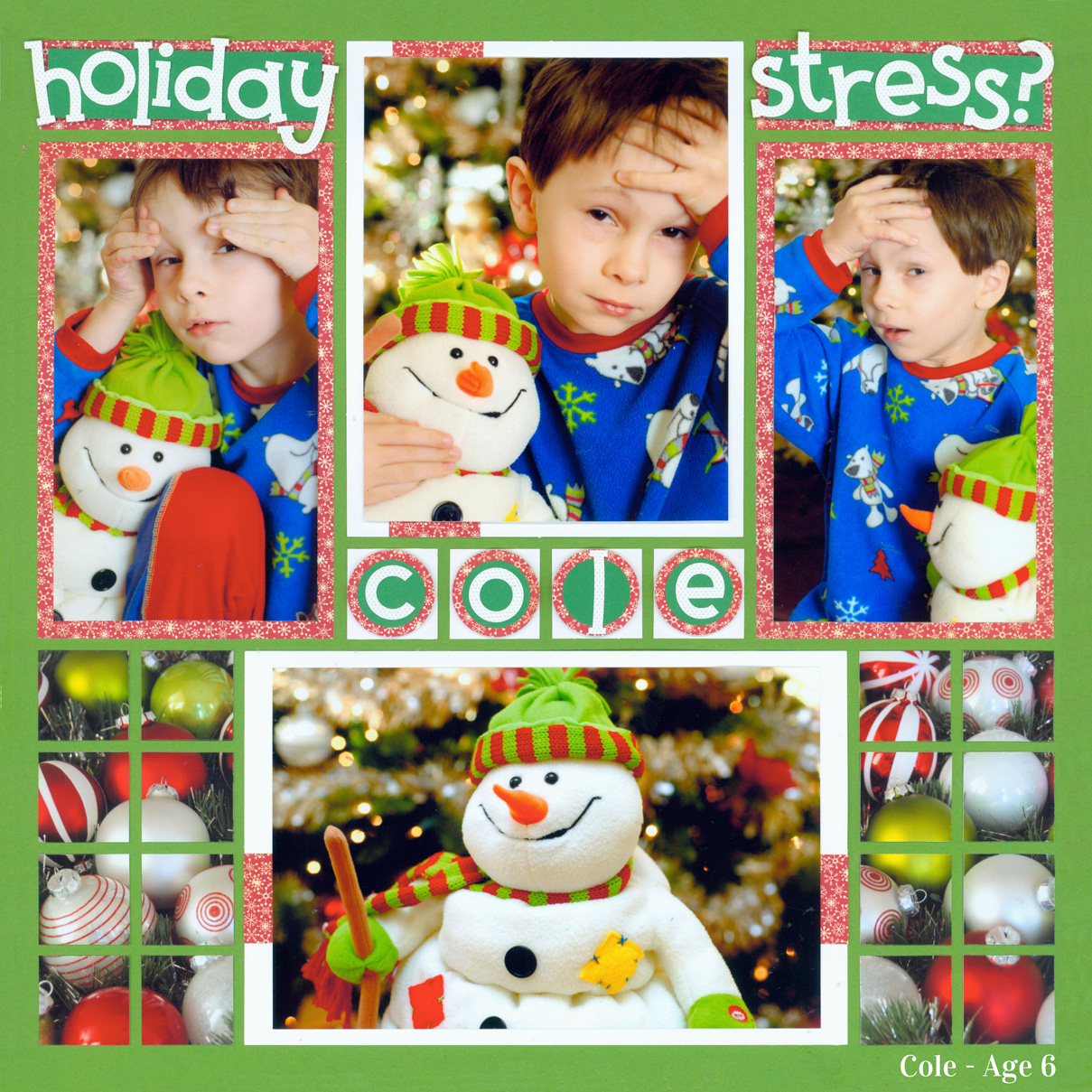 "Holiday Stress?" by Paije Potter
This Christmas layout shows "stress" - which is usually not shown in our albums.
---
When recording the holidays, we usually take photos of people opening gifts, kids in their costumes, blowing out the candles, the cooked turkey, and other traditions. Spice things up a bit by photographing people shopping for gifts, getting cards in the mail, preparing the green bean casserole, setting the table, putting on their Halloween makeup, or hanging the decorations.
It might make for different, and fun, holiday layouts. Imagine how much more an ornament purchased in Japan will mean when you see the Japanese store it was purchased in. Or, how much the year's hottest toy will mean when they see the crowd and long line you waited in to purchase it. Even the birthday cake, made by Aunt Judy, will be more significant when you see her frosting it.
#16 - Recurring Entertainment
---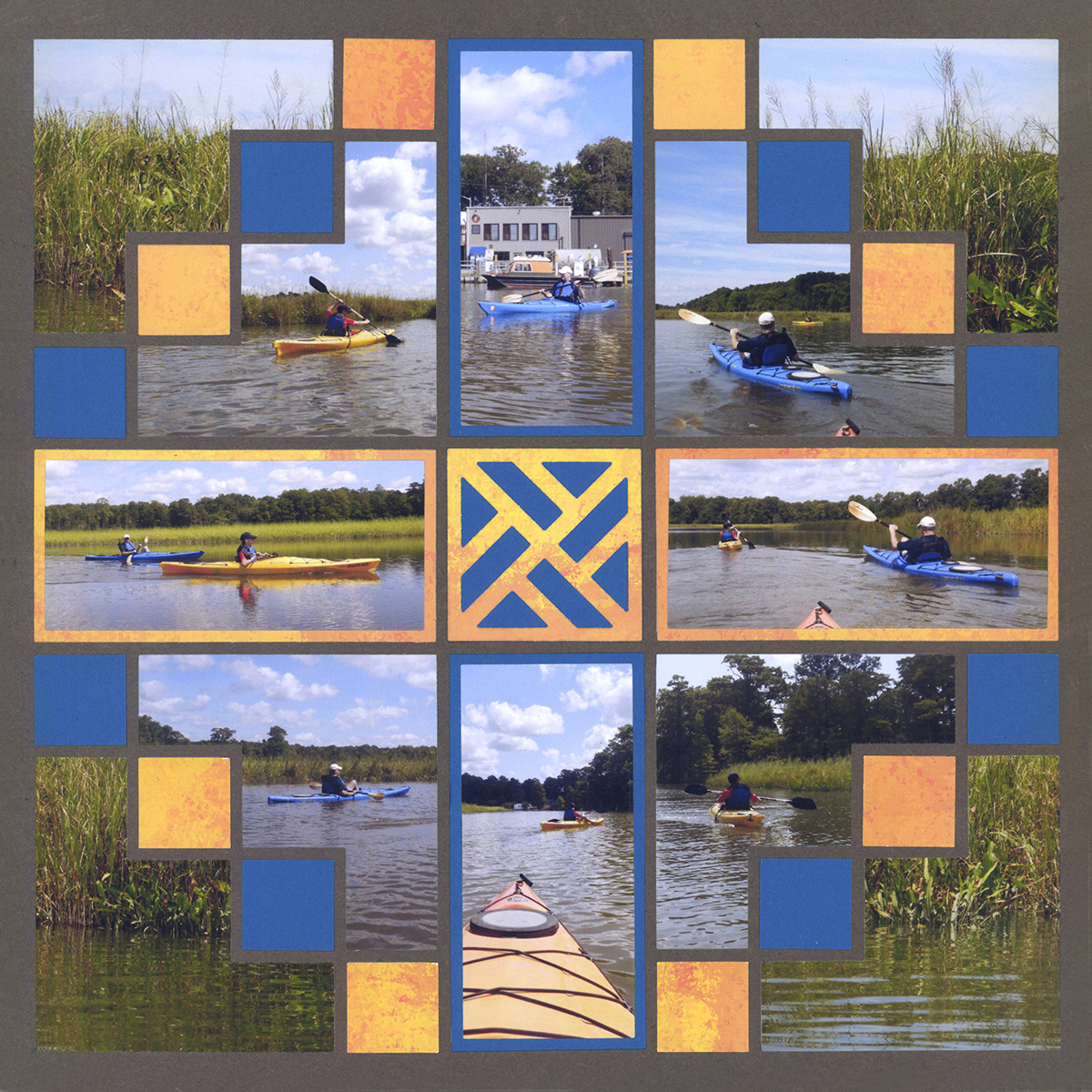 "Kayak Fun" by Tami Potter
---
Perhaps you host a weekly family game night, play golf each Sunday, participate in a monthly book club, play cards every Tuesday, or go on an annual camping and fishing trip. These events become part of our everyday schedule and we sometimes forget to document their importance. Take the time to record how it works, who participates, what games you play, where you go, what you catch … well, just about everything surrounding these special times. If it's an annual or semi-annual event – like a scrapbooking retreat or hunting camp – you may wish to make a special album with one page or a double-page spread devoted to each event.
Looking back, you will see children grow and equipment, tastes and styles change. But, the album will also serve as a memory for loved ones who pass or move away as time goes on. Those memories will one day be priceless.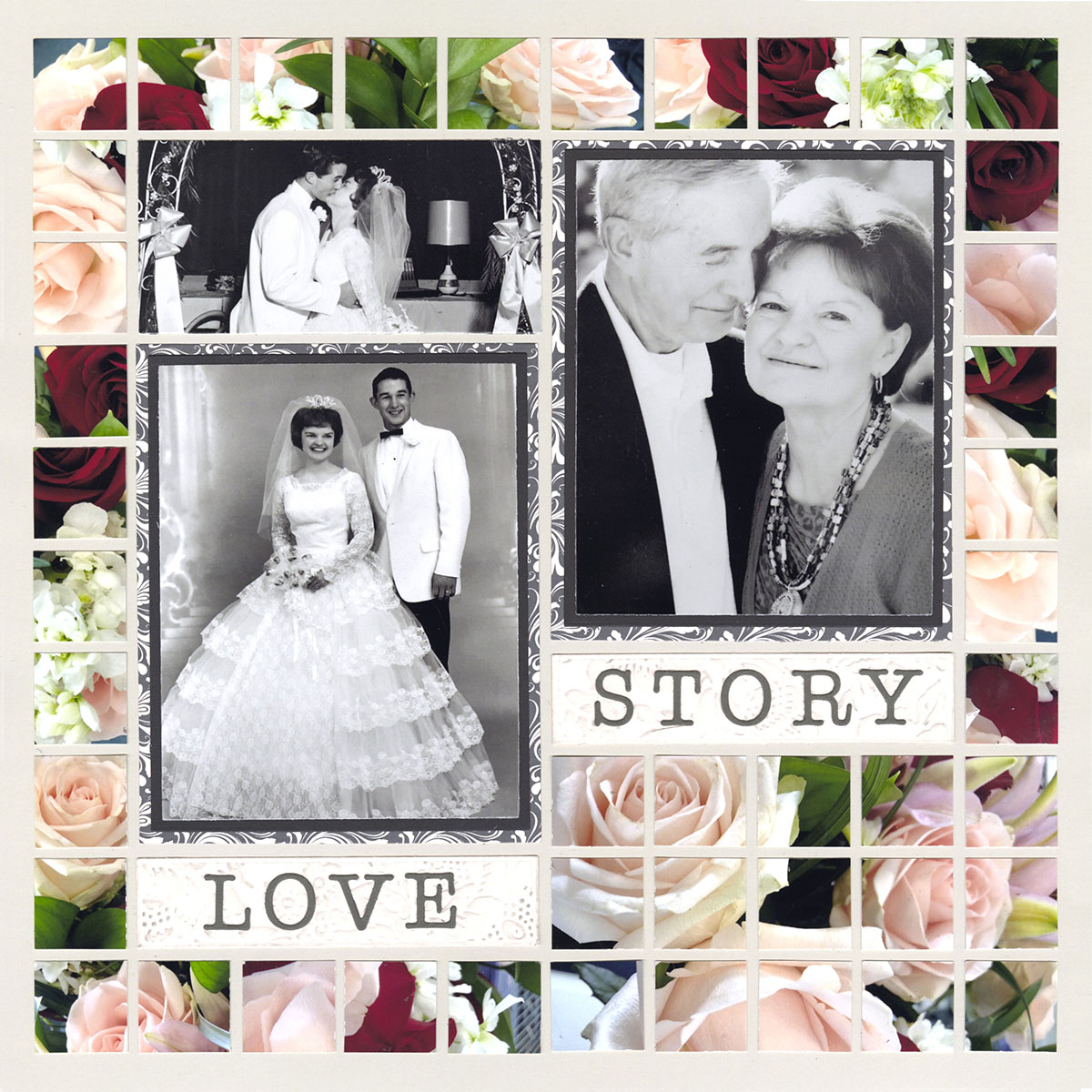 "Love Story" By Jodi Benson
This layout features photos of Jodi's in-laws on their wedding day and a photo of them today.
---
Record your own love story for future generations, your significant other, or just to reminisce and focus on your love life. Include pictures of you as a couple, both then and now. Include how you met, when you realized they were the one, how they won you over, what you like most about them, and other parts of your story together.
#18 - Things That Make You Happy
---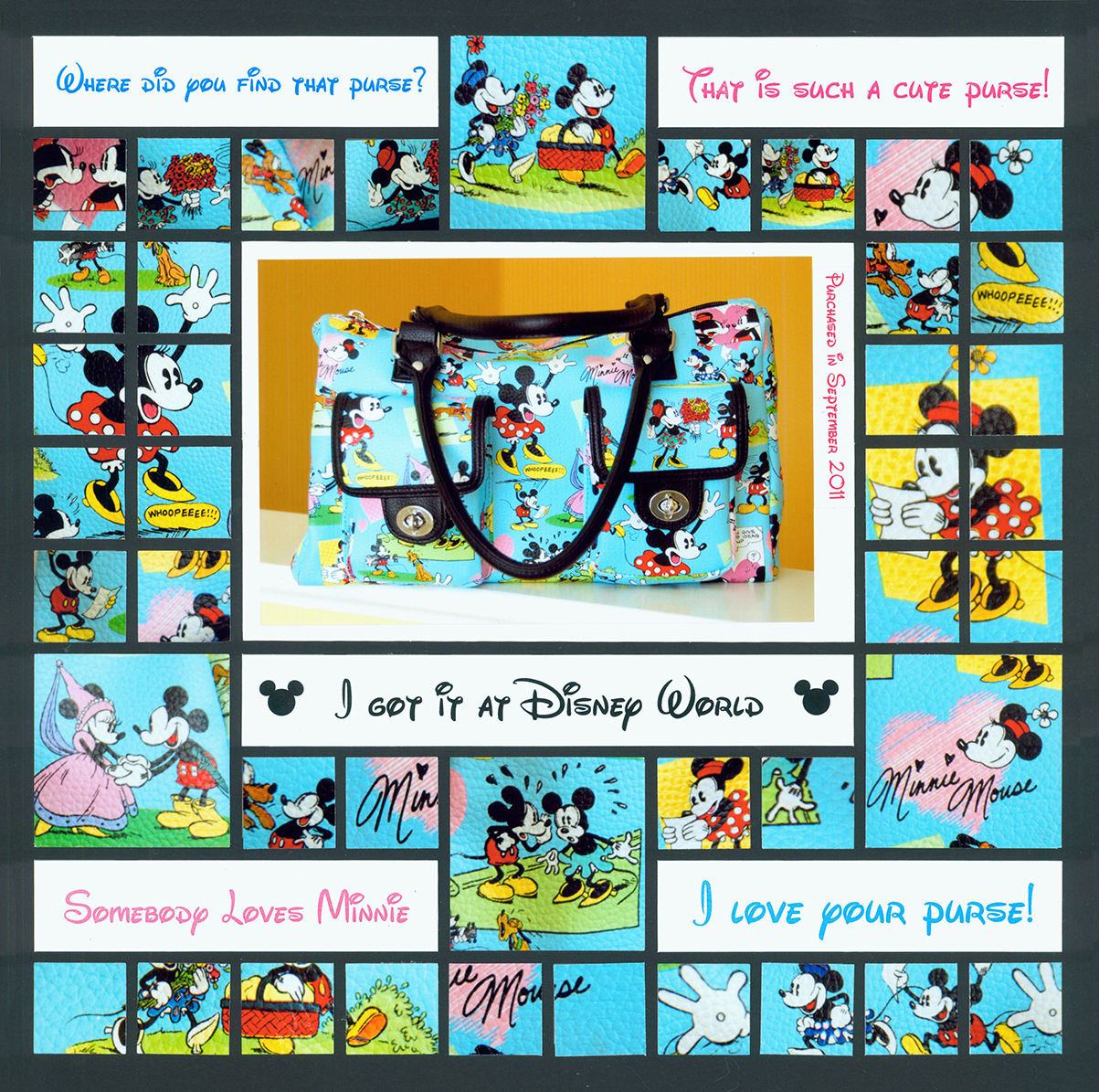 "Minnie Purse" by Tami Potter
---
Think about the things that make you happy – activities, food, people, pets, colors or seasons, cartoon characters, sayings, experiences, holidays or events – whatever it is, create a page showcasing the simple things that bring a smile to your face.
It might be sitting in the backyard with a cup of coffee on Saturday mornings, cutting flowers from the garden and putting them in a vase, wearing an extra-soft sweatshirt, watching the dog chase squirrels in the back yard, roasting marshmallows over a campfire, or seeing Mickey Mouse on anything. Take the time to document those happy moments on a scrapbook page.
---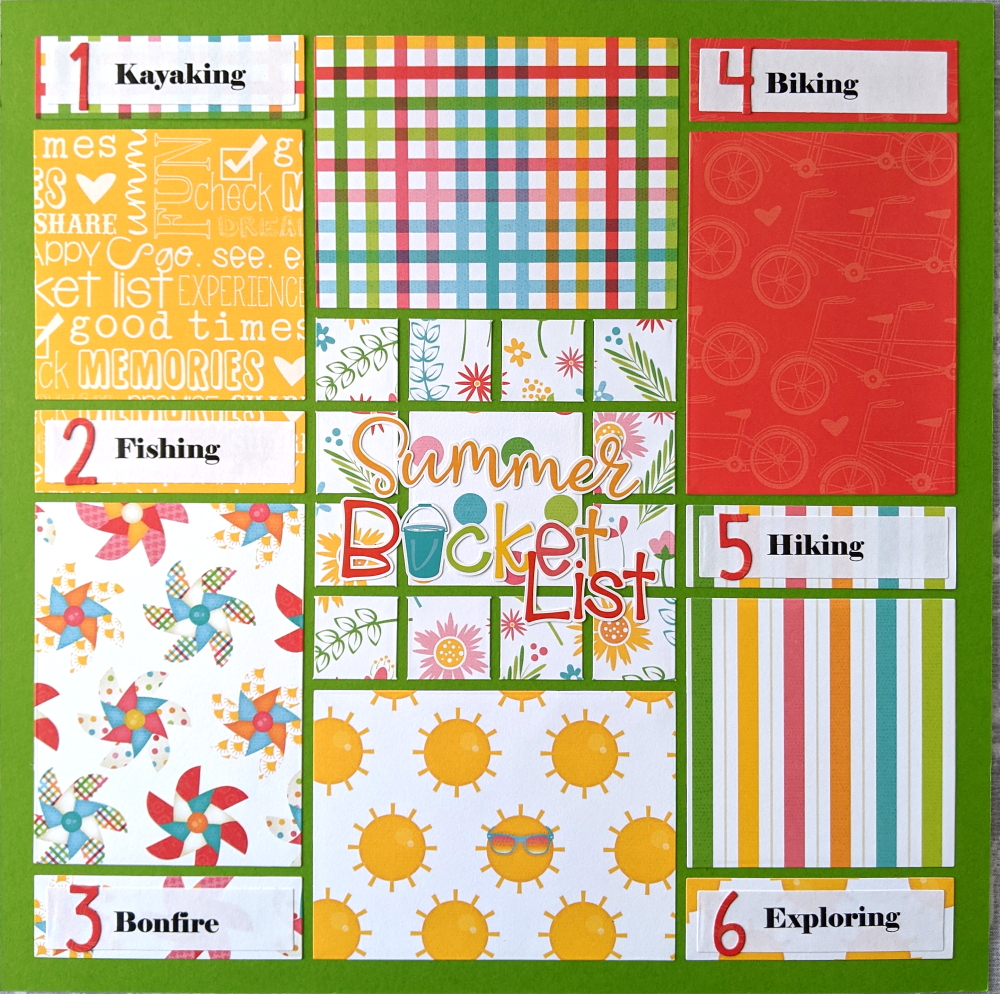 ---
A Bucket List is, literally, a list of things you want to experience before you "kick the bucket". It's fun to dream and a Bucket List allows you to imagine all of the places you want to go, things you want to experience and activities you want to try.
Your list can be related to a specific event, like things to do over the holiday season or things to experience during the trip to Ireland. Or, they can have a time limit, like things you must do before turning 60 or things to try in 2020. The list can be filled with things as simple as reading "Great Expectations," taking the grandkids to the zoo, attending a British-style tea, or participating in a community softball game. It can also include travel dreams, like visiting every state in United States, riding in a hot-air balloon, spending April in Paris, or driving Route 66. And, since this is your dream, the sky is the limit for what you can list – even if it includes a trip around the world, flying your own private jet, or building your house on a secluded Caribbean island.
Creating a Bucket List is fun and your scrapbook is a great place to record your list. You can gather photos off the Internet to showcase each item, and leave a space below the picture to eventually record the date you were able to fulfill that dream. You might designate an album for your Bucket List, making a new layout each time you check something off.
---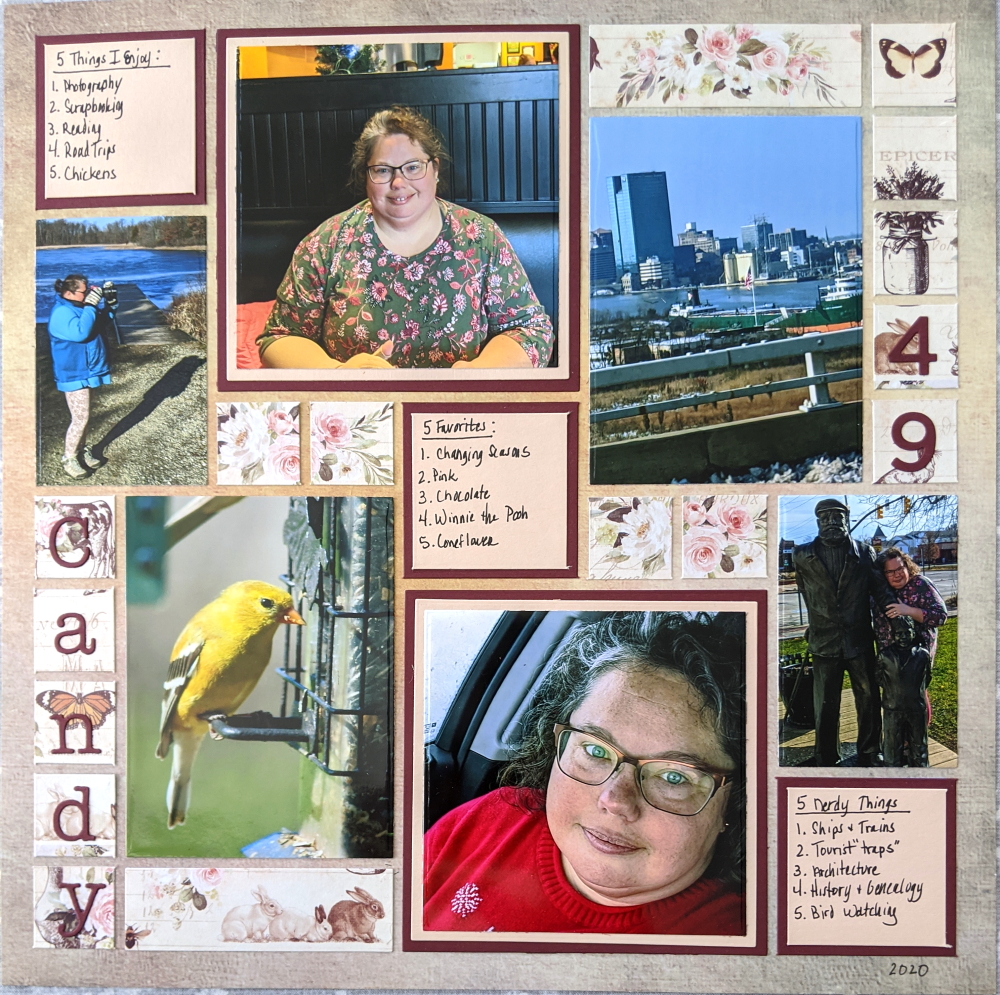 ---
It is not uncommon to record everyone and everything in our scrapbooks except ourselves. Often, we are behind the camera rather than in front of it. We document the lives of our partners, children, grandchildren and friends, but women, especially, tend to neglect themselves.
So, this year, we challenge you to create a page all about you.
What activities do you like? Do you have a favorite phrase, saying or quote? What is your favorite color, meal, holiday, outfit, restaurant, etc.? Do you prefer reading a book or going to the movies? Which celebrity do you have a crush on? What foods do you hate? Do you like gardening or do you prefer shopping? Are you a football, baseball or hockey fan? What is your favorite movie, book or television show? Do you like to try new things? Are you adventurous? If you could have dinner with one person, alive or dead, who would it be? Is your spirituality a crucial part of you? Do you enjoy getting dressed up and going out or do you prefer quiet afternoons relaxing in front of the fire? At this very moment, what icon makes you happy – foxes, llamas, sloths, and hedgehogs have all been popular recently – which one do you like? What is your favorite activity? What would you do if you won $1 million dollars?
Take some time to write about and/or photograph the things that make you, you. Your friends and family will thank you for it. And you will enjoy the process of creating a fuller picture of yourself. Share your completed page with us on our Facebook Group, Crop & Share.