This week Snapncrop is having a sale on White 4×4 and 4×6 RTC grid paper. RTC (Ready To Cut) is special Mosaic Moments™ grid paper specifically created to make unique cards. Currently we only have White available, but more colors will be coming. 😉
I love RTC grid paper since you can create cards with mosaic look. I love that the grid keeps everything straight and it looks clean and organized. Today I am going to show a teacher appreciation card idea. The school year is ending pretty soon so many of you maybe thinking of a teacher gift. RTC is a great way to make a simple and adorable card quickly.
Here is a list of all the items I used for my Card:
Chocolate Brown Card-stock
Pattern paper from Crate Paper™
White Pencil to create the 'chalkboard' writing and designs
Two Clear stamps
Two Apple Stickers
To begin the project, I cut my 12×12 RTC paper in half horizontally at 6 inches (shown below).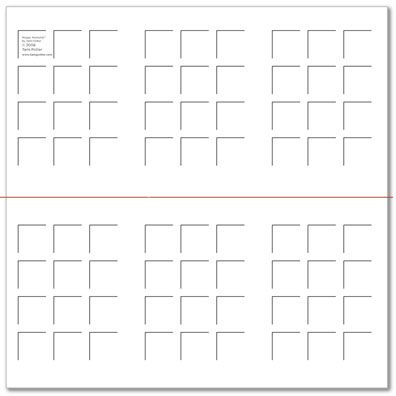 Now you have one long strip to make a tri-fold card. Now score the paper every four inches as shown by red lines below. Fold on score lines. Easy! Now you have a tri-fold card!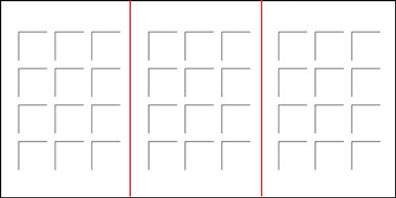 Now the fun part… embellishing and decorating! Here is what I did with my card: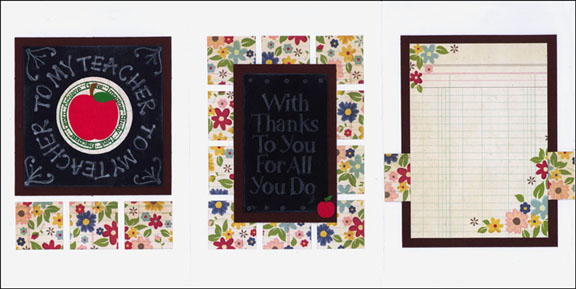 I wanted to have a country – style card and I found some paper in a 6×6 Crate Paper™ paper pad that fit the theme perfectly. I used my white pencil and white ink for my clear stamp to give a chalkboard look on the black Paper Tiles.
I decided to add ribbon and a cute apple charm to keep my card closed: