Achieving An Exotic Look with the Quatrefoil Die Set
Featuring the Quatrefoil Die and Solid Gold MM Grid Paper
This week's pattern pairing post will take the new Quatrefoil Die set with three separate dies in 1×1, 1×3 and 2×2 and find two patterns in which to showcase them.
I'm working with photos from a recent trip to the Cleveland Zoo and the pattern papers I'm using in my design are from the Graphic 45 Safari Adventure Collection, double sided pattern papers that work nicely with the new Solid Gold Grid paper. If you are looking for a grown up look for zoo pages, this is it! Additional cardstocks in Deep Terra Cotta and Deep Spring Green were used to cut the dies and mats.
I have compared Mosaic Moments new Solid Gold Grid paper and the Caramel Grid you may already have so you can see the difference.
After considering the type of pattern I needed to be able to accommodate the Quatrefoil Dies and a multitude of zoo pics, I chose five pairs:
Here's what each pair offered:
Multiple sized photo spots, 5 – 1×3's, 7 – 2×2's, multiple 1×1's
Larger photo spots, 1 – 2×2', 1 – 1×3, multiple 1×1's
Larger photo spots, 1 – 2×2. 4 – 1×3's, multiple 1×1's
Larger photo spots, no 2×2's, 5 – 1×3's, 3 – 1×1's
Larger photo spots, 6 – 2×2's, 4 – 1×3's, no 1×1's
In the end, the pair that was going to work best for me was the first pair, Patterns #236 a pinwheel pattern and #260 a symmetrical pattern. It allowed me options for the 2×2 die or photos, 1×1's for pattern paper or die squares and 1×3's that I chose to use the die for all.
As I was working on the pages I decided that switching the pages left to right worked better for my overall design.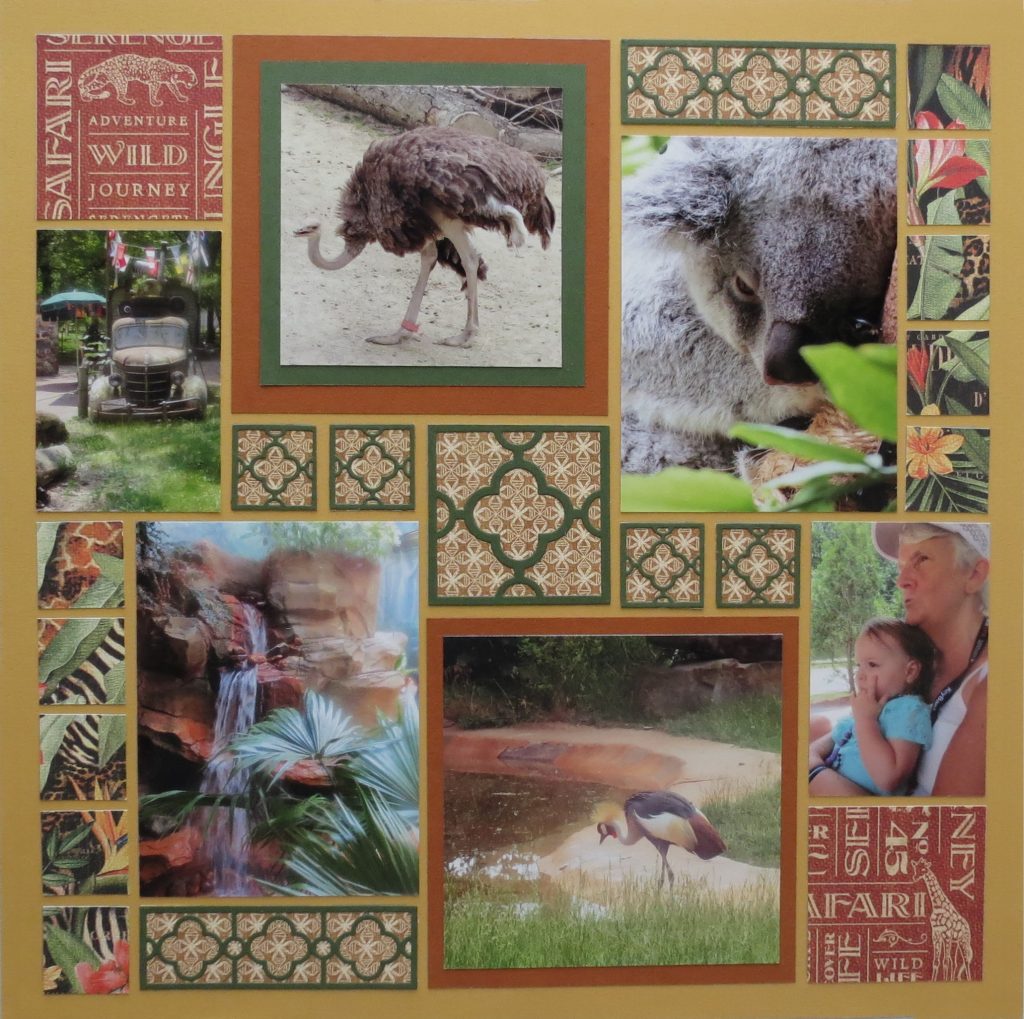 Mosaic Moments Solid Gold Grid Paper and Graphic 45 patterned papersWhat I was most pleased with was the way one of the patterned papers fit into the pattern of each of the cut die pieces! Four different patterns from the collection were used to complete the spots adding a touch of color that complimented the photos.
What I have not included in this layout is a title or journaling. I did add a third page that adds both along with a few extra photos I did not use in the original 2-page layout. It will make a great opening title page to a fuller collection of photos from the day's events. Keeping to the same color combinations and dies the page blends in well with the original two-page layout. I used Pattern #222 flipped and added a section from the zoo map as a title on my journal block. A Killarny green mat for journaling ties the colors of the map to the layout.
Apart from the patterns of the paper and the die cuts there are no additional embellishments making this a fairly quick page to complete that brings lots of color and interest.
I think you'll find the new Quatrefoil Die Set a great addition to your collection for adding a touch of exotic interest to every page you do!
Several of the photos for this layout were taken by my daughter Hannah as I was having some issues with my camera that day and not as many as I'd hoped were salvageable. Thanks for saving the day Hannah!
TIP: Make sure your lens is not covered with sunscreen or dirty before shooting. Lesson learned.
Andrea Fisher