How did this become my life?
Tami's Mosaic Moments® Story
I began using scrapbooks in the mid-80's as a place to keep memorabilia; I started with cheap (not archival) scrapbooks purchased at Kmart. In the mid-90's I was excited to find nicer books with page protectors at a local Hallmark store.
PLEASE PUT A PEBBLE IN MY POCKET
It wasn't until about 1998 (after the birth of my second daughter) that I learned "Scrapbooking" was actually a "thing". My sister-in-law told me about a store she had been to in Utah called "Pebbles in My Pocket." I decided we needed a place like that in Virginia; so, I opened a small studio/shop and called it "Snapping Turtle."
WISH LIST
As a shop owner, I discovered that there was so much that I wanted that wasn't yet available; so, I started designing the things I wished for. My first product launch was called Alphaduets™. (Details available in the tab section below).
KISS & MAKE PAGES
Mosaic Moments®… It all started with a disagreement with my husband (you can read the long version here.) After making my first photo mosaic collage I was approached by customers who wanted me to teach the process to them – which in the beginning, with hand drawn grid, was very time consuming.
Tired of drawing lines on paper, I knew I had to have a better solution for the grid. That is when Mosaic Moments® Grid Paper was born.
THE BIG "WOW"
I first introduced the Mosaic Moments® Mat & Grid Paper at a Memories Expo in New Jersey. I couldn't have been more thrilled with the response. We quickly sold out of all the grid paper we'd taken. Not knowing what I'd do the next day, I called my husband, Kevin. I asked if he could drive up to New Jersey and bring more supplies. He agreed to the journey; but, he underestimated the demand, just as I did. Before the end of the second day we sold out again!
BECOMING A 'ROCKSTAR'
Though Mosaic Moments® was immediately loved by scrapbookers, many store owners were not as quick to embrace the product line. It required too much consumer education. So, my Roadies and I took Mosaic Moments® "on the road" to teach our system at scrapbook conventions. There were years that we "lived out of suitcases" (In 2010 we went to 25 scrapbook conventions). The Mosaic Moments® tour lasted well over a decade. (2001-2014)
TODAY
I've traded in my travel bags to focus more of my time on building online education (have you seen our pattern gallery?) and developing exciting new products.
You can keep up with what we are doing (me & the Mosaic Moments® creative team) when you sign up for SnapFix, our weekly e-Newsletter. Click Here to sign up!
Before there was grid paper
The Old Kmart Scrapbooks

Kmart Scrapbook pages with hand drawn pictures and hand written journaling.

Kmart Scrapbook pages with hand drawn title and hand written journaling.

Hallmark Albums

Hallmark Album Pages with hand drawn background paper.

Hallmark Album Pages with hand cut embellishments.

In the early days of my 12×12 scrapbooks

Page with a poem written for my daughter. (The poem would later be printed on one of our Taglines.)

New 12×12 Albums – Still no Grid Paper. Time consuming to measure and align everything!
Proud Pirate!

I graduated from East Carolina University with a BFA in graphic design.

From Sea to Shining Sea

I grew up in the Pacific Northwest – Moved to the East Coast in 1991.

Lucky 7

Kevin and I have three children born seven years apart.
What other products has Tami designed?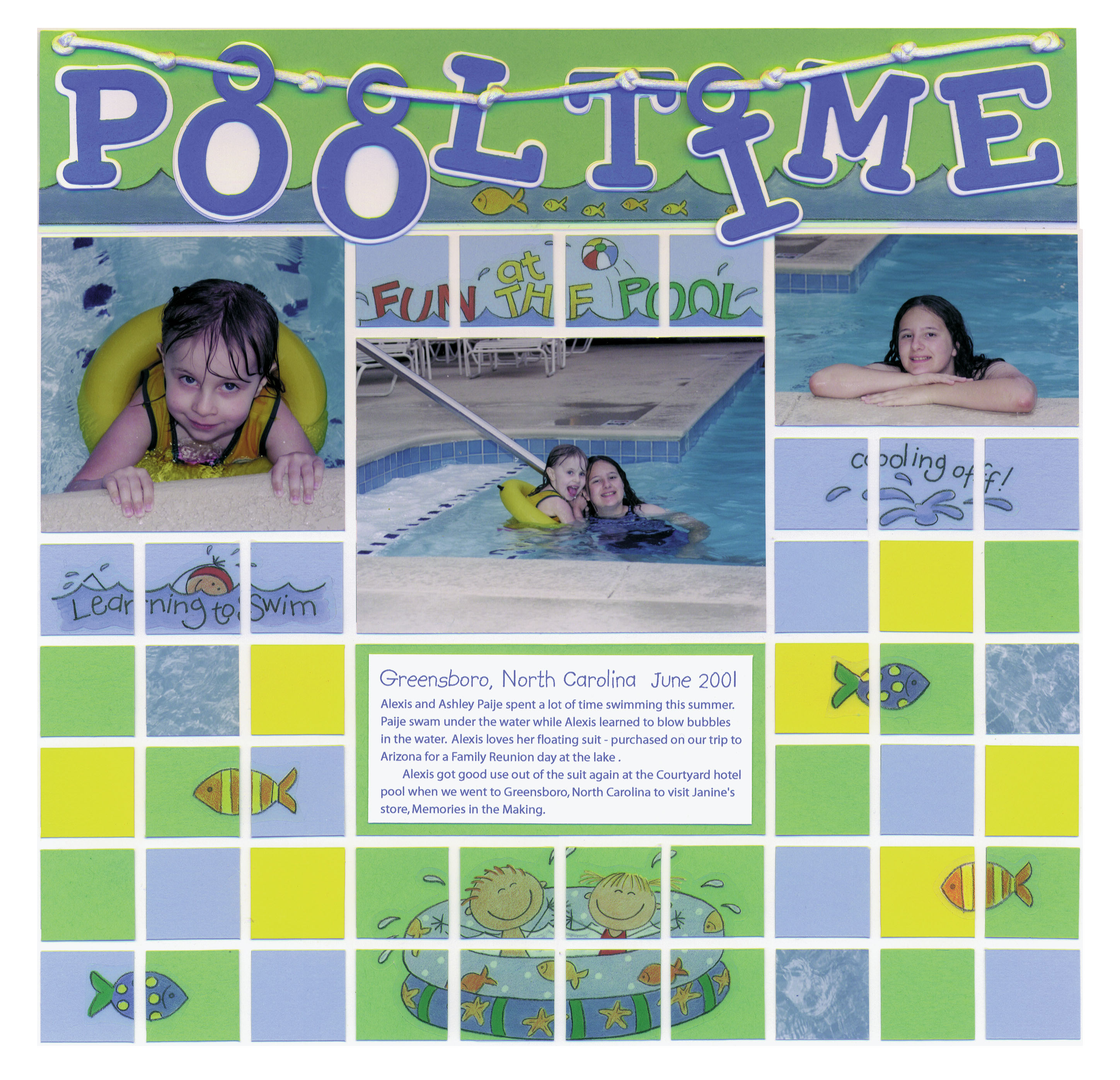 Alphaduets™ were layerable letters with a loop at the top. The loop made the letters easy to display on a spinner rack. They were available in 24 colors and two shapes, a foreground shape and a background shape, so crafters could layer two different colors together creating better contrast for titles on their pages.